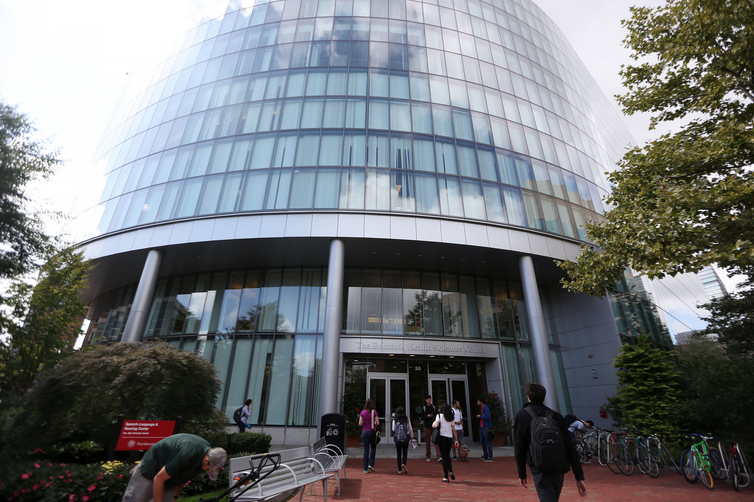 By Alexandra Malloy. deputy news editor
The Bouvé College of Health Sciences is celebrating 100 years of the Origins of Physical Therapy at Northeastern at the end of this month.
"This program formed the foundation of the profession of Physical Therapy," Julie Norton, a member of Special Projects for Development and Health Sciences, said.
To commemorate the Physical Therapy Centennial Celebration, Bouvé and Snell Library have joined together to compose a timeline and collection of archival photographs, which will be released at the beginning of October.
"It started as the Bouvé Boston School of Physical Education and then changed to the Bouvé School of Physical Education and Physical Therapy," Norton said. "It's not an easy history."
The program was started by seven graduates of the Boston Normal School of Gymnastics: Marjorie Bouvé, Bessie Barnes, Caroline Baxter, Marguerite Sanderson, Grace Shepardson, Mary Florence Stratton and Miriam Tobey.
The seven founded the Boston School of Physical Education (BSPE) in 1913, which Bouvé was named director of. The school was originally a means to train emergency responders in World War I. Students were trained in three groups over a period of six weeks prior to shipping out. Physical therapy itself could not be selected as a full major until the 1940s.
"Most PTs [physical therapists] don't know their history at all," said Norton.
The Bouvé-Boston School of Physical Education briefly partnered in 1923 with Boston University, only to partner instead with Simmons College seven years later. In 1924, Bouvé-Boston School realigned itself with Tufts University, and the relationship with Simmons officially dissolved in 1949. While at Tufts, BBSPE once again took on a wartime mission, where students studied to be able to aid in Army hospitals.
Bouvé-Boston finally came to rest at Northeastern in 1963, after Tufts decided the school's curriculum would have a fundamental emphasis on liberal arts. This change in curriculum contrasted the professional mission held by Bouvé. Northeastern's mission of real world experience and co-operative education seemed like the ideal fit, and in 1964 Boston-Bouvé College at Northeastern was created.
Hands-on experience has been at the core of the physical therapy department. BBSPE began the program's first cultural exchange in 1935 with Japan. The program's commitment to global learning opportunities has perpetuated with exchange programs in Switzerland, global learning opportunities in South America and Africa and traditional dialogues or study abroad.
Student students in the major must take two foundation years of classes before moving on to those more directly related to physical therapy. After the foundation years, students are encouraged to branch out to co-op or abroad to further explore the field.
Aliana Akhtar, a fifth year senior and vice president of the PT Club has studied abroad in Kenya and also did a co-op with Spaulding Rehabilitation in the pediatric unit and Furnace Brook Physical Therapy in Quincy.
"Ultimately, I would love to be a pediatric physical therapist," Akhtar said. "All the pediatric experience I've had at Spaulding and seeing orthopedic injuries at Furnace Brook, I've been able to see both inpatient and outpatient experience."
As a senior, and as required by the major, Akhtar and other students must participate in a PT project, similar to a senior thesis or capstone. Akhtar, along with roughly 15 other students, will travel with Professor Lorna Hayward to Ecuador over spring break to work with children with varying physical and mental disabilities.
The program overall is highly competitive, requiring students to maintain a 3.0 GPA in order to advance past the first two years, and is one of the only programs where you can receive a doctorate in six years with one year of work experience.
Sophomore Hannah Getto is nearing co-op, the point where most physical therapy students decide whether they want to stay or drop the major.
"It is very career-oriented," Getto said. " The PT program encourages students to work very hard, but also provides a support system for students who are struggling. I love how close everyone in PT is."
The major is a close knit department, with roughly 60 to 100 students per year.
"The professors' doors are always open and they are always ready to help," Akhtar said, "especially because the classes are so hard and they've been through PT School, they're right there with you."
The department has been asking students for photographs to further show the evolution of the program, as stated by Akhtar, and is planning a celebration in the future.
"It's awesome," said Akhtar. "They're all phenomenal at what they do."