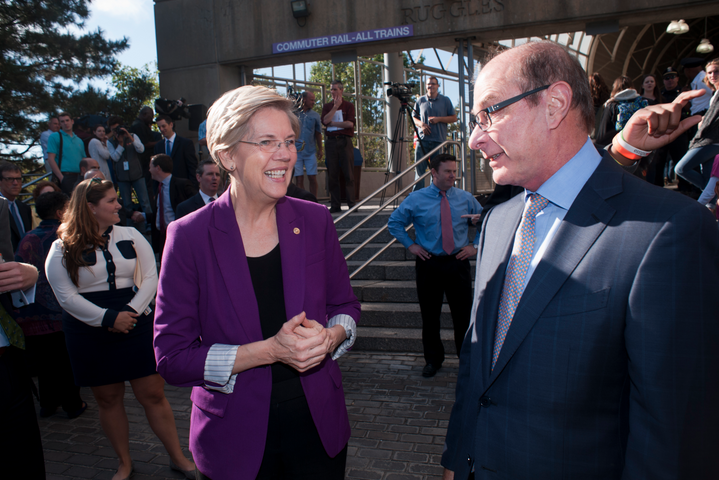 By Alexandra Malloy, deputy news editor
Last Friday, President Aoun was joined by Secretary of the Department of Transportation (DoT), Anthony Foxx, state senators, Elizabeth Warren and Ed Markey, Gov. Deval Patrick and Mayor Martin J. Walsh to present a $20 million federal grant to renovate Ruggles Station.
"I just think this is going to be very beneficial for Northeastern University and the surrounding community, it's a win win situation," Tim Leshan, the vice president for government relations at Northeastern, said.
The plan includes the construction of a 797-foot long, 12-foot wide high-level platform between the Ruggles and the Northeastern Columbus Avenue parking garage.
"At Northeastern, partnering with the community is who we are," Aoun said in a press release issued on Sept. 12. "We want to be the catalyst for a Columbus Avenue renaissance that benefits the community, the university and the region as a whole. We have made multimillion dollar investments in the Columbus Avenue corridor and we plan to invest even more."
The renovations are also expected to exist cohesively with the planned Interdisciplinary Science and Engineering Complex, which is being built in the Columbus parking lot.
The renovations should increase commuter rail service and decrease travel time by an estimated 13 minutes. There will also be improvements made to lighting, pedestrian accessibility, elevators and security call boxes.
"I think this renovation will be a huge benefit to both Northeastern and the surrounding Boston community," Noah Carville, a senior economics major and student body president, said. "Looking specifically at our students, these improvements should make Ruggles more accessible and safer – especially for students traveling through the station late at night."
Transportation Investment Generating Economic Recovery grants, or the TIGER Discretionary Grant program, allows the DoT to invest in road, rail and other transit projects that hold critical national objectives in both urban and rural settings. States may submit applications and detail the benefits such a project would create.
"The vision set forth by President Obama for the TIGER grant program called for smart investment in transportation that will lead to expanded growth and opportunity," Patrick said in a press release on Sept. 12. "The improvements that will be made to Ruggles encapsulate that vision – shortening commutes, increasing transit access and catalyzing growth for this neighborhood and the city."
States may submit applications highlighting the benefits such a project would create.
"Federal funding will help improve service at Ruggles Station, which will make a real difference for families and businesses both nearby and throughout the city," Warren said. "The TIGER Grant program is a terrific example of how the federal government can be a strong partner for our state, cities and towns, by making key investments in transportation infrastructure. The Patrick administration did great work to get this grant, and I was happy to support this effort."
As stated on the DoT website, states must meet five long term qualifications to be considered: safety, economic competitiveness, state of good repair, livability and environmental sustainability. This year, 72 applicants out of 797 received the grant. The projects are all designed to cut down travel time, increase reliability and attract jobs.
"All of us will benefit from better lighting, better elevators, and better signage," Carville "But we also share this community with the residents of Roxbury, and this renovation will provide them with more jobs and a better commute to work. Overall, the initiative is a great opportunity for all involved."
Photo by Brooks Canaday, Northeastern University