Event Calendar: Oct. 23-29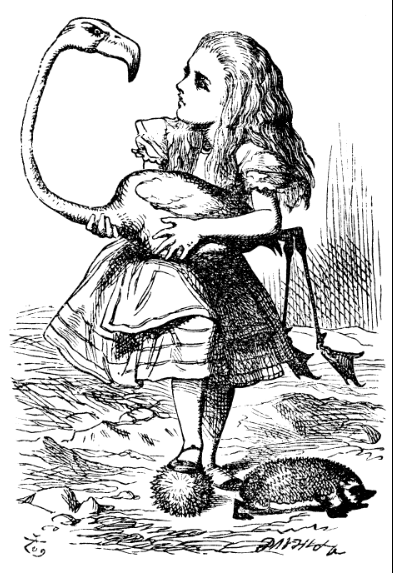 Hang on for a minute...we're trying to find some more stories you might like.
By Rowena Lindsay, deputy inside editor
Entry of the Week: Friday, Oct. 24
If you are panicking at the idea of having to function in the adult world after college, a new musical production of "Alice in Wonderland" may be for you. A new echomusical adaptation of Lewis Carroll's classic story is opening at the Wheelock Theatre, in which Alice goes down an entirely different rabbit hole. In this satirical coming-of-age fantasy, Alice must navigate a world filled with grown-up social activities. While the story is an update on the original, the plot still includes famous scenes like the tea party and croquet match. Have a good laugh and maybe even learn some tips for the future. 180 Riverway; 7:30 p.m.; $15-17.50. goldstar.com/events/boston-ma/alice.
Thursday, Oct. 23
Need a break from work? "Lunch Break on D: Harvestfest: Fall Finale Spectacular"is designed to fit right into your lunch break. From noon – 2 p.m. this Thursday, draw inspiration from a display of professionally-carved pumpkins and get some tips from a master pumpkin carver to help you create your own jack-o-lantern. Play lawn games, check out world-class juggling act "A Different Spin" and show off your smarts in a game of trivia. Food trucks, including Sheherazade, the Chicken and Rice Guys and Roxy's Grilled Cheese, will be available in addition to fresh, locally-grown apples. 420 D St.; noon – 2 p.m.; free; lawnond.com.
Saturday, Oct. 25
No matter what your reading preferences are, the annual Boston Book Festival this weekend has something for you. Although the event begins Friday, the main day of the festival is Saturday with dozens of panels, workshops, lectures and book signings where you can meet your favorite authors and hear them talk about their craft. If you're a writer yourself, there are several sessions that provide a chance for you to have your work critiqued by professional writers and agents. Berklee students will be performing original music at the Berklee Stage throughout the festival to entertain attendees between events. The full schedule, including specific authors who will be in attendance, is available at bostonbookfest.org/attend/schedule. Copley Square, various locations; 10 a.m. – 7 p.m.; free; bostonbookfest.org.
Sunday, Oct. 26
Celebrate Oktoberfest with Jamaica Plain Beer Garden's monthly pop-up event which, for this month, has been brought inside to The Hawthorne bar in Kenmore Square. Feast on German cuisine including sausages and pretzels, each with suggested local beer pairings – $3 for half pour and $6 for a full pour. If you manage to eat your way through every food station you win a prize. The Hawthorne will be concocting beer cocktails from $9 each. Tickets are $20 in advance at eventbrite.com or $30 at the door and include a welcome stein of beer and access to all the food. 21+;500 Commonwealth Ave.; 3 p.m.; $20; 21+; jpbeergarden.com/events.
Monday, Oct. 27
If you're not intrigued by "The Best of Me" or "Annabelle," ditch AMC Theatres and check out "Whiplash," a new movie playing at the Coolidge Corner Theatre. "Whiplash" is the story of ambitious jazz drummer Andrew Neyman, played by Miles Teller(Divergent)and his relentless pursuit to make it to the top of his elite music school. As Neymanattempts to become one of the greats, he is taken under the wing of Terence Fletcher, played by J.K. Simmons, a music instructor known for his incredible talent and brutal teaching methods, who pushes Andrew Neymanto the brink of his sanity. 290 Harvard St, Brookline; Show times: 11:30 a.m., 2:00, 4:30, 7:15, 9:45 p.m.; $8.25 – 10.25.
Tuesday, Oct. 28
Be safer in the city and stop by Level Ground Mixed Martial Arts in Cambridge for a women's self-defense workout class. Master the techniques necessary to counter a variety of common attack scenarios and try your hand at a boxing and Muay Thai-inspired workout. The class is open to women of all levels of experience and fitness. Proceeds from this class will go toward supporting athletic, academic and career development of Boston's urban youththrough the charity work that the studio itself does. Tickets are available at eventbrite.com. Cambridge Innovation Center, 1 Broadway; 5 – 6:30 p.m.; $20.
Wednesday, Oct. 29
Reflect on the forces that shaped the events in Ferguson, Mo. at an interdisciplinary Northeastern faculty discussion entitled "Profiling, Protest and Politics: Understanding Ferguson" this Wednesday. The panel gives students the opportunity to learn more, form opinions and hear others' thoughts about an event that brought numerous social issues to the forefront of political thought. The panel will be the seventh of its kind in a series on civic sustainability hosted by Professor Michael S. Dukakis, former democratic presidential candidate, and the University Council on Inclusion and Diversity. Panelists include Northeastern criminal justice, political science and communication studies professors. Curry Student Center, Ballroom; 7 – 8:30 p.m.; free.
Photo courtesy John Tenniel, Creative Commons