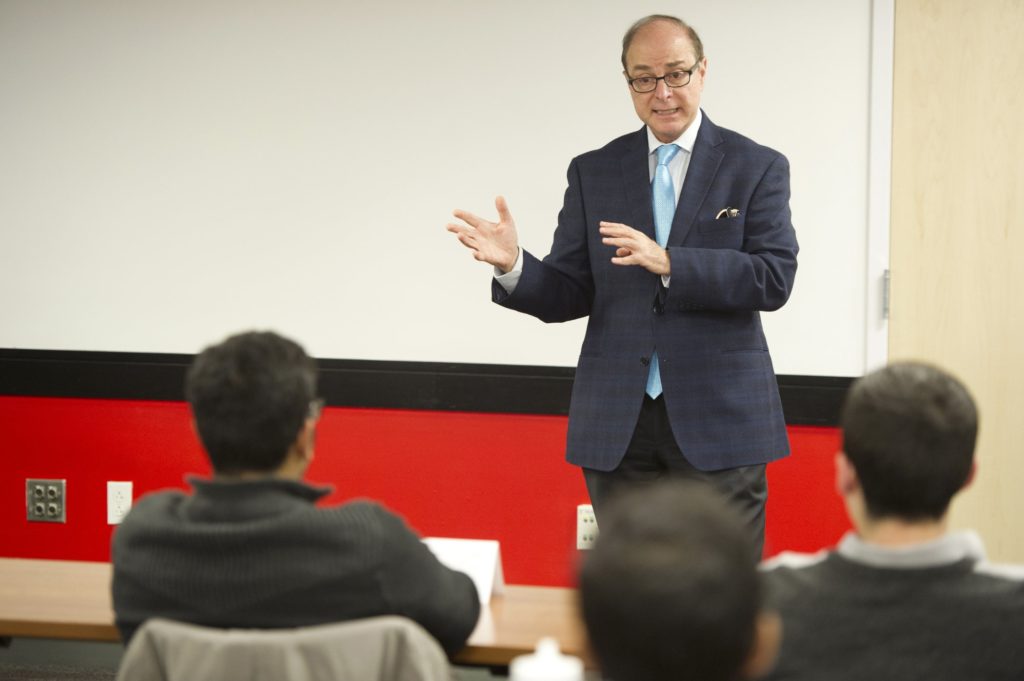 Modoono, Matt
By Alexandra Malloy, news editor
President Aoun addressed members of the Student Government Association (SGA) Monday night, focusing on why members of the senate and the student body are the factors that are pushing the university forward.
Aoun prompted senate members to ask him about anything, from his history to the future of Northeastern. Senators soon asked him things ranging from what his typical day consists of to the negotiations regarding tenure of adjunct professors.
After freshman business administration major Samuel Gugliemotto asked Aoun about his daily life, Aoun focused the discussion on the importance and responsibilities of leadership, highlighting the need to to step back and reflect on issues at hand.
"Don't lose sight that the issues du jour are not the future," he said. "The future is important, and you need to think about the future as well."
Aoun then addressed how co-op and innovation will be further expanded, which set the tone for the rest of the discussion.
Combining the importance of leadership with co-op, Aoun told students that the university and subsequent experiential learning program is evolving through student participation, acting as models to the outside world.
"Co-op is the ultimate form of personalization of your learning experience," Aoun said. "You are the ones expanding co-op. Every time you impact the place [of work], you expand that place. You have a responsibility not only for you[rself], but you are the trailblazers for your successors."
Despite the emphasis on the power of co-op for students on a personal level and at a university level, Aoun noted that leadership should not be taken for granted, but should be continuously perfected and expanded upon .
"You're modeling the place for the outside world," he said.
Transitioning into his recently announced global officer co-op position, Aoun has noted his main mission behind his presidency and also his co-op: to move the university into the global realm.
"We're only beginning to look at the global opportunities," Aoun said. "The world moves fast, and essentially the idea is to have a pioneer from the university to look at global opportunities, opportunities we haven't thought about."
Aoun also noted that the rise in rankings, stating that the university has a mission of education as well of a mission of knowledge creation and that rankings often address different aspects of each. He also mentioned that not all universities can fit one mold, and at Northeastern, there cannot be a concrete strategy to improve rankings, but instead continue with what the university does best.
Aoun did state that differentiation, as an individual and as a school, is an effective strategy for advancement.
"The strategy has to capture first who you are and how you can better that," Aoun said. "We're always on this journey, whether students or institutions. We don't stay still. We never copy others. If we copy others then we'll be a bad copy of others."
Harkening back to the importance of co-op, Aoun noted that the cooperative education approach and global engagement makes an enormous difference in the educational environment. He told members that he could blatantly notice the difference between Northeastern's approach to education compared to his sons' educations at more traditionally defined institutions.
"I interact with students at other universities and I see the difference," he said. "It's a different community and I see the community engagement."
Henry Bison, a sophomore behavioral neuroscience major, broke away from the topic of co-op and engagement, asking Aoun if he will bargain in good faith the adjunct professor union as adjuncts strive to gain tenure.
Aoun stated that due to the unionization of the adjuncts, all negotiations must go through the union, all of which are in good faith.
Jameson Johnson, a freshman communications major stated that throughout the address, Aoun did not address every question properly or with clarity.
"He was acting like we were all going to exploit him," Johnson said. "Everything he talked about was very surface level. I know he has great intentions for the school and works very hard, but he did not share any surprising or helpful information."
Aoun closed his address discussing the characteristic of Northeastern students, a question asked by Gary Lu, a junior accounting major.
"You cannot come to Northeastern and be oblivious," Aoun said. "You explore yourself by exploring the world."
Referencing the number of student-run initiatives, he called students multifaceted and entrepreneurial.
"What that means is the students don't play it safe here and that's enormous," he said. "I want you to create your own journey and that's the beauty of being here."
SGA President Noah Carville, a senior economics major, noted that he was most struck by Aoun's reinforcement of the importance of leaving free time in ones schedule to interact with the community and surrounding world.
"Between classes and homework and SGA, it is easy to put your head down and get lost in your own busy work," Carville said in an Oct. 29 email to The News after the address. "But as student leaders, we have a responsibility to serve the students around us, and that is only possible when we set aside enough free time to get out into the community and discover what the students actually need."
Photo courtesy of Matthew Modoono, Northeastern University