Jason Lee takes 3-D printing to an edible level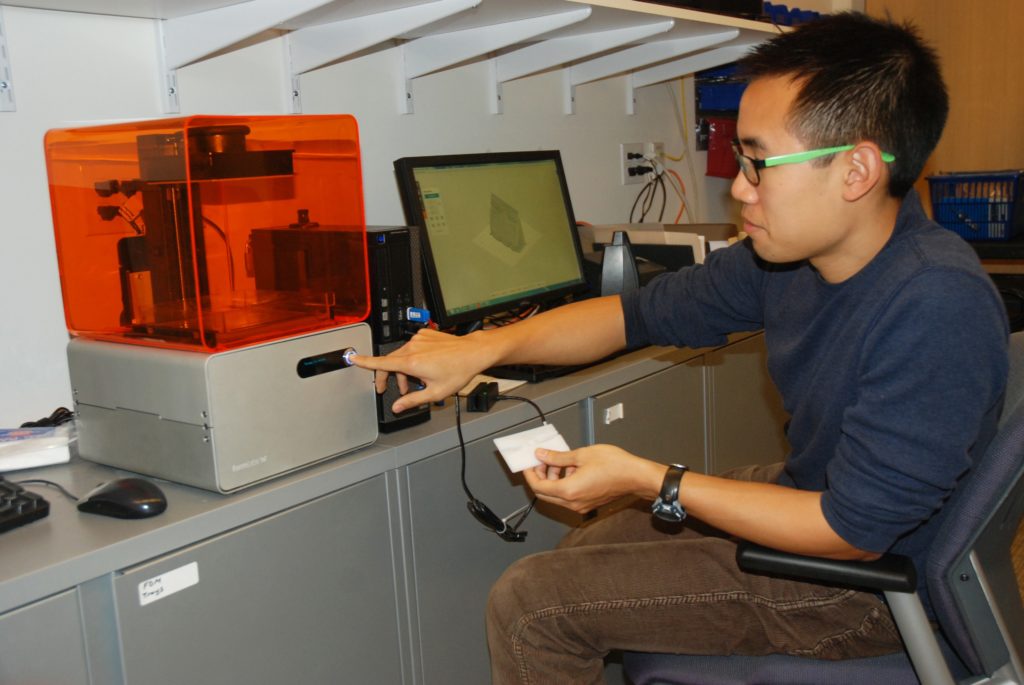 By Alexandra Malloy, news editor
Senior mechanical engineer Jason Lee has taken traditional resin 3-D printing and adapted the process to a more edible version: chocolate customizable images.
"When an employee's referral is hired at Formlabs, they receive a 'FormCoin,'" Lee said, who conceived his chocolate idea while on co-op at Formlabs, a 3-D printing company in Somerville. "This FormCoin did not exist in any tangible form, physical or digital. Several days after getting a vacuum former, I decided to make them for real out of chocolate. I handed them out to co-workers and they were a huge hit."
Lee's process involves taking an image and uploading it to a program that converts the image to black and white. Then, depending on the contrast of the image, a 3-D model is created with the darker areas being the thickest and the lightest being the thinnest. Lee then uploads the model to the 3-D printing software and prints it creating a lithophane, or 3-D image. This is then vacuum formed to create a negative/mold into which he casts chocolate from.
"Someone gave me the idea to cast lithophanes in dark chocolate and white chocolate," Lee said. "It's something [consumers] can feel and something edible they can share."
Anvesh Gurijala, a junior mechanical engineering major, was introduced to 3-D printing while working in Jie Song's research lab at University of Massachusetts Memorial Medical Center in Worcester two years ago. His project involved customizing a 3-D printer to print artificial bone implants for osteoarthritis treatment research.
"I actually had the chance to work with Jason recently," Gurijala said in an email to The News. "We both competed in the Husky Startup Challenge hosted by the Northeastern University Entrepreneurs Club earlier this year. Jason is a great innovator and he has some awesome ideas."
Lee launched a KickStarter campaign on Nov. 2, with the goal of raising $10,000 to purchase a personal 3-D printer and vacuform. If $15,000 is raised, he plans to design a lithophane lamp so the 3-D printed image will have its own backlight.
"[This] is more of a project to see if people want 3-D images, or see if they want it in chocolate," Lee said. "I see this as a fun project to see if there is interest out there. If it doesn't reach its funding goal, then that's too bad, but I wouldn't have known if I hadn't at least tried. "
So far, Lee has raised $705 from eight backers since the Kickstarter began.
Earlier this fall, Northeastern welcomed the addition of a 3-D printing lab, open to all students. Located in Snell Library as an expansion to the library's Digital Media Commons, the lab allows students to experiment with this technology for both personal and innovative use.
"We have seven 3-D printers that use four different 3-D printing technologies in the library, as well as a laser cutter and two 3-D scanners," Mark Sivak, the managing director of the printing studio, said in an email to The News. "Having this facility in the library and open to all students and alumni is a great resource for course work and for personal projects."
Sivak started using this technology in 2006 during his graduate research at Northeastern and has been using it ever since. He is currently an inventor on a patent using 3-D printing, also known as additive manufacturing, to make custom orthotic devices for people who have difficulty walking.
"We are always building something on at least one of the machines, but the usage is increasing as the word gets out that the facility is available and more faculty take advantage of the technology," Sivak, who is also a joint faculty member of the College of Arts, Media and Design and the College of Engineering, said.
According to Gurijala, the increased hype over 3-D printing is due to the expiration of patents, which has allowed the technology to evolve into an openly accessible process, despite being around since the 1980s.
"I think 3-D printing technology is an amazing tool for engineers, artists and hobbyists," he said. "It allows you to design and create anything quickly and easily from your computer. 3-D printing is also a great tool to make science and engineering fun and exciting in the classroom; kids are always enthusiastic about 3-D printers."
He also noted that the current access to printing is great for personal use, but limited in industrial use due to more effective current mass production practices. Gurijala, however, does see the technology evolving and integrating further into niche industries.
"I am skeptical that 3-D printers will change our day-to-day life and become a common household appliance," he said. "However, I do believe that 3-D printing is an important stepping stone for very specific industries to advance. Things that are currently only seen in sci-fi, like artificial organs or building colonies on Mars. [Those] could be a reality in the near future because of 3-D printing."
For Sivak, additive manufacturing has made some types of prototyping and design much more accessible to a wider population. He believes that it will have an impact on industry with the evolution of manufacturing methods by better materials and lower costs.
"The biggest improvements now will be with the types of materials that are used and the complexity and quality of the objects that can be built," he said. "Every type of 3-D printing we have in the library is at least 15 years old, but it is only recently that the technology was low cost enough and easy enough to use in a non-industrial setting."
Although Sivak does not know Lee personally, he calls his idea a good one due to the combination of technologies he uses.
"It is a combination of technologies that are barely used together and he has come up with a good object to make," Sivak said. "The customization of objects is really the strongest use of additive manufacturing and he has that with his idea."
Lee's KickStarter, ChocoForm, has 26 more days to raise $10,000. The starting pledge to get a customized chocolate starts at $99, but those interested in something less expensive can get their own 3-D image printed starting at $30.
"Is it too early to ask for Christmas presents?" Gurijala said. "I think it's a cool idea, 3-D printed food is just recently starting to become popular, I think that it could become the next food trend. Jason is ahead of the curve with his 3-D printed chocolate idea and I think a lot of people are going to love it. I wish Jason best of luck with his Kickstarter campaign."
Photo by Kariman Abuljadayel