Obituary: Bailey Putnam, 21, remembered as the voice of the voiceless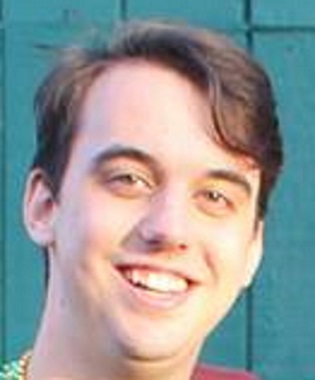 By Olivia Arnold and Isaac Feldberg, news staff
Bailey Putnam, a rising junior at Northeastern University widely admired for his good-natured sense of humor, sharp wit and insatiable passion for journalism, died by suicide  on Thursday, June 9. He was 21.
Putnam, of Weymouth, was pursuing a degree in media and screen studies and journalism and working as a co-op in the regionals department of the Boston Globe at the time of his death. He accrued a remarkable list of achievements outside of the classroom that included interning with a Massachusetts state representative, working as a co-op in the sports department at The Patriot Ledger and serving as the sports editor for the Huntington News while also excelling academically.
In a heartfelt eulogy, provided to the News by his father Stephen Putnam before the funeral, Bailey Putnam was remembered as "the young man who could be recognized by everyone by only his first name." His family highlighted his thoughtful, curious and energetic disposition, as well as his distinct loves for sports, music and meaningful conversations.
It was this third interest, according to his family, that led Putnam to journalism.
"He wanted the stories of other people to be heard while he was the conduit in which to send their message," they wrote. "He was saying: 'I will give a voice, I will write out the details and people will learn about you. I'm just here to deliver the message.'"
Putnam was happiest in supporting roles, his family said, letting others bask in the spotlight while he thrived in important yet less starry positions, such as drumming in a high school jazz combo and playing goalie on a varsity hockey team.
"He repeatedly preferred to let others be the finisher while he set them up," they wrote, thanking his friends for letting Putnam relish in the opportunity to listen to their dreams and offer guidance.
Friends cherished Putnam's witty sense of humor and unflagging enthusiasm.
"He was that guy that was always in sort of party mode, energy-wise," said Drew Daylor, a rising junior and journalism major at Northeastern, who met Putnam in sixth grade. "[He had] that kind of energy that you can be going to class together and you can feel like it was a party. Being with him was like having a blast."
Putnam graduated from Thayer Academy in Braintree in 2013 with honors. He played on the varsity lacrosse team, served as a goalie on the varsity hockey team and wrote for the student magazine, the Voice. He also played drums in the school's jazz ensemble, participated in the business club and was a member of Hope for Haiti, a club where he raised funds for earthquake relief, said Joanna Skoler Gilman, a spokeswoman for Thayer.
Daylor said that he got closer to Putnam as the two moved onto high school and became lacrosse teammates.
"I felt like there weren't that many people I can connect with that had a similar emotional view of the world. He was a really intelligent person," Daylor said. "A lot of views and opinions that I have I couldn't find in many other people; he shared that same character."
In an email to the Thayer community, Headmaster Ted Koskores recalled Putnam as a "good and talented person."
"Bailey's life had already been full; and ahead of him stood rich opportunities for further growth," Koskores wrote. "His loss is deeply felt by our own community, and our deepest condolences go out to his family."
Stew Curran, the varsity lacrosse coach at Thayer, remembered Putnam as a positive, supportive teammate who "came to practice every day with a good attitude" and "always had a smile on his face."
It was at the Voice, the varsity lacrosse coach said, where Putnam received his "spark on the journalism track" after excelling in his English classes. One of his more eyebrow-raising articles centered on "shopping" in the school's lost and found bins, his family recalled.
Students who wrote for the Voice were the top writers in the school, as they had to apply for the Advanced Composition class and be selected in order to work for the magazine, said Kate Hayman, the head of Thayer's English department who co-advised the Voice during Putnam's year.
"He was very intelligent. He was shrewd," said Hayman, who also taught Putnam in English in his junior year. "I think he had a really good eye for […] asking deep questions."
Hayman recalled one particularly strong personal essay that Putnam wrote, a reflective piece about growing up that she called "sophisticated and irreverent."
"I would say he was a strong personal essayist and he was a wry commentator on sort of society, and how people operated and why they operate in that way," she said. "He was also a compassionate writer."
Putnam continued his education at Northeastern, where he enrolled in the fall of 2013. He spent his first semester in London as part of the NUin program, a journey that he embarked on as an "independent-minded 18-year-old who feared nothing and embraced the challenge of an unfamiliar landscape and culture," his family said.
Professor Charles Fountain, who taught Putnam's Journalism I: Fundamentals of Reporting class and also worked with Putnam to cover the 2014 Head of the Charles Regatta, remembered him as "a very affable guy who was always easy to talk to."
"You get people who have varying degrees of drive to be a writer – and I don't mean drive to be a journalist, or a reporter – but Bailey was one of those ones with a drive to be a writer and have a story that he could leave his mark on," said Fountain, who praised Putnam's desire "to deliver the story in his own voice."
Jonathan Kaufman, the director of Northeastern's School of Journalism, said in a statement that Putnam excelled in his classes and "touched the lives of everyone who worked with him."
"Bailey represented everything that was best about the School of Journalism and Northeastern," Kaufman said.
In the fall of 2014, Putnam began writing for the Huntington News, where he mainly covered men's and women's NCAA hockey, but proved he was adept at all sports reporting, writing about soccer, basketball, diving and track and field. Putnam became deputy sports editor in the fall of 2015 and advanced to sports editor the following semester.
In a Facebook tribute to Putnam, Liam Hofmeister, a rising third-year journalism and theater major who served as the editor-in-chief of the Huntington News for the spring of 2016, wrote on Friday, "I loved you Bailey. Your wit and humor made all those endless nights building the newspaper much too worth it. You were the best Sports Editor I could have asked for, and you were a good friend. Northeastern and The News cannot be the same without you."
While Putnam was set on his journalistic path, Daylor entered Northeastern with an undecided major. After following Putnam's passionate sports writing, Daylor said that he decided to declare journalism as his major too.
"[He had a] very developed intellect that I looked up to. He inspired me to be a journalist," Daylor said. "It was refreshing to have a friend like him."
Putnam continued to hone his sports reporting skills with his first co-op at the Patriot Ledger, a newspaper based in Quincy that reports on communities south of Boston, from January to June 2015.
"He did everything you could ever ask from a co-op," said Eric McHugh, the Patriot Ledger's high school sports editor, who oversaw Putnam. "He was great to be around, fit in well and he didn't really need much editing. I don't honestly know that I taught him much of anything, because he seemed to have a pretty good handle on what we asked for."
Putnam was especially talented at covering lacrosse games, and was "always willing to go anywhere and cover anything," McHugh said. The editor said he anticipated a bright future for the young journalist.
A year later, Putnam chose to work for a bigger newspaper, securing his second co-op at the Boston Globe. Despite having vast experience in sports reporting, Putnam was adamant that he wanted to take on a new challenge and write for the regionals department, where he would cover suburbs west of Boston, said Paula Bouknight, the Globe assistant managing editor who handles all co-op hiring.
"Bailey wanted to branch out into news – he knew how to write sports, and he wanted to avoid being pigeonholed in any one beat," said Bouknight. "I thought that was a smart answer […] he understood the importance of being well-rounded as a journalist."
The risk paid off, because Putnam "jumped right in and tackled regionals really well," Bouknight said.
In an email to staff on Friday morning, Globe Editor Brian McGrory said Putnam was a "star co-op" who was always eager to cover a new story.
"He thought nothing of grabbing a Globe car and trekking to the distant edges of our circulation area to cover a zoning board hearing," McGrory wrote. "'I'll reach out to them,' was his trademark line whenever [Regional Editor] Leslie [Anderson] raised a story idea."
Anderson, who directly oversaw Putnam, said in an email that he was an "amazing colleague, journalist and friend" who "embodied the best of journalism – its humanity."
"It wasn't just his wonderful writing and excellent reporting, it was the way Bailey cared about the people he interviewed," Anderson said. "He was warm, curious, thorough and always fair. He instilled faith that his stories would be accurate, and followed through on that promise – whether he was covering a complicated zoning dispute or writing a lighthearted take on Irish step dancing."
McGrory highlighted a series of articles that Putnam wrote on a Belmont woman who aimed to run seven marathons on seven continents and noted that one of Putnam's stories was featured on Sunday's cover of the Globe West section.
"He wrote with humanity and a sense of fairness that far exceeded his age," McGrory said. "This is an unimaginable loss, for his family, for the Globe, really for the industry,"
In their eulogy, Putnam's family urged loved ones to keep Bailey in their everyday lives to celebrate his memory.
"Carry on the way that he did by listening to the needs of others [and] loving each other unconditionally," they wrote. "Do not pass quick judgements or get caught up in jealousy or pettiness. You know the blueprint – he showed it to all of us – pass it along and he will continue to live."
Bailey Putnam is survived by his mother Caren Chevalier and his father Stephen Putnam, both of Weymouth; his sister Taen C. Putnam of Cohasset; and his grandparents, Nancy Doherty and John Chevalier.
Visiting hours will be held on Wednesday, June 15, from 3 to 8 p.m. in the McDonald Keohane Funeral Home at 809 Main Street in South Weymouth. A memorial service will be held Thursday, June 16, at 10:30 a.m. at Thayer Academy.
In lieu of flowers, the Putnam family has asked that donations be made to Globe Santa, P.O. Box 491, Medford, Mass. 02155.
Photo courtesy Caren Chevalier.