Event Calendar: Dec. 1 – 7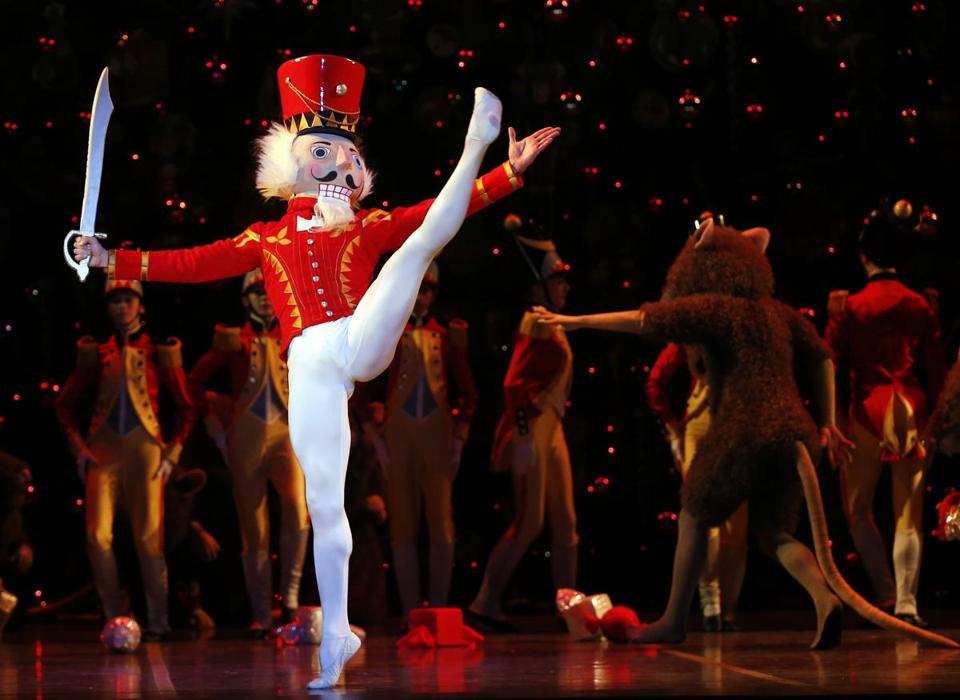 Thursday, Dec. 1   
Join Daybreaker BOS for their signature workout: yoga for the first hour and then a two-hour dance party afterwards. The theme is "The Holiday Get Down" and comes with festive surprises. Daybreaker is partnering with Toys for Tots and The Greater Boston Food Bank and encourages participants to bring an unopened toy or canned good to the party. Once inside, you'll find Quincy Market transformed into a winter wonderland and the perfect place to relax for yoga. Footie pajamas and festive PJs are encouraged. Juice, coffee and breakfast treats come included with a ticket purchase. 6 – 9 a.m.; Quincy Market, Faneuil Hall, Boston; $22 – $35.
Friday, Dec. 2   
Come down to the SoWa Power Station for winter decorations, music, pine trees and so much more. Over 100 vendors will line the street, selling crafts and handmade items ranging from Santa's cookies and homemade mead and eggnog to knitted hats and stocking stuffers for all ages. For adult holiday lovers, the free wine sampling in a heated tent, four food trucks and the opportunity to buy and order deluxe wine and spirits will put you in the best of spirits at Winter Wine Land. Once you have bought all the presents you need on your list, visit the charity gift wrapping station and help end elder homelessness by donating to Hearth, Inc.; 5 – 9 p.m.; 460 Harrison Ave., Boston; free.
Saturday, Dec. 3  
Merry Christmas and Feliz Navidad! Celebrate the coming of the holidays with Seek & Find Boston & La Piñata at a Latin American and American craft sale and flea market for the Jamaica Plain community and surrounding area. This event will have over 70 vendors and a wide variety of products for sale, including jewelry, Christmas ornaments, organic dog treats, herbal wellness products, dreamcatchers and leatherwork, to name a few of the plethora of crafts. Have a craft or trinket to sell? Tables are still available to purchase for the event. Find one-of-a-kind gifts that all ages will love while supporting local artists. 1 – 6 p.m.; 45 Danforth St, Jamaica Plain; free.
Sunday, Dec. 4  
Have a hard-to-shop-for friend or relative? Pick up a book for yourself or as a gift at the pop-up holiday bookstore at the Boston Athenaeum. Find a holiday gift to give as a present or pick up a novel to read on the train ride home for winter break. Even if you are just browsing the shelves, the Athenaeum wants to make this a cheery event for all and will offer free cookies, cocoa and tea to usher in the holiday spirit. Don't know where to start looking? The staff at the Athenaeum will be spread out and ready to help find the specific book you have on your list or make recommendations as to what you should read next. 1 – 3 p.m.; Boston Athenæum, 10 ½ Beacon St., Boston; free.
Monday, Dec. 5  
Transport your tastebuds to Brunswick, Maine and across the sea to Italy at the first pop-up gelato shop on Newbury. Gelato Fiasco is a gelato shop specializing in unique Italian flavors that integrates fun American tastes. Their "flavor vault," as they like to call it, has flavors ranging from candied ginger to Maine wild blueberry crisp. This pop-up will be hosted at The Shop, a retail space on Newbury Street that is rented out to a new pop-up business, restaurant or boutique every week. The stackable custom furniture is rearranged and redesigned with every new shop, so each week has its own unique vibe and atmosphere. 11 a.m. – 8 p.m.; 144 Newbury St. Boston; free admission.
Tuesday, Dec. 6  
Come hear the uplifting true story of the oldest queer youth theatre in America in a free production put on by a new generation of youth. "The Year We Thought About Love" follows the story of LGBTQA+ teenagers and their unique struggles and triumphs. There are many twist and turns, but you will have to attend to learn more. The Theatre Offensive is offering this play free of charge in order to bring to light the issues of the LGBTQA+ community, and to share the joy and accomplishments. The Theatre Offensive's mission is to promote inclusivity, diversity and community through arts programs surrounding the queer community as a whole. 6 – 8 p.m.; Boston Public Library, Boston; free.
Wednesday, Dec. 7  
Take a break from textbooks and term papers and get a dose of culture and entertainment at The Nutcracker Study Break event. The Boston Opera House is opening its doors to the students of Boston, offering bundles for groups of 10 or more for advance tickets to the performance. Each ticket comes with a caffeinated incentive: A $5 Dunkin' Donuts gift card. Stopping by the gift shop with your student ID will also get you a 10 percent discount on all Boston Ballet merchandise, an offer only valid for this Wednesday showing. Before the show, students from Boston College Acoustics will be greeting guests with festive songs to put the audience in the mood for the classic Nutcracker story. 7:30 – 10 p.m.; 539 Washington St., Boston; $25.
Photo courtesy Boston Opera House, Creative Commons