Women's hoops honors seniors Sally, Schnare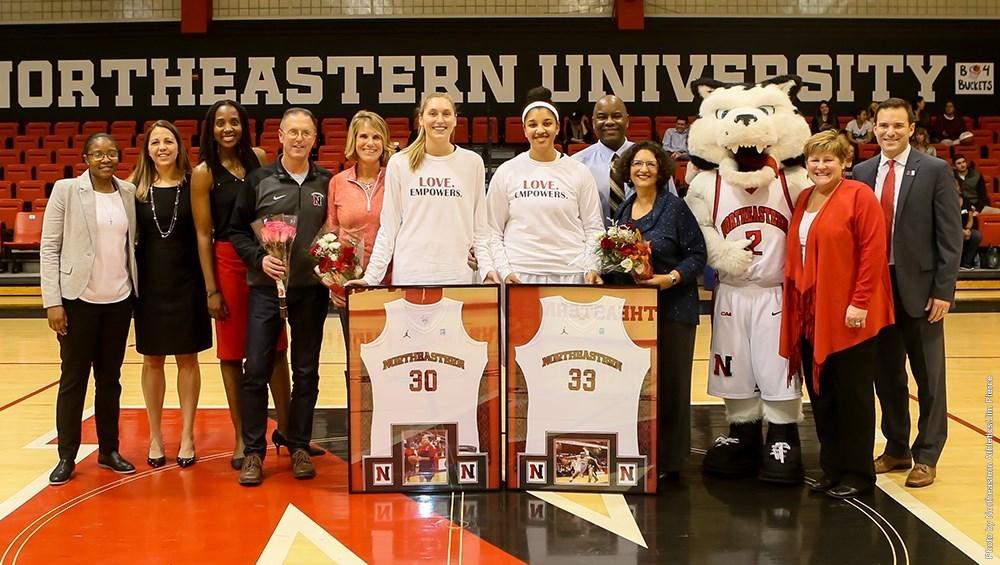 The Northeastern women's basketball team finished its regular season with a 2-1 week with an 86-75 win at the College of Charleston on Feb. 24, a 68-63 loss at the University of North Carolina-Wilmington (UNCW) on Sunday and a 52-46 home win over Hofstra University on Wednesday.
The win over Hofstra gave them a final record of 12-18, including 8-10 within the Colonial Athletic Association (CAA). It also secured the sixth seed and a first-round bye in the CAA Tournament, which begins March 8 in Harrisonburg, Virginia.
Against Charleston, Northeastern had a productive day on offense: Its output of 86 points was well above their season average. Senior center Francesca Sally led the charge, a routine occurrence this season. She collected a career-high 30 points, 14 rebounds and three assists. She thinks the improvement in the offense – both of her team and herself – is due not to a significant change in strategy, but an improvement in execution.
"The offense itself is the same," Sally said. "We're moving the ball better, and that's why we've been able to find more open shots. I'm just more composed and relaxed. I'm taking shots I know I can hit."
The Huskies' loss to UNCW was closely contested, but saw them suffer a disappointing collapse in the fourth quarter. Northeastern led after each of the first three quarters, but was outscored by nine in the fourth, and lost by five.
Just as Sally did against Charleston, junior guard Claudia Ortiz had a career night against the Seahawks. She banked 29 points, in addition to four assists while playing all 40 minutes.
Sally added 22 points in the game, but that was virtually all Northeastern got. No other player scored more than seven.
Northeastern has struggled on offense at times this season, which has led head coach Kelly Cole to emphasize the importance of defense in this team winning.
"The kids really have latched onto it," Cole said. "They've bought into the fact that we have to hold teams down in order to get those W's."
Those words rung true against Hofstra, a game in which Northeastern came out on top in a low-scoring affair. Northeastern held the Pride to 46 points, including just one in the second quarter. Northeastern also forced 10 turnovers, including a couple momentum-changing steals by sophomore guard Jess Genco.
"We're more intense. We have a sense of urgency." Sally said of her team's defense of late. "We're being more aggressive in going for steals."
Cole thought the recent defensive improvement wasn't thanks to any additional pressure applied, but, much like the offense, improved execution.
"Defense, all year long, we've said was going to be a focus," she said. "Now, we're finally just doing it. We made some changes as far as how we handle ball screens, or big defenders in the paint. We've made a few changes, but mostly its execution."
Against Hofstra, the scoresheet was highlighted by 14 points from Ortiz and 10 from sophomore guard Te'Erica Eason, who recently returned from injury. Ortiz has enjoyed somewhat of a breakout season; she has been taking the reigns on offense more and more recently, whereas earlier in the season, most every offensive set ran through Genco.
"I wouldn't say that Jess [Genco] is deferring to Claudia [Ortiz]," Cole said. "I've been telling Claudia all year long, 'bring it up the floor.' She's just finally feeling comfortable enough with the offense and with her role in the squad, and she's just asserting herself a bit more."
Before the game, there was a ceremony honoring Northeastern's two graduating seniors, Sally and center Briana Schnare. Both were recognized at center court, joined by their parents. Schnare was given the customary senior night start, her first of the season.
With the win, the Huskies clinched the sixth seed in next week's CAA Tournament. They get a first round bye, and will face third seeded Drexel University on March 9. Drexel eliminated Northeastern from the tournament last season in the semi-final.
Photo courtesy Jim Pierce, Northeastern Athletics