Protesters rally to make Massachusetts a sanctuary state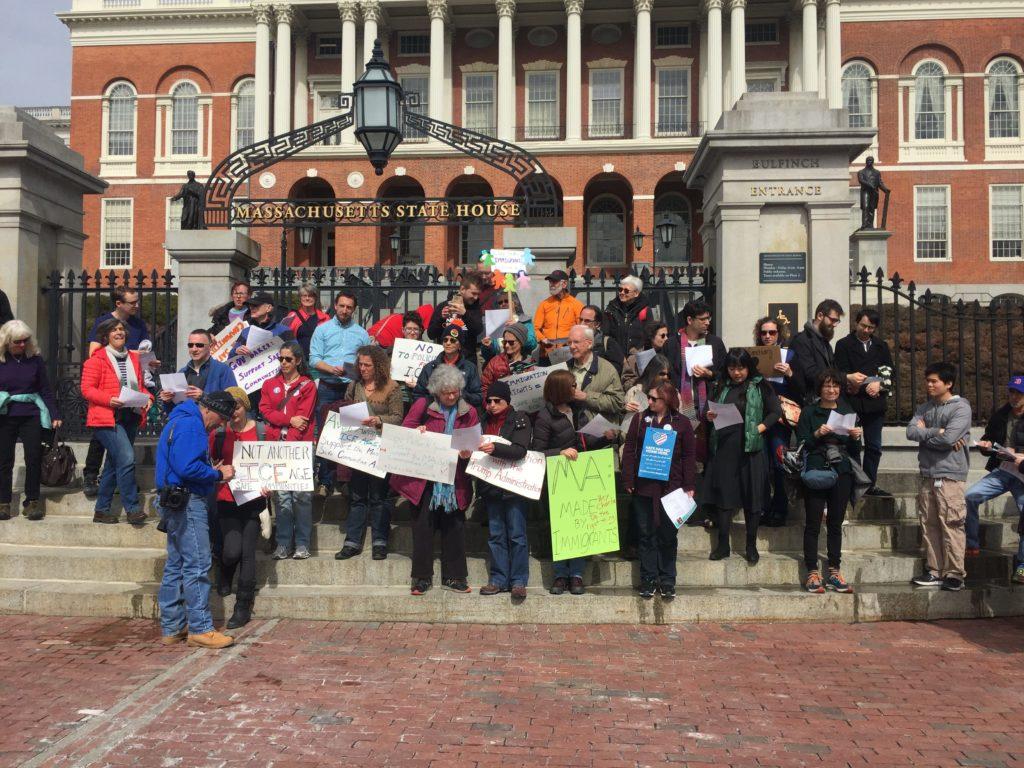 By Ryan Grewal, city editor
Dozens urged Gov. Charlie Baker to make Massachusetts a sanctuary state for undocumented immigrants in a demonstration outside the State House Tuesday.
The Massachusetts Immigrant and Refugee Advocacy Coalition (MIRA), the Welcome Project of Somerville, Massachusetts, the Chelsea Collaborative and the American Friends Service Committee-Cambridge co-sponsored the rally, according to the event's Facebook page.
Activists and elected officials spoke to a crowd of about 50 on the importance of passing the Safe Communities Act, which would prohibit police from enforcing federal immigration law, prevent state databases from being used in a potential Muslim registry and affirm due process for detained immigrants.
"We don't want resources being used to support the Trump administration's immigration policies," said Abby Brockman, an activist with Indivisible Somerville who helped organize the protest. "We really want to keep a clean line between what goes on in Massachusetts and what the Trump administration wants to do."
Many municipalities in Massachusetts already prevent their police officers from enforcing federal immigration law, including Cambridge, which adopted sanctuary city legislation in 1985. However, Cambridge Vice-Mayor Marc McGovern emphasized the need to go beyond typical legislative protections for immigrants given the current political climate.
"From [1985] until a few weeks ago when Mr. Trump was inaugurated […] declaring yourself a sanctuary city was enough," McGovern said. "Now we have to do so much more."
Ben Echevarria, executive director of immigrant-focused nonprofit the Welcome Project, spoke about the need to bring the fight for immigrant issues outside of the liberal population centers around Boston.
"I think part of [the problem] is that people are afraid, so elected officials don't know how their constituents stand on this," Echevarria said. "I think we need more of this [activism] outside of Boston. We need to be standing in Brockton, Worcester, Springfield—all over the state."
Rev. Vernon K. Walker addressed the crowd on the steps of the State House, emphasizing that throughout its history, Massachusetts has been at the forefront of progressive issues, including abolitionism and marriage equality.
"Today we call on the legislators to adopt the Safe Communities Act so Massachusetts can again be the vanguard of change," Walker said. "We're out here to stand with our immigrant brothers and sisters, our Muslim brothers and sisters, to show that they are not alone, that we are standing with them in solidarity."
To end the protest, Brockman and Joe Creedon, the founder of activist collective Indivisible Somerville, led the crowd in a rendition of Carly Rae Jepson's song "Call Me Maybe," with the words rewritten to urge Baker to support the Safe Communities Act.
"Hey, Charlie Baker, we're declaring 'Make Massachusetts a sanctuary,'" the crowd sang. "And all the racist talk getting scary, so make Massachusetts a sanctuary."