Northeastern Crossing hosts event for city's wage gap week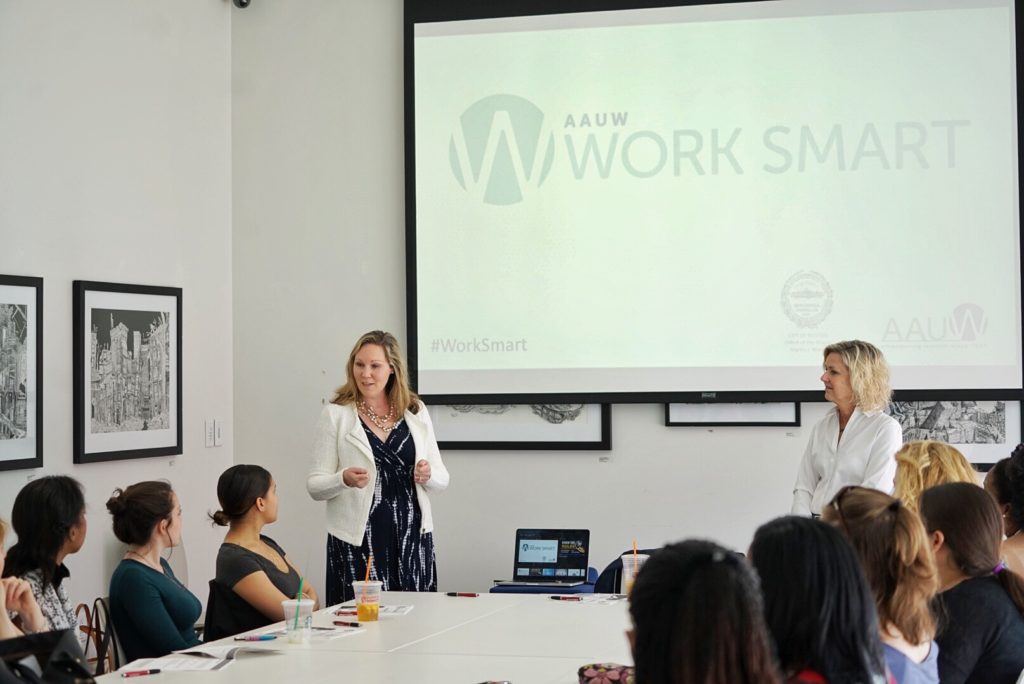 By Janette Ebbers, news staff
Representatives from the American Association of University Women (AAUW) presented a salary negotiation event Tuesday at Northeastern Crossing.
The seminar, led by Morgan Stanley advisors Denise Simpson and Nancy Allen, focused on practical strategies of salary negotiation for women and the challenges facin the often male-dominated workplace.
The training was part of Equal Pay Awareness Week, a week-long effort by AAUW and Mayor Martin J. Walsh to close the wage gap in Boston, according to a statement from Walsh's office.
"We want to provide you tools to address [the wage gap]," Simpson said. "No one wants to leave money on the table. This needs to be addressed for future generations."
Allen and Simpson opened the presentation outlining the problem: Women earn less than men.
"Based on the national wage gap, it was determined that over a 40-year career, white women would lose $400,380 compared to their male counterparts," Allen said. "They both may have worked as much and as hard as each other, but you're looking at almost a half a million dollar difference."
For women of color, Simpson said the wage gap is even more worrisome.
"It gets even more dire," Simpson said. "For an African-American woman, she'll lose $877,480 over the course of that same career. A Latina woman will lose over $1 million. This is why we're here."
Allen and Simpson applied the gender gap statistics to real-life situations in the seminar
"You need to think about a man and a woman coming out of college with the same degrees," Allen said. "How to they get to the place where they're making 54 percent of their male counterpart, 63 percent, 75 percent?"
Allen and Simpson laid out four steps for women to successfully navigate salary negotiation: Know your value, benchmark your salary and benefits, know your strategy and practice. Simpson said strategies such as seeking out "salary checkpoints" by constantly interviewing makes it easier for women to play at the same level as their male counterparts.
Allen said there are many social norms that give men a competitive advantage over women in the workplace.
"They start networking as tiny kids, more so than the girls do," Allen said. "So, they're much more comfortable. When I was young, when I started my career, women just weren't doing it because there weren't many women in those fields."
Simpson also said men typically have an easier time promoting themselves, something that can hamper women in both salary negotiations and interviews.
"If you cannot articulate your value, how in the world is the person at the table across from you going to translate it and say, 'Oh, that person deserves this job'?" Simpson said.
Allen said women frequently worry more about the rigidity of their career decisions, especially when they are recent college graduates.
"I'm here to tell you your first decision will be an amazing decision," Allen said. "It will help you learn the tools of life, about the workplace, about what you're doing, but it's not something that is going to cement you into a profession you'll stay in for the rest of your life."
Allen, who is on her third career, said mistakes and false starts can often help create self-confidence. Allen emphasized assertiveness as the metaphorical golden key for women in a competitive work environment.
"You have all kinds of choices, and women today in the workplace have the world open to whatever they want to do," Allen said. "You have to find that self-confidence."