Men's basketball starts season 2-0 thanks to balanced offense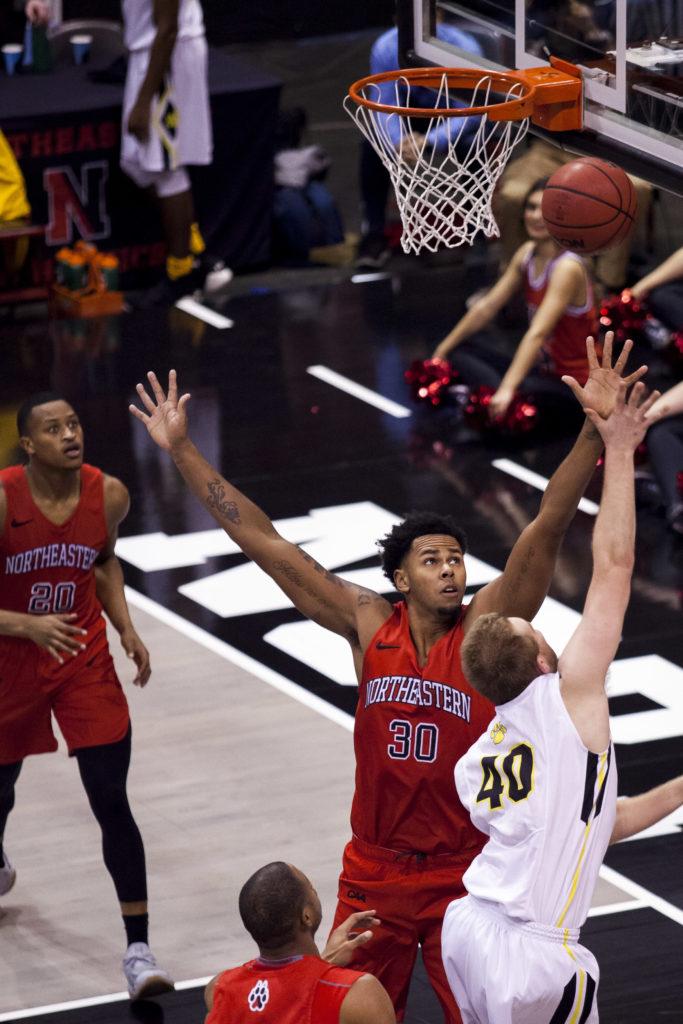 A young and balanced Northeastern men's basketball team finished a 2-0 opening weekend Sunday. A 65-59 victory at Boston University on Friday and an 83-49 win in their Matthews Arena opener against Wentworth gave the Huskies two triumphs over crosstown rivals as they head out on a daunting road trip.
Head coach Bill Coen identified the team's chief challenge as finding out how the offense will absorb the loss of T.J. Williams, last year's scoring leader. Sunday's win reaffirmed his statement after a practice last week that they would have to "score by committee."
"The challenge for this team is to find out when guys are going to contribute," Coen said after Sunday's game. "Last year we were fortunate to have T.J. Williams. We could count on 20 points from him every night."
Northeastern made a point of sharing the ball against Wentworth; 11 players scored in the game, including three in double digits. Second-year guard Shawn Occeus led the team with 12 points in 20 minutes off the bench, including a four point play late in the second half. He said the bench unit could be a driving force for the team this year, as it looks to be more balanced.
"I think the second unit really comes out and brings energy," Occeus said. "We play as hard as we can on defense, getting rebounds and outrunning them. I hope the team feeds off of it."
Coen was impressed by his team's ball-sharing Sunday, and said the allocation was nearly to a fault.
"There was a point this afternoon I think we were a little too unselfish," he said. "We passed up some good shots early in the possession. That's the nature of this team. I'd rather have that, and have us figure it out as the season goes along. I love the unselfishness of this group."
Interior defense was an issue for the Huskies last season, and it wasn't fully resolved against a Division III opponent Sunday. Wentworth found 26 points in the paint, constituting more than half of their total offensive output. Fourth-year forward Jason Ganley led them with a game-high 17 points on 15 shots.
"They got a little bit of an advantage down there," Coen said of Wentworth's scoring down low. "They were able to score the ball a little bit too easily around the rim for my liking. That's something we'll address in practice and hopefully get better at."
Coen thought the Huskies' fast pace on offense — they scored 26 points off of turnovers including 13 on fast breaks — was a byproduct of their general defensive intensity, some of which was sparked by Occeus. Occeus said he hopes to help out the slew of young players on the team communicate on defense.
"I'm just trying to talk to them as much as I can," Occeus said. "It's a fast game, compared to high school. I'm trying to do whatever I can to help them out."
The "second unit" Occeus referred to was difficult to discern, because Coen's rotation was extremely balanced. Every player was on the court for at least 13 minutes.
"I'm not even sure we have a second unit," Coen said. "We kind of all morphed into one. We've got some young guys making the transition to college, and that's an adjustment in strength and quickness and everything. I love how they attack every day. We're excited for their future."
Three players in addition to Occeus scored in double figures: Fourth-year guard Devon Begley and second-year guard Bolden Brace each scored 10, and second-year guard Donnell Gresham Jr. added 11. Third-year guard Vasa Pusica followed up his strong performance Friday, his Northeastern debut, with nine points, four steals and four assists Sunday. Brace led the team in playing time at 19 minutes.
This could turn into a versatile team on offense, as their approach differed greatly from the first half to the second. In the opening period, they seemed determined to live and die by the three pointer: They attempted 17 threes and 13 twos. In the second half, they came out with a different approach, opening the half with eight quick points in the paint. Occeus insisted that the change was merely a result of what Wentworth gave them.
"It's all about reads for us," he said. "We practice that a lot, in practice and the shootaround. We put in time to take those shots; luckily they went down."
Northeastern edged out BU by six points on Friday. Occeus was encouraged by how hard they fought.
"Every game has something to take out," Occeus said. "At BU, we just took out playing hard. They clawed back toward the end but we showed a lot of effort and we pulled that one out."
A challenging road trip is on deck for the Huskies, as they'll face Stanford University on Friday and Ohio State University on Sunday — Occeus regrets the fact that he has a 9:15 a.m. class the following Monday. The team is looking forward to the considerable challenge posed by a couple of Power Five teams.
"I'm looking forward to the warmth," Occeus joked. "No, but really, we're looking for some wins. We want to really come together as a team."
Coen sees it not only as two wins hanging in the balance, but as a chance to get stronger as a team in preparation for conference play.
"Every time we step on the court, it's a chance to learn something about ourselves," he said. "Everything points toward conference play. We tried to put together a non-conference schedule that allows us to play against different styles of play, national caliber teams like Stanford and Ohio State, and give us growth opportunities."