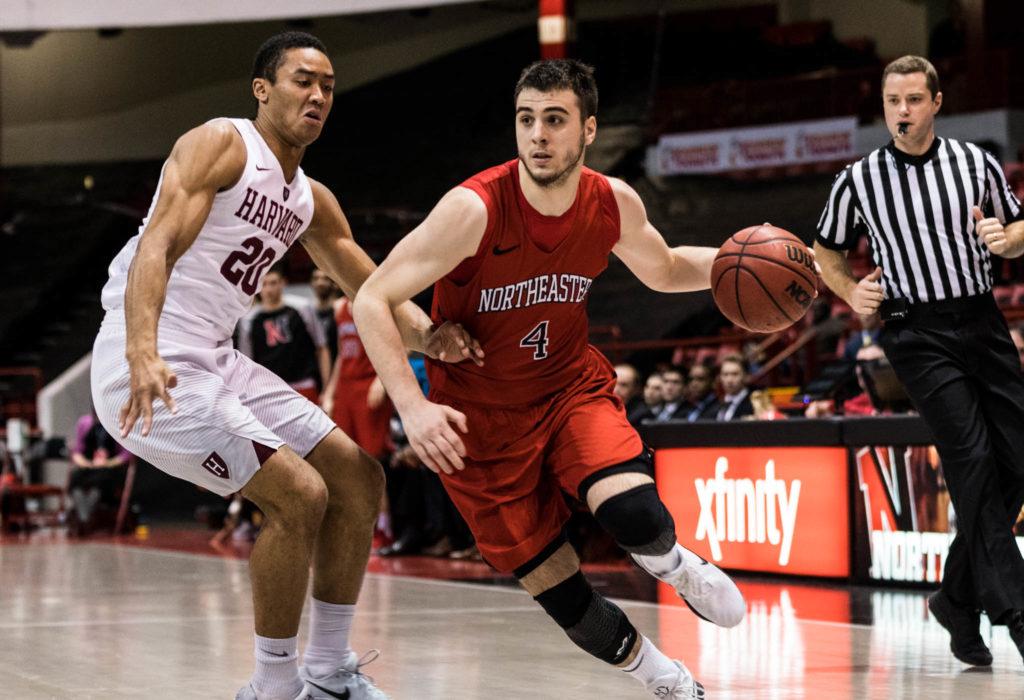 After a frenetic first half and a more balanced, all-around effort in the second half, Northeastern overcame Harvard 77-61 Thursday night at Matthews Arena. After four straight losses on the road, the Huskies were glad to be back in Boston.
"It was great to get back to Matthews and play in front of our home fans," head coach Bill Coen said. "I think we played a spirited game. We came out of the locker room with a ton of energy and beat an extremely talented Harvard club tonight."
Third-year guard Vasa Pusica scored a team-high 22 points, including three triples and a solid 7-13 mark from the floor. He added seven rebounds as well, and was on the court for a game-high 37 minutes. Fourth-year guard Devon Begley and second-year guard Shawn Occeus joined Pusica in double-digit scoring, with 14 and 11 points respectively.
Coen praised Pusica's performance after the game, saying that he "drove the bus" and made sure to keep the younger players engaged at all times.
"Whenever we needed a big bucket, stop or free throw, he stepped up and was huge for us this evening," Coen said. "I thought that was ultimately the difference in the game."
Pusica said he was happy to be back at Matthews, too — his team's 0-4 road stretch preceding Thursday's game included a blowout at the hands of Ohio State and disappointing outcomes against Utah State and Furman.
"We want to play on our home floor," Pusica said. "It was hard, we had four hard-fought games on the road. We didn't win any of them, but we learned a lot and now we can use it in front of our fans."
Pusica led Northeastern on a dominant, 20-4 run early in the first half, staking themselves to a 32-11 lead. Harvard had missed eight consecutive shots at that point, and the Crimson were visibly frustrated on the court. Northeastern was 7-14 from three in the half, and outscored Harvard in the paint.
"I'm not trying to force it," Pusica said. "If I feel like I need to make a play, I'll go ahead and do it, but I'm not really focused on points or anything like that. We talked in the locker room that we had to win the first four minutes, and I think that showed tonight. We were the better team."
NU was 7-14 from three-point range in the first, and outscored Harvard in the paint, 16-12. The game wasn't closed and it looked like it could get even further out of hand.
Harvard wasn't ready to call it quits, though, and their bench was fired up as they went into the locker room down by seven at halftime after a 19-9 run.
Northeastern re-took the momentum early in the second half, which Coen said was thanks in large part to their defense. Particularly, Occeus shined in this area, Coen said. In the starting lineup for the second time this year, Occeus had three blocks and three steals against the Crimson.
"He was in [the starting lineup] for his defensive abilities," Coen said. "He's got really quick feet, he's got length and strength. He's able to get up and block a shot. He's a guy that can be a one-man press and control their transition. [Harvard point guard] Bryce Aiken is so quick with that ball that having someone who can control him makes a huge difference."
Pusica said Occeus' defensive effort against Aiken, who had a game-high 26 points for Harvard, was key to the victory.
"It makes it easier for all of us," Pusica said. "If he's going to go ahead and lock their best player, we're probably going to win. I think his defensive plays are the biggest reason we won today."
It may seem strange for a coach and teammate to praise a player for his defense when the opposing player dropped 26 points, but Coen said that point total is more of a credit to Aiken's abilities.
"Shawn did just about everything right," Coen said. "Good players are going to get theirs. He's that unique combination where you have to guard him to 25 feet because of the shot, but he can drive it on you, too."
Harvard head coach Tommy Amaker wasn't happy at all with the play of second-year forward Seth Towns, who, despite averaging 13.2 points per game coming into Thursday, scored just two points all night.
"I was very disappointed in his effort," Amaker said. "He didn't play well at all. We need more from him."
Amaker also said he was caught off guard by how poorly his team shot the ball in the first half, which allowed Northeastern to go on their massive early run.
"We haven't been a good shooting team this year, which has been surprising to me," he said. "That's why we couldn't generate offense early."
Bolden Brace, a second-year guard for NU who has scored in double figures three times so far this year, was held scoreless in a season-low 14 minutes. Coen spoke very highly of his potential for this year before the season tipped off, and isn't discouraged by his performance against Harvard.
"Bo is an elite teammate," Coen said. "He comes to work hard every single day. He scored 40 points in a game as a freshman, which isn't easy to do. I think he has a really high ceiling. Right now, for whatever reason, he's just not clicking. One thing I know about him is he will always find a way to help us, and I thought he did that tonight."
Perhaps Northeastern's biggest advantage Thursday night, and throughout the season, was the depth of their bench. Nine players scored for NU. Northeastern's bench outscored Harvard's 26-4. The bench is such an important part of the team's production that Coen barely identifies a starting lineup.
"We have to win by committee," he said. "I don't like to even talk about starters, because we've played just about everybody in almost every game. We got contributions up and down our lineup. We're trying to settle into roles. Shawn embraced the role of being a defensive stopper. Vasa [Pusica] steered the bus for us. Devon [Begley] provided senior leadership, settling us down in key moments. Everybody's got to do their job."
Northeastern will host Cornell Saturday at 4 p.m. at Matthews Arena.