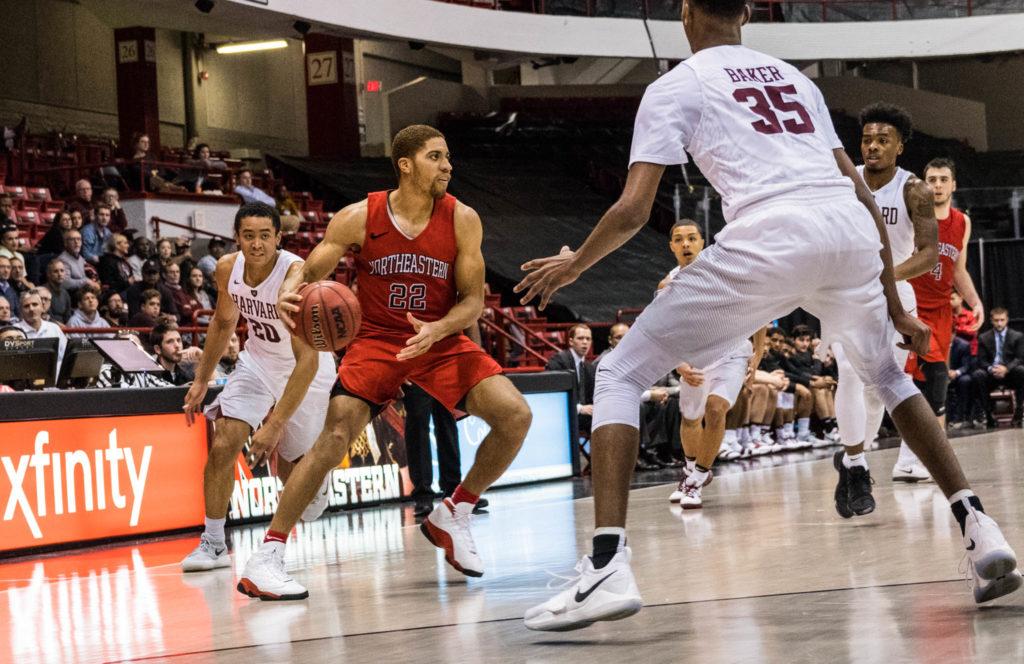 A solid defensive second half and a 22-point game by Donnell Gresham Jr. keyed the Northeastern men's basketball team to a decisive 84-66 victory over Cornell at Matthews Arena Saturday. The win brings them back to .500 at 4-4 and a 3-0 record at home.
Gresham, a third-year guard who set a career-high in points for his third time this season, also brought down nine rebounds and had four steals.
"It's been my coaches believing in me," Gresham said after the game, "and my teammates and I have worked well together. We all like playing with each other."
Last season, Gresham started four games before a hand injury ended his season. He said he was able to "develop every area" of his game from the sidelines by watching film and working with his coaches.
"Sometimes when you're playing, you get a very narrow perspective of what's going on," head coach Bill Coen said. "One of the silver linings of the injury year for Donnell is that he was able to see the big picture of how he's going to fit and how things work together. That's a really good experience when you stop thinking one-on-one and start thinking five-on-five."
Gresham wasn't the only offensive standout for the Huskies; third-year guard Vasa Pusica followed up a strong showing Thursday against Harvard with 20 points and six assists Saturday, second-year guard Maxime Boursiquot had 11 points on just five shots and second-year guard Bolden Brace found 12 points on a few threes.
Expectations were high for Brace coming into this year after he had several offensive outbursts in his debut season, including a 40-point game at Elon. He's had an up-and-down start to the 2017-18 season, though, failing to top three points in four out of the Huskies' seven games leading up to Saturday. In their Thursday night game against Harvard, he was held off the scoreboard entirely and played just 14 minutes.
Coen is happy with Brace's 12-point output on Saturday and said he is hopeful that it's a sign of things to come.
"Everybody that watched his play last year recognizes how good of a player Bolden is," Coen said. "He adds a special dynamic to our team. We've been waiting for him to get on track, and today he just played with that spirit and energy that he needs to play with to be effective. He was out there having fun, and that's great to see."
The game ended as a convincing Northeastern victory, but it was a close, back-and-forth affair throughout the first half and into the start of the second.
Coen was impressed with his team's defense, and said he thinks it was a major key to the run that allowed his team to run away with the game at the end.
"Defensive rebounding was big, and we got stops," Coen said. "Donnell did a great job today on the glass defensively. When our guards rebound like that, it ignites our break and we're able to get out in transition and find guys and score early in the shot clock."
Gresham is hardly the only Husky to turn in a big offensive performance this season. As Coen has said numerous times this year, this is an "offense by committee." The team is becoming defined by its spreading of minutes — and points — throughout its roster. Brace, Gresham, Pusica and fourth-year guard Devon Begley have all been known to carry the offensive attack for a game at a time. Gresham said he attributes that balanced offensive dynamic to the team's unselfishness.
"I wouldn't say there's a different vibe because of it," Gresham said. "We don't care who scores. Whoever's open, shoot the ball."
The homestand will continue Tuesday night as Northeastern hosts Bucknell at Matthews Arena.