Third game of homestand brings third straight win for men's hoops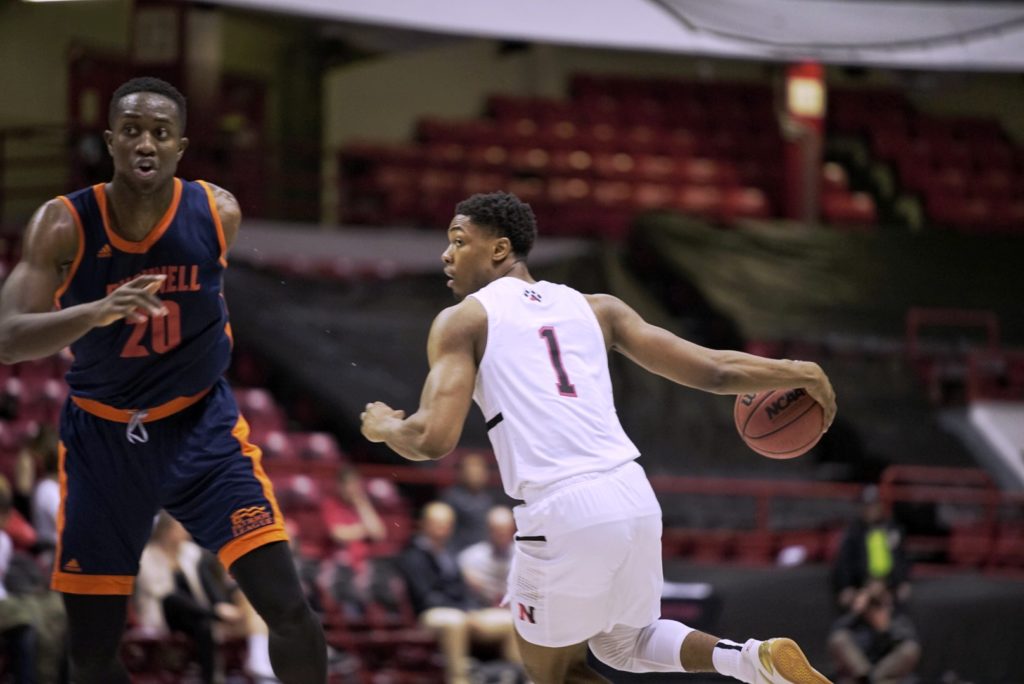 A third straight home game awaited the Northeastern men's basketball team Tuesday night as Bucknell came to Boston for a non-conference meeting with the Huskies at Matthews Arena. After an exciting, air-tight first half, the home team seized control and recorded a resounding 82-64 victory.
This is the third consecutive game NU has pulled away for a win after an even start to the game – their Nov. 30 game against Harvard and Saturday's game against Cornell followed similar scripts. Head coach Bill Coen said he's pleased with the way his team has responded to the close, challenging games.
"I think it speaks to a couple things," Coen said after the game. "First, it's their togetherness. They're really a together group and you've got really good leadership. I also think it speaks to our depth. We play a lot of guys and we are allowed to stay fresh. That may not present itself in the first half, but I think in the second half our numbers really have an impact on the game and we can stay in attack mode."
To Coen's point, he deployed 12 players against Bucknell, eight of them for at least 20 minutes. The entirety of the first half was played with a scoring margin under 10, while the second half margin was in double digits for all but a few seconds.
Another key to Northeastern's triumph Tuesday was rebounding: NU collected 29 of a possible 31 defensive boards. Conversely, they were strong on the offensive glass, nabbing eight offensive rebounds of a possible 32.
"That's something we focused on coming in, to have two really good bigs," said Vasa Pusica, a third-year guard. "That was our game plan, to keep them off the boards."
Northeastern was generally strong in the paint all night, highlighted by the play of their 6-foot-10-inch third-year center, Anthony Green. He finished the game with 11 points, six rebounds and one backboard-quaking two-handed slam. His coach said tonight's performance was Green's best of the year.
"He started off slowly, he got in quick foul trouble," Coen said. "But I thought in the second half he gave us a huge lift and a huge presence in the paint. When we rebound this well, it ignites our break. So it not only helps us defensively, but it helps us offensively so we can run our lanes and get easy baskets."
Pusica paced the Huskies with a game-high 17 points, shooting 7-10 from the floor in 22 minutes.
It was another remarkably balanced night for the Northeastern offense, something that's becoming the defining attribute of the 2017-18 team. Coen often says they score "by committee," and he doesn't put much stock in who's in the starting lineup —  they rotate in and out frequently. This is a stark contrast with last year's team, which relied heavily on the talents of T.J. Williams, the CAA Player of the Year who graduated last spring. Eleven points apiece from second-year guard Donnell Gresham Jr., fourth-year guard Devon Begley and Green complimented Pusica's 17, and second-year guards Bolden Brace and Maxime Boursiquot each added nine.
"It's nice having a deep roster where it makes practice competitive," Begley said. "You know that anybody on the roster can step on the court and contribute. When you support your teammate that's next to you, no matter who's on the court or who's on the bench, it helps a lot."
Prior to the game, Northeastern alumnus and current Dallas Mavericks star J.J. Barea returned to Matthews Arena to participate in the team's Paws for Puerto Rico fundraiser. Barea played for the Huskies from 2002-06, where he averaged 20.3 points and 6.4 assists per game throughout his career with the Huskies.