Op-ed: Campus Solidarity with Palestinians will not be Silenced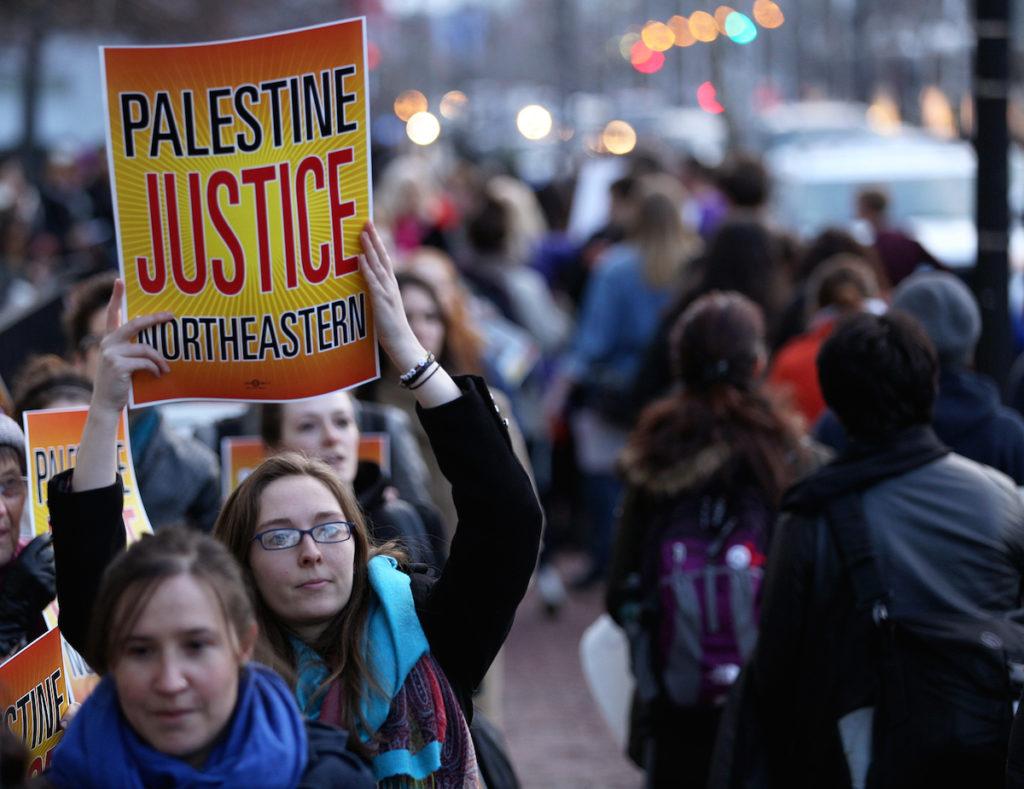 On Nov. 2, two soldiers of the Israel Defense Forces, or IDF came to speak at Northeastern as part of an "Israeli Soldiers Tour." Northeastern's Students for Justice in Palestine, also known as SJP chapter organized a peaceful protest on a public sidewalk nearby to oppose the event and highlight the crimes of the IDF. We had support from 17 organizations from across Boston, and around 100 people attended the demonstration.
One student who helped organize the Israeli Soldiers Tour event published an op-ed in The Huntington News in response to the protest.
"By drumming outside Hillel and intimidating students, SJP tried to drown out the event with noise and silence our voice on campus – they tried to deny us our First Amendment right to express ourselves," wrote this student.
SJP believes this op-ed misrepresents both the Israeli Soldiers Tour event and our protest.
The op-ed describes the Israeli Soldiers Tour as merely a cultural event, akin to a food festival or a religious gathering. But inviting soldiers of a foreign military to speak on that military's behalf is a political event, especially when that military is actively involved in an occupation that affects many students on campus. The IDF is responsible for enforcing Israel's most reprehensible state activities, such as its settlements in the occupied West Bank and its devastating blockade of Gaza.
All students deserve to feel safe and comfortable on campus, but Palestinian students cannot feel safe when the military that occupies the land of their families and loved ones is invited to host a promotional event at their university. Many of Northeastern's Palestinian students have friends and family who have lived under IDF occupation. Their loved ones have been harassed, beaten, evicted, arbitrarily detained or worse. Some students have lived under occupation themselves and have witnessed these abuses first-hand. Along with the personal testimony of Palestinians, these abuses have been well documented by organizations like Human Rights Watch.
A promotional tour for an occupying military sends a message that the crimes and abuses perpetrated against Palestinian students and their loved ones are trivial and that the military responsible for these crimes can come to Northeastern and be viewed unequivocally as a positive force. Our protest intended to make it clear that our community stands in solidarity with the Palestinian people, that support for the IDF is far from universal, and that we should not welcome an occupying army onto our campus.
We believe that students should be able to express themselves on campus. Our protest intended to elevate the voices of those who are left out of the conversation. Palestinian students and Jewish students who are critical of Israel do not have a platform to share their perspectives and personal experiences, but Israeli soldiers can tour the country justifying the occupation of Palestine and whitewashing the IDF's war crimes. 
As part of our demonstration, we read a letter written by a Palestinian member of our group, who asked to remain anonymous due to the danger of sharing their story and criticizing Israel publicly. We also heard from a former IDF soldier, Omer Hecht, who was discharged as a conscientious objector because he refused to participate in the IDF's oppression. He has been attacked for his political opinions and human rights activism, both in Israel and here in the United States. He is not alone – former Israeli soldiers have begun telling their stories and calling for change. A group called Breaking the Silence gathers testimony from Israeli soldiers to describe the abuses that the IDF carries out.
The op-ed in question attempts to paint our protest as an attack on free speech, with its title proclaiming, "We will not be silenced." This headline is misleading and inaccurate, given that the free speech of Zionists in the United States is not under attack, and our protest did not inhibit anyone's first amendment rights. If anything, it was an example of Northeastern community members exercising freedom of speech and assembly to elevate Palestinian voices in contrast to narratives that devalue and dehumanize them.
On the other hand, organizers and activists who seek peace and justice in Palestine are constantly under threat for their political opinions. Despite these threats, Palestinian students will continue to share the realities of the oppression and abuse that they and their loved ones have faced at the hands of the IDF and their allies will continue to advocate for an openness of political discussion and respect for human rights.
Students for Justice in Palestine meets Thursdays at 6pm in the Social Justice Resource Center (106 St. Stephen St.)
Photo by Maria Amasanti