By Morgan Lloyd, campus editor
Northeastern Students for Justice in Palestine, or SJP, kicked off their "Northeastern Against Hewlett-Packard" campaign in a Friday event, calling for the university to stop doing business with the company.
Hewlett-Packard, or HP, supplies Northeastern with its printers. HP and its associated companies have been criticized for contracting with Israeli prison services and providing technology for Israel's population registry for border crossings.
As Olivia Clark, an SJP member and third-year combined human services and international affairs major, said, pro-Palestinian groups feel Israel's population registry is used for discriminatory practices.
"Basically, all Israeli and Palestinian people are required to carry an ID card with them at all times," Clark said. "Those identifiers are used to discriminate based on voting, movement, a bunch of different things like that."
In addition, Israel's prison system has been accused of human rights violations, said third-year English major and SJP member Ben Simonds-Malamud.
"Another way HP provides technology for the whole machine of the occupation is through prisons," Simonds-Malamud said. "When Palestinians, even ones who are not residents of Israel proper, get arrested, for example for being at a non-violent demonstration, which is illegal under the legal structures of the occupation, then they get taken to Israeli prisons in Israel which is a violation of international law."
But Ross Beroff, a fifth-year combined business administration and political science major who is passionate about these issues, said Israel's security measures are necessary to protect the country.
"I think it's a very complex issue," Beroff said. "It's unfortunate that Israel is surrounded by neighbors that want to wipe it off the map. It's been the victim of many terrorist attacks, often coming from individuals living in the West Bank and Gaza."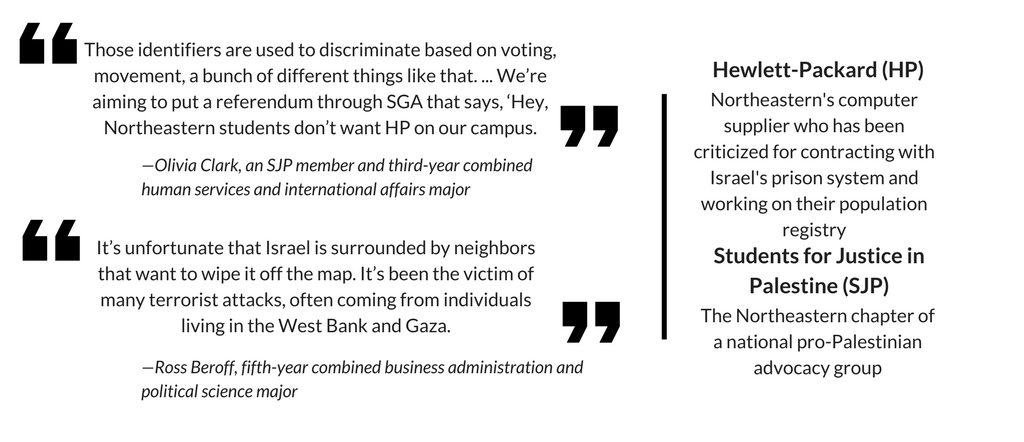 SJP also discussed other ways in which HP has been accused of human rights violations. In addition to their actions in Israel and Palestine, HP has also provided technology to Immigrations and Customs Enforcement in the United States, and is a client of the Foxconn factory in China, which has been accused of human rights violations.
To protest the company, SJP is calling on Northeastern to boycott HP and divest whatever funds it has invested in the company.
"Divestment isn't something we personally can do. But Northeastern can," Rourke Bywater, a member of SJP and a third-year history major, said. "Unfortunately, at the moment we don't know — it's not public — what investments Northeastern has."
The group submitted a referendum to SGA for Northeastern to end its contract with HP.
"We're aiming to put a referendum through SGA that says, 'Hey, Northeastern students don't want HP on our campus," Clark said.
In Beroff's opinion, however, the campaign would do more harm than good as a result of the hostile environment it will create on campus.
"Their goal is also to sow dissent among the community," Beroff said, "It's unfortunate that SJP is trying to bring a campaign to campus that they are aware will create a hostile, unsafe environment."
Northeastern student groups such as Students Against Institutional Discrimination and DivestNU have used referenda in the past to put pressure on the university, Simonds-Malamud said.
"The administration doesn't do much about [referenda], but it's good as a rhetorical point," he said.
Even though the administration could ignore the vote, Simonds-Malamud said he sees it as a good way to start the campaign.
"We don't know that they're going to say no," he said. "It's pretty easy for them to just pick a new supplier for their printers. We don't want to come out in completely bad faith."
Students for Justice in Palestine has submitted similar referenda in the past, which were unsuccessful. However, previous referenda asked Northeastern to disassociate themselves from four companies: Raytheon, Caterpillar, Motorola and HP. By narrowing their scope, Simonds-Malamud hopes this referendum will be more successful.
Bywater said movements calling for a boycott have made Northeastern divest in the past, such as when the Board of Trustees voted to divest from apartheid-era South Africa in 1986.
"This has worked, not only in a broader context before, but specifically in the context of Northeastern's campus. International solidarity brings pressure," Bywater said. "This is a great way to build more awareness to the issue of Palestine."