Northeastern wraps up CAA two-seed on 'Begley Night'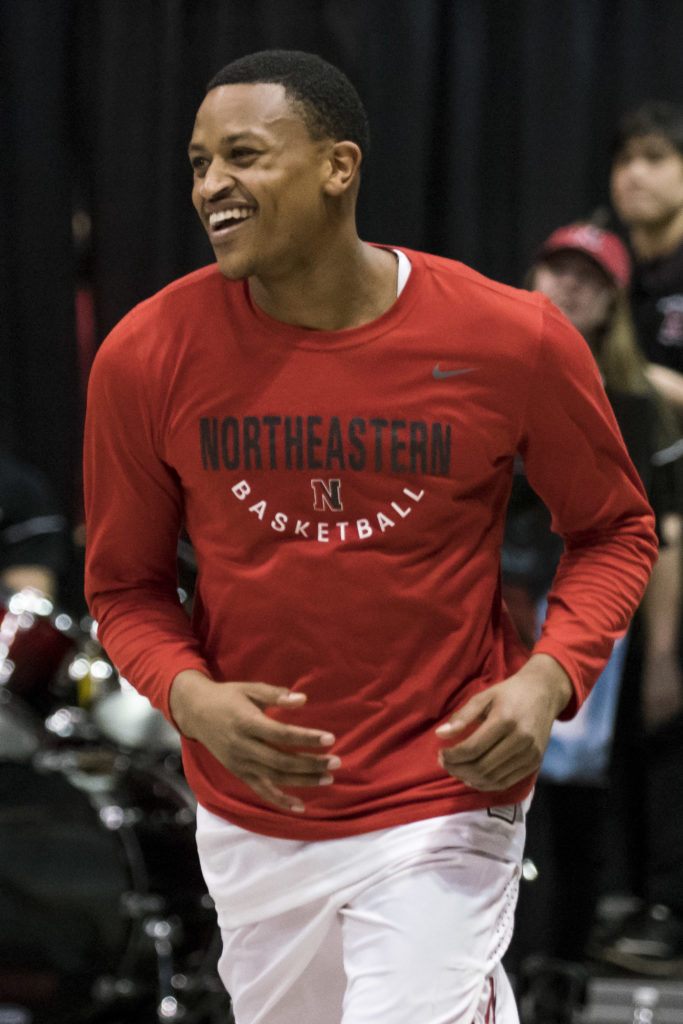 It was senior night — check that, Devon Begley night — at Matthews Arena Thursday as Northeastern honored its lone fourth-year player, the 6-foot-4-inch guard out of Pearland, Texas. It was a pair of second-years, though, that left the biggest marks on the scoreboard that rested at 80-75, Northeastern, at night's end.
Second-year guard Shawn Occeus fueled NU with 24 points and provided the defensive presence his team has grown to rely on, grabbing seven rebounds in the process. For Towson, second-year forward Justin Gorham scored 28, which is 20 more than his season average coming into Thursday. Towson came in at 8-8 in CAA play and is jockeying for valuable positioning in the upcoming CAA Tournament,.
"I usually hang my hat on my defense," Occeus said. "It was cool to see the ball go in a couple times."
The win over Towson put a cap on Northeastern's 12-2 home record, and assured NU a second seed in the CAA Tournament regardless of its result in the season finale Saturday.
Occeus has had a rough offensive go lately; until Thursday he hadn't topped eight points since Jan. 25. Against Towson, he was 8-12 from the floor with four three-pointers and four made free throws. Head coach Bill Coen said his big offensive night may have been sparked by a desire to send Begley, a close friend of Occeus's, off the Matthews floor in style.
"He's one of Devo [Begley]'s best friends, and I had a feeling he wanted to go out there and help him," Coen said. "I could tell when he was warming up tonight that he was energized and dialed in."
Gorham exploded for 28 for Towson — he scored 10 two-pointers and was 8-12 from the line — but NU was able to hold the team's top scorer, Zane Martin, to 11. Occeus relished the job of covering the opposition's top threat almost as if his own scoring was an afterthought.
"I know my role on this team," Occeus said. "Going out there and playing hard on their best player, making it hard for him. I think everyone else on the team feeds off of that. Competition juices me up even more."
A turning point in the game came early in the second half when Northeastern's big man, 6-foot-10-inch Anthony Green, skied for a pair of blocks in a span of about five seconds.
The second one was a vicious swat from behind: Gorham found the rebound from his first block and tried to lay it up, but Green powered back to the rim and sent the ball out of bounds behind the basket with authority. He stared down the Tiger he rejected, and the two exchanged some heated words; each received a technical foul as a result. The Matthews crowd gave Green a standing ovation for his trouble.
"When we came out in the second half, we knew we had to pick it up," Green said. "To get those two [blocks] was obviously a big play, and to get the tech carried everyone and got everyone going."
Occeus said he could feel the energy level in the building rise at that moment.
"That got me going," Occeus said. "Especially seeing the crowd hyped up. That sequence really turned it over for us, like, 'Let's go. Let's do this.'"
Begley said sequences like that are just what NU needs from its center.
"His presence there is key to this team," Begley said.
Technical fouls are never ideal — it contributed to Green's foul trouble later on — but the physical domination of the sequence got the Huskies going.
Occeus helped put the game on ice when he beat the shot clock by a hair with a three-pointer, with just 1:33 left. Third-year guard Vasa Pusica found the ball on the baseline with about four seconds on the shot clock. He made a jump pass from behind the basket to Bolden Brace in the corner, who defied most conventional wisdom by making yet another pass with about two seconds left to shoot. It was a one-touch over to Occeus, though, whose three-pointer would count after a review.
"Seemed like it took forever [for the ball to swing to me]," Occeus said. "I was just happy it went in."
The play was daring, and it was probably ill-advised to try to sneak an extra pass in before the buzzer. But Coen, at this point in the season, trusts his playmakers' decisions.
"They had to throw one more," Coen said, chuckling. "That's our team. They trust each other. When you put in the work and you're a tight-knit group, good things happen for you. It's fun to see. I was proud of that play."
Begley started the game, as is typically the senior's honor on senior night, and sunk a three-ball in the early going that got the Matthews crowd and the NU bench fired up. He played 17 minutes in all, as has been his role all season. Coen has found a balanced but precise rotation with this young, versatile group, and Begley's role as the elder-statesman was to provide seasoned minutes off the bench.
"We believe in ourselves. We're here to win a championship," Begley said of his team's outlook moving forward. "We're such a tight team."
Northeastern has one game left in its regular season, on the road at Elon University Saturday, but there's little at stake. First-place College of Charleston owns the tie-breaker over NU, so the Huskies can finish no better or worse than second.
"Saturday's not about just walk in and walk out," Occeus said. "We still want to get better as a team."
When the Huskies head to the CAA Tournament next week, they'll be seeking their first NCAA Tournament bid since 2015 — Begley's freshman year.
"I told him I'd like to see him bookend that, the freshman and senior year," Coen said. "You're into that magical time of the year where 351 teams want to go to the tournament. It's one-and-done time. We can't be too tight or too loose. We've got to be dialed in and focus. We've got to have fun and embrace it. In my opinion, it's the best time of year."
Coen closed Thursday by speaking to his admiration for Begley's four years of service to the program.
"He took a chance on Northeastern, from Texas," Coen said. "I think his mom wanted him to come here more than he did. For the education. He's going to leave here with a great Northeastern degree, tremendous relationships with his teammates and a CAA championship, hopefully two. He's going to be part of the Northeastern family forever."