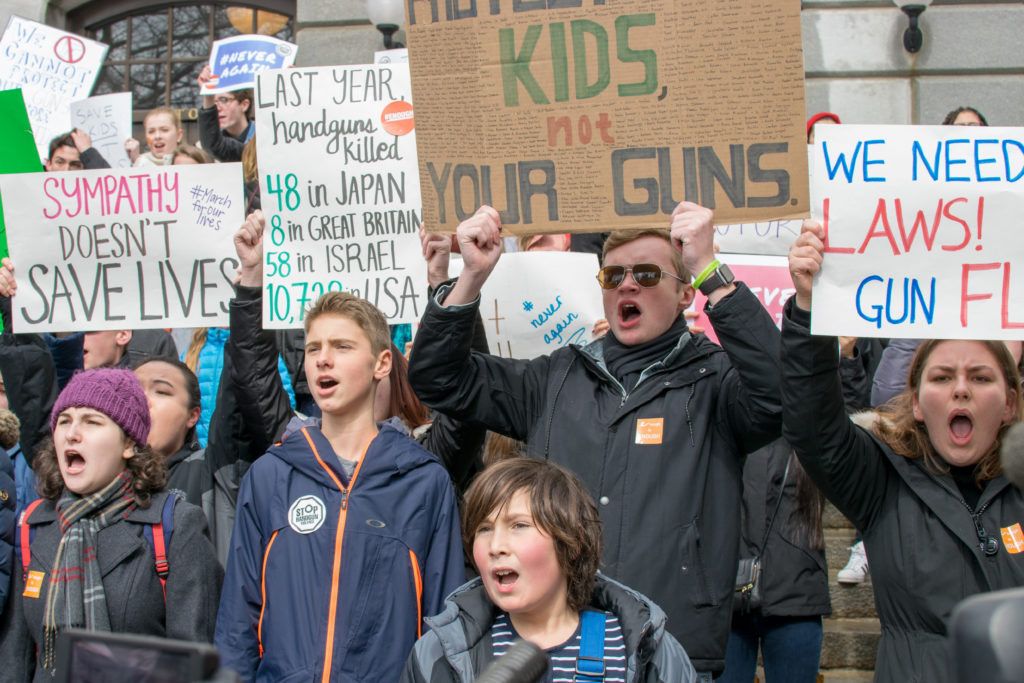 After a winter storm left Boston schools closed on Wednesday, students walked out of their homes instead of their classrooms to march to the State House and meet with legislators to call for gun reform.
On the one-month anniversary of the deadly shooting at Marjory Stoneman Douglas High School in Parkland, Florida, high school and college students across the United States participated in the #Enough walkout, most lasting 17 minutes to commemorate each of the lives lost on Feb. 14.
More than 150 schools in Massachusetts had planned to participate in the walkout, but most postponed the protest to Thursday because of school closings. At St. Paul's Cathedral in downtown Boston, however, hundreds of students still came out to show their support.
"This march is incredibly important to us," Lexington High School sophomore Luis Ramirez said. "The opportunity to speak with local legislators and have our voices heard won't be stopped by a snow day."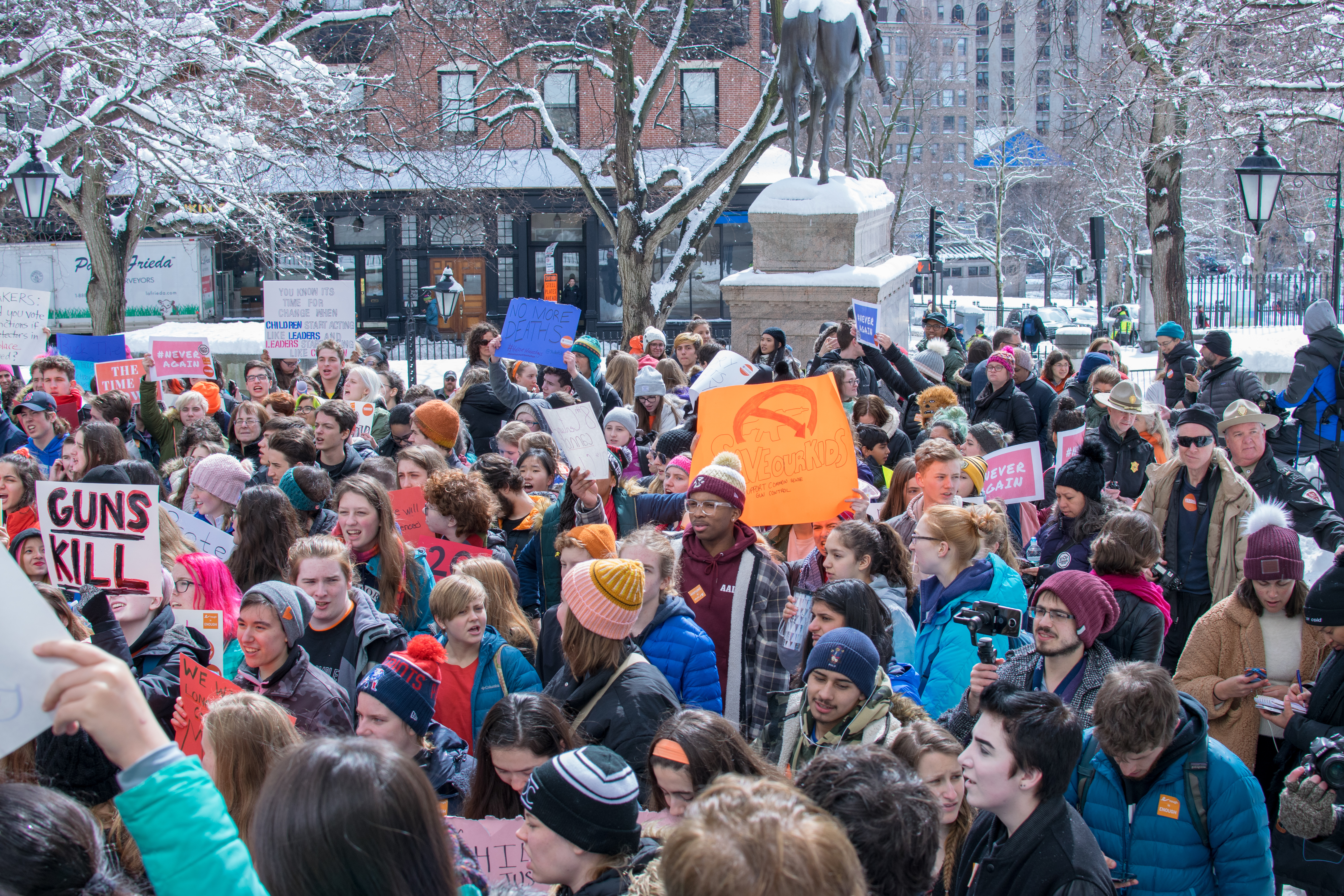 Before marching across Boston Common to the State House, community organizers trained students how to speak to legislators and what to ask for. Among their goals, student organizers want to pass H.3610, an Extreme Risk Protective Order that would allow family members and law enforcement to obtain a court order to take firearms away from a person in crisis. The legislation is known nationwide as the Red Flag Law.
Rachel Alexander, a junior at Cambridge Rindge and Latin School, said her peers have organized weekly walkouts for the foreseeable future until the pending bill is passed.
"Our voice, as students, is an unprecedented one, and we need to take advantage of that," Alexander said. "We're looking for real change."
During their march across the Common, spectators stopped to take pictures and watch. Eduardo López was on vacation from Spain and asked a student who was holding a sign to take a picture with him.
"This is big. This is historic," López said. "To see so many young people try and make a change in their country, it is incredible to witness."
As students waited to pass security at the State House, Charlotte Lowell, a senior from Andover High School, led the crowd in chants.
"We are marching, even though it's easier to stand still," Lowell said.  "We've been practicing active shooter drills since elementary school. Enough is enough."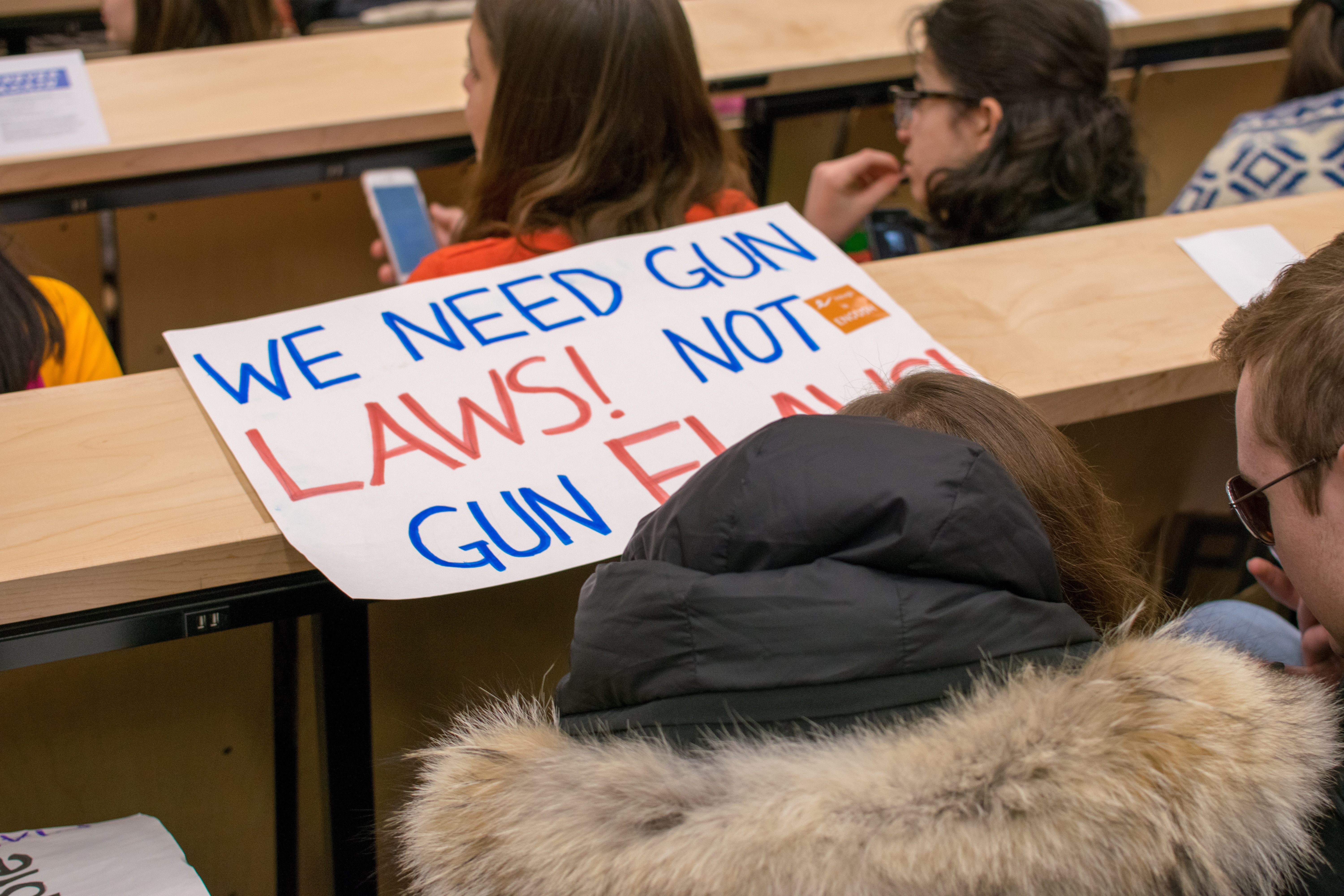 Lowell is also involved in planning for the citywide March for Our Lives on March 24, which invites the general public to march for gun reform. But the high schoolers were joined by other protesters Wednesday as well, including concerned citizens and college students.
Emilia Encallado, a Beacon Hill resident and local activist stood outside the State House auditorium with her husband as students waited to publicly address 15 legislators. Once capacity was reached, the couple left the room to give two more students the opportunity to speak.
"I've been going to every protest imaginable, and the thing that I love the most is the energy from the youth," Encallado said. "This fabulous generation is our future, and I'm here to let them know that I stand with them."
After publicly addressing the legislators, students dispersed to knock on their individual legislators' doors. Groups of parents stood outside waiting for them. Anna Lambert, from Weston, Massachusetts, has a daughter who attends John D. O'Bryant High School. As she waited for her daughter to come out, Lambert stood on Beacon Hill with a smile on her face.
"I'm supporting my daughter's choice to use her voice," Lambert said. "I'm also here to support legislation that will support children, but we should let them do the talking."
For many students, the march is an introduction to activism and an indication that their voices can be heard.
"This is only the beginning," Lowell said. "We're not done yet."