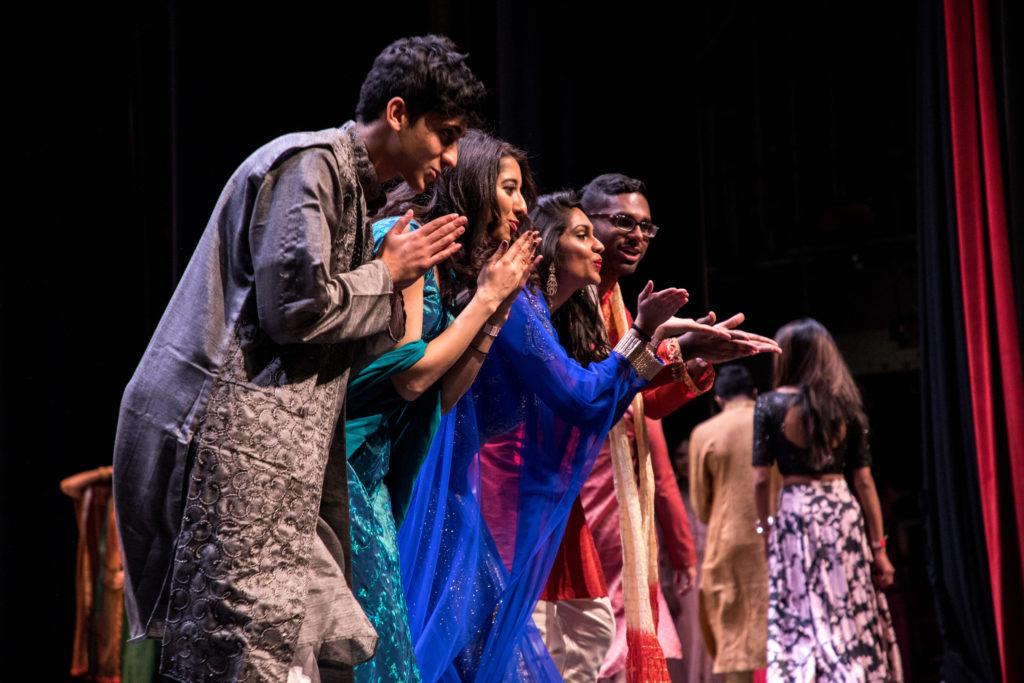 By Evelyn Bleed, news correspondent
Northeastern's South Asian student group held its annual culture showcase "Nataraj: Keeping Up With The Kapoors" Saturday evening in Blackman Auditorium.
The show, hosted by Northeastern University's South Asian Community, or UTSAV, exhibited singing, dancing, playing traditional instruments and a fashion show. For the past four years, the show has sold out Blackman Auditorium.
"It's just so exciting," said UTSAV co-President Adity Sampath, a fourth-year industrial engineering major. "It's with a lot of pride that I say we sell out Blackman."
The show consisted of 200 performers, and each one could participate in up to three performances.
Between each act, video skits played for the audience on the projector. The actors in the skit mimicked characters from the popular reality TV show "Keeping Up with the Kardashians," replacing the surname "Kardashians" with "Kapoors" and maintaining the original names of the Kardashian sisters. The video skits introduced the next act instead of having emcees.
"Traditionally each year we have a new theme, but we've always stuck to having skits between the acts," said Sampath. "It's just something we all like about the show and agree on — we just needed to keep it."
Cheers erupted throughout each act, maintaining a joyful buzz in the audience. Audience members in the front interacted with performers as they laughed and called out the names of performers.
The music, which the directors of the acts chose, comprised upbeat remixes of a variety of songs including pop from various nationalities, some of which were remixed together. Some songs played were "Mundian To Bach Ke" by Panjabi MC, "Main Tera Boyfriend" by Meet Bros, Arijit Singh and Neha Kakkar and "Om Shanti Om" by Deewangi Deewangi, to name a few.
For each act, excluding the dances and fashion, performers came on stage with traditional clothing, all of which swayed as they danced and sparkled under colorful lights projected from the ceiling of the auditorium. The entire wall at the back of the stage would also light up in one color during multiple acts, outlining the silhouettes of the performers.
Sampath said Nataraj is typically a stressful evening and there is a lot to coordinate for the annual showcase, but it is always enjoyable.
"Everyone's running around Ell Hall changing while the show is going on," Sampath said. "It's very chaotic and it's a lot."
Anika Reddy, a first-year cell and molecular biology major, participated in multiple acts, including "Bollywood" and "Fashion Show." Coming back from the N.U.in program in Greece, she found herself looking for ways to become more involved at Northeastern and joined UTSAV.
In "Bollywood," the performers mixed Indian and hip-hop styles of dancing to upbeat Indian songs, remixed by members in the group. The girls wore their sarees and the boys wore their kurtas, most of which they already owned and brought to wear in the show.
"This club has definitely become a sort of second nature," said Reddy. "I joined because we have something similar like this back home, so this club makes me feel like I'm at home."
Vrusti Patel is a first-year psychology major who participated in the same shows. Patel has parents from India, but grew up in Uganda. Because of this, she was looking to get more in touch with Indian culture.
"I never had the chance to do all this cultural stuff like singing and dancing, but now I finally feel I can be part of the Indian community," said Patel. "I freaked out when I saw the audience because it was just so many people. But then once you get up there you get so confident because it feels so short on stage and you just want to make the most of it."
Wilkin Rivera, a first-year computer science major, said he found out about the show through his friends, one of whom was participating in it. He'd never been to anything like it before.
"It was my first time seeing a performance art from this culture, and it makes me so glad I go to a university that offers that," Rivera said. "It was amazing to see what a large group of people could do — the coordination to organize that? It was all so impressive."
Other organizations that participated in the show included New England Bhangra Club, Northeastern Nakhraas, Rangila Rhythms and South Asian interest fraternity and sorority Beta Chi Theta and Delta Phi Omega.
UTSAV, one of the largest cultural student group on campus with 250 members, was founded in 1991 and the Nataraj showcase was the first major event they organized. Today, the organization hosts other events, such as dance competitions to raise money for Puerto Rico hurricane relief, a South Asian awareness week and guest speakers like actor Kal Penn.
"This organization, this community is the reason I am so happy I came to Northeastern," Sampath said. "It's made my entire Northeastern experience. Nataraj is particularly where I made all my friends freshman year and they're still some of my closest friends I have today."
Correction: An update was made April 7th at 2:58 p.m. to correct the sentence "Today, the organization hosts other events, such as dance competitions to raise money for Puerto Rico hurricane relief, a South Asian awareness week and guest speakers like actor Kal Penn."