SNL's Jon Rudnitsky entertains for Springfest week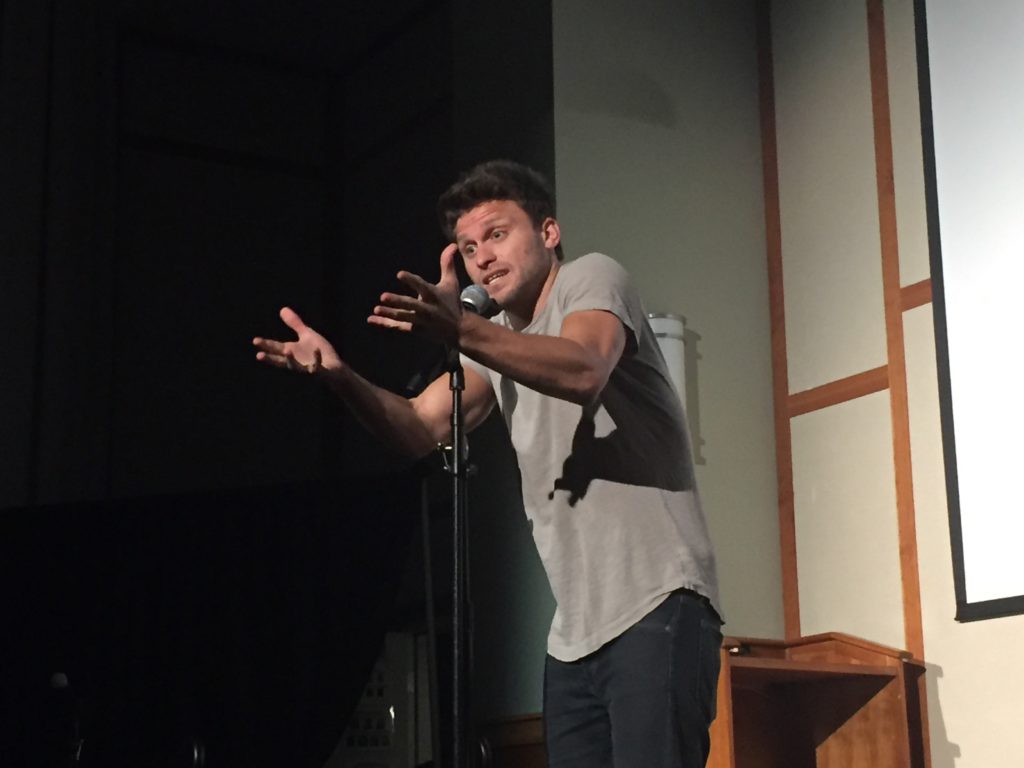 By Claire Wallace, news staff
The line of people waiting for the ballroom doors to open Wednesday night wound around the entire second floor of the Curry Student Center, stretching from the wooden double doors all the way to the elevator.
Roughly 150 students anxiously anticipated the Council for University Programs, or CUP's, third Springfest event of the week: a comedy show featuring Jake Nordwind, Jon Rudnitsky and Alice Wetterlund. Many were also enticed by the free cups, stickers and long-sleeved shirts handed out at the door.
Host and opening comedian Jake Nordwind kicked off the event with a crack at the technical issues CUP was having playing music. After Nordwind walked onto the stage in silence, he was quick to point out the errors happening backstage.
"Everything is going exactly the way I wanted it to!" Nordwind said with a laugh. "So we're good on music for sure."
Nordwind is known for his work on TV shows like "Backhouse" and "Lonely and Horny." He performed a 15-minute opening set before handing it over to the first headliner of the evening, former Saturday Night Live, or SNL, cast member Jon Rudnitsky.
"The next person coming up is my best friend in the entire world," Nordwind said. "He was on SNL and in the movie 'Home Again.' And today, he even got noticed by someone today while we were at the airport."
After watching Rudnitsky on her TV, audience member Joanna Odorisio said she came to see him perform in person.
"I'm a big SNL fan and I don't get to see a lot of Jon on the show," said Odorisio, a fourth-year communication studies and media and screen studies combined major, before the event. "I am curious to see if he's actually funny because they don't really give him a chance on the show."
Rudnitsky's routine was full of dancing and charades, with more acting and body movements than jokes. He was very in tune to the audience and took lots of audience suggestions. He spent seven minutes acting out sports routines — including diving, football and tennis — based on suggestions from the audience.
"This isn't even comedy — this is just charades," Rudnitsky said.
Rudnitsky ended his set with a six-minute dance rendition of the song "I've Had the Time of My Life" from the movie "Dirty Dancing." He played the song over the speakers in the background while doing an entire one-man skit.
Once Rudnitsky finished his set, Nordwind came back on stage to introduce Alice Wetterlund, the second headliner of the evening and an actress in the TV show "Silicon Valley."   
When Wetterlund took the stage, she started by joking about Northeastern and its rival colleges.
"Where are we at, is this Harvard? Is this [expletive] Harvard? Who here applied to Harvard? Just you?" she said as she gestured at someone in the audience who raised his hand.
Wetterlund didn't stop her tirade about Harvard as she continued to address the audience member.
"And did you get in and you were like, '[expletive] it. Forget you, Harvard, I'm going to Northeastern,'" she said. "Because it's just like…the name has where it is. So you don't have to spend extra energy on that. Welcome, thanks for considering us."
Wetterlund wasn't the only one who made jokes about Northeastern and its students. Rudnitsky also made light of different rival Boston schools during his set.
"I actually quit [SNL] so I could be here at Northeastern," Rudnitsky said. "I was like, 'No, I don't want to go to Cambridge for Harvard or MIT. I want to play something a little more bad. Like better than BU. Like wherever Tufts is.'"
While all three comedians spent the night making jokes, the sets turned more personal and political at times. Two of the three comedians spoke about their personal struggles with alcoholism, and all three broached political issues, sharing their stances on President Donald J. Trump, gay marriage and transgender bathroom access.
"I've been sober now four years," Nordwind told the audience. "I needed to be. I'll be honest. I was a pretty bad drug addict, pretty bad alcoholic. I once got a DUI on a first date. The worst part is that it was at the beginning of the date."
After talking about her own struggles with alcoholism, Wetterlund criticized Trump and his policies.
"I was listening to the radio and this woman was on," Wetterlund said.  "It was a call-in show when there was all that hullabaloo about gender-neutral bathrooms in schools. And this woman was like, 'I don't want there to be gender-neutral bathrooms in school because my son goes to school.'"
Wetterlund scoffed at this, saying, "Why are you calling attention to yourself? Why are you outing yourself in LA as an intolerant person?"
Wetterlund closed her set by thanking Nordwind and Rudnitsky. She also said she hopes to return to Northeastern one day.
Many of the attendees, including Taylor Digiorgio, a first-year business administration major, said they had fun watching all three acts.
"I thought it was hilarious," Digiorgio said. "I really enjoyed it."