2018 March for Science smaller than 2017, localized
More than 500 people gathered at Christopher Columbus Park on Saturday for the second annual March for Science. While the march was one of many across the nation, Boston's march found protesters rallying for local issues.
Last year, tens of thousands gathered on the Boston Common to advocate for scientific literacy in federal policy-making and to speak out on climate change. This year, groups had to RSVP for tables that invited participants to sign up to vote, contribute to organizations or simply learn more about a topic in science policy.
Three Northeastern graduates tabled for the Boston chapter of the Democratic Socialists of America, or DSA. Sherri Ames, who graduated last year, said she was glad to see a larger array of issues being addressed.
"Besides being here to represent the DSA, we want to inform people about local issues that are harming the environment," Ames said. "We want to address fossil fuel infrastructure legislation and the harm it will do to our state."
Last year's march was motivated by the election of Donald J. Trump and served as a national movement. This year, the march was localized, and while many protested against federal policies, the organizers centered the march around addressing Beacon Hill.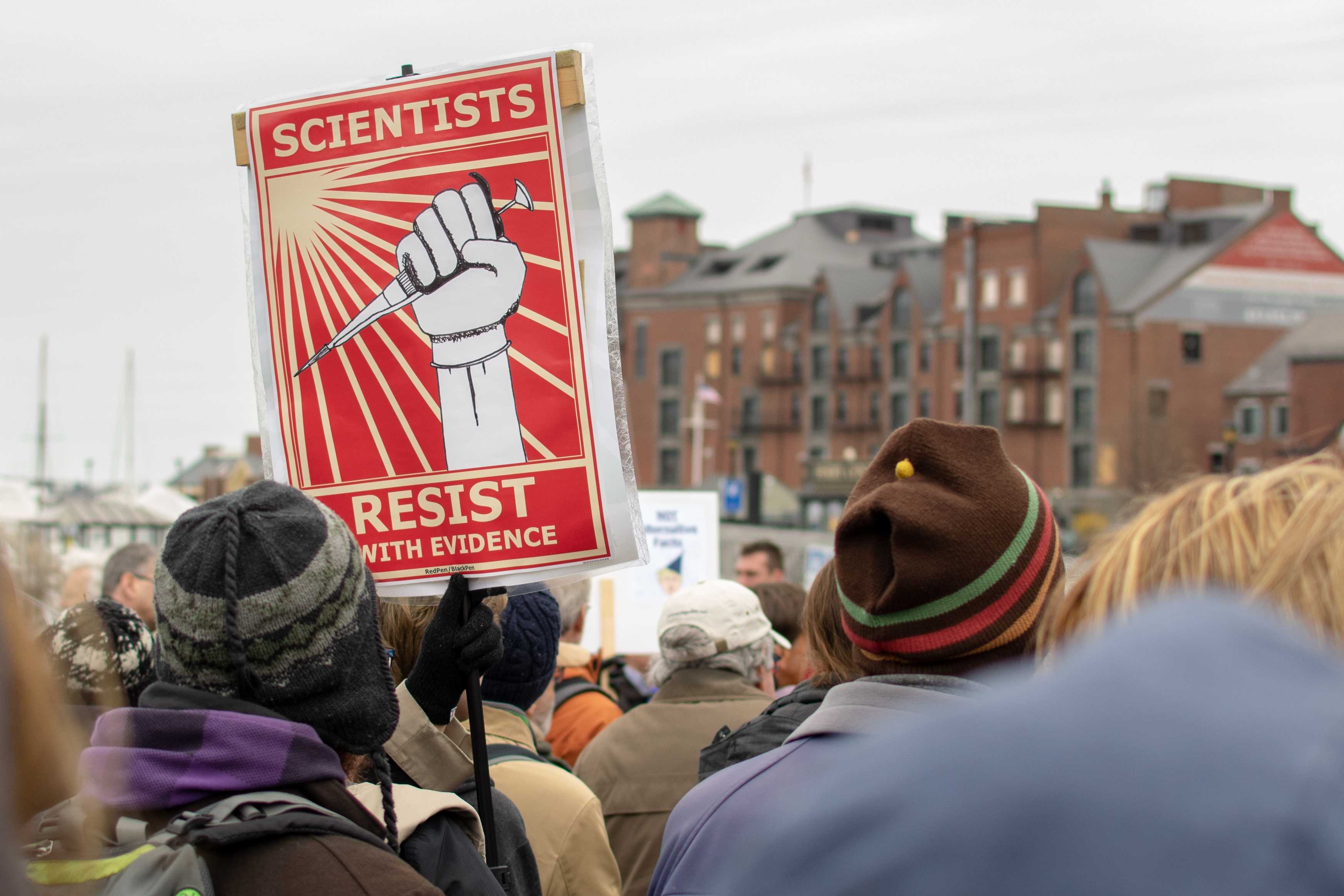 Alan Palm, the director of organizing for the Better Future Project, a grassroots movement to address climate crises in Massachusetts, took the stage and called the office of Robert DeLeo, who currently serves as the speaker of the Massachusetts House of Representatives. He left a voicemail bookended by the cheers of protesters.
"I am here with over 500 people," Palm said. "I am calling about House Bill 2119 and Senate Bill 2302. We are calling to demonstrate that Massachusetts can lead a way forward."
House Bill 2119 would establish pay equity across the state, while Senate Bill 2302 would promote a clean energy future by using emission benchmarks on greenhouse gases and transportation fuels.
Karen Higgins, the president of the Massachusetts Nurses Association, also addressed the public on local issues.
"Climate change unchecked will devastate our future," Higgins said. "But there is also so much more at stake. There is no limit to the number of patients a nurse can be assigned, and this puts lives at risk."
Attendees wrote letters and signed petitions at organizers' tables around the park. Shreya Durvasula, the senior science network outreach coordinator for the Union of Concerned Scientists in Cambridge, was happy to see such a diverse agenda for the march.
"The takeaway of this march is that we need to talk more about science advocacy in general," Durvasula said. "So much is affected by science legislation, a lot more than people may think. This march is here to let people know what they can do to make this state and this country better for themselves and better for the earth."
Alan MacRobert, a resident of Bedford, Massachusetts and the former editor of the Sky & Telescope magazine, also felt a change from last year's march.
"I came to support protesters, and I ended up learning so much," MacRobert said. "Climate change is still being addressed, and the failed policies of our current administration are still being addressed, but we can't let smaller and more local issues take a backseat as well."
Unlike last year's march, which started earlier and lasted about three hours, this one was over in less than two. But participants stayed much longer to speak with organizers and visit tables. For Francine Ludwig, a member of the Boston Catholic Climate Movement, this year's march was more of a dialogue than a protest.
"I don't think the conversations that people are having today were had during last year's march," Ludwig said. "Last year's march was remarkable, and very, very important. This year's is just as important as well. We are taking care of our home."