Cannabis connoisseurs celebrate 29th Freedom Rally
Weed entrepreneurs and recreational pot users from around the Commonwealth assembled at the 29th Boston Freedom Rally this weekend to support nationwide legalization.
A smoke cloud rose above the Common as hundreds of people sat in the grass with bongs and joints in hand. A colorful — predominantly green — crowd flooded between vendors selling food and paraphernalia as well as smokable and edible products.
Folks got high on grassy hills or beside one of the stages and dealers weaved in between them. Smoking marijuana in public in Boston is still against the law, but the municipality makes an exception for the rally.
"Everyone's peaceful and everyone's happy, so nobody's forcing [political agendas] down your throats," said Lucas Wilson, a first-year finance major at Northeastern. "I think that's the thing about weed, it brings people together rather than pushing them apart. And I think that's what the purpose of the Freedom Rally is."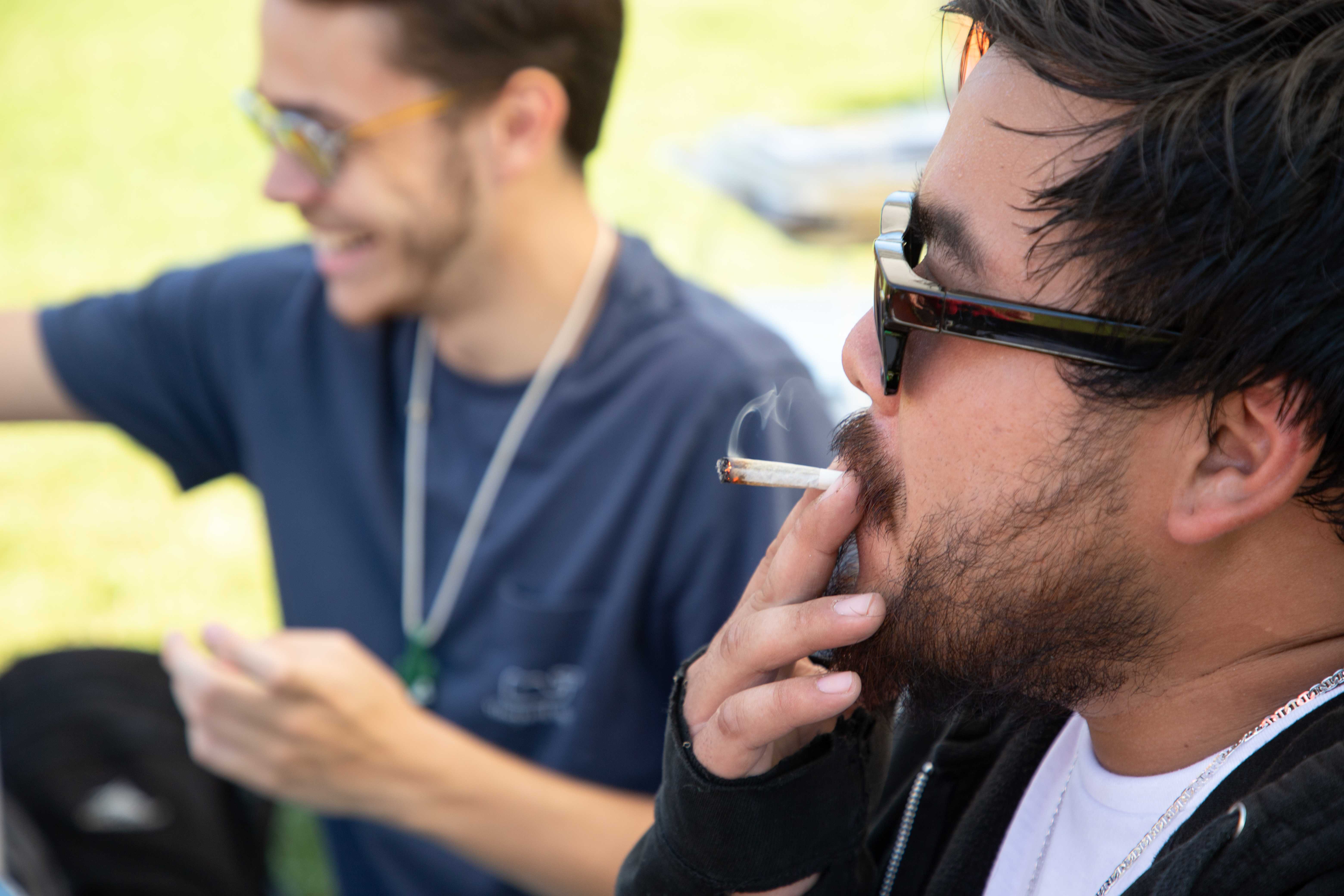 The event, which occurred on Boston Common Friday through Sunday, featured educational storyboards on marijuana's history and musical acts ranging from rock to hip-hop. MassCann, a state affiliate of the National Organization for Reform of the Marijuana Laws, organized the rally.
"Our initial goal was to legalize cannabis, create sensible policy around cannabis laws," said Maggie Kinsella, MassCann's press secretary. "The event itself has gotten a lot bigger. The cannabis education village has been a nice feature for people being able to really absorb the information on the storyboards."
MassCann's goal is to provide education about cannabis' potential as a medicine, ecological resource and recreational substance as well as advocate for rational public policy regarding the cannabis industry.
The organization celebrated when voters legalized recreational cannabis use in November 2016 with a ballot referendum question.
The measure, which went into effect in December 2016, legalizes possession and recreational consumption of cannabis for individuals 21 and older. Sales of recreational cannabis are approved as of July 1 this year, yet the state hasn't granted retail licenses.
"We want to take seriously where we are at in the phase of progression of rational policy," Kinsella said, "there's no advertising to people under 21." Kinsella emphasized that MassCann follows all the rules and that the sale of marijuana products is prohibited at the rally.
Performers and advocates alike focused on the message that other states still have a "long way to go" before joining the likes of Massachusetts as one of nine states to have legalized recreational marijuana in some capacity.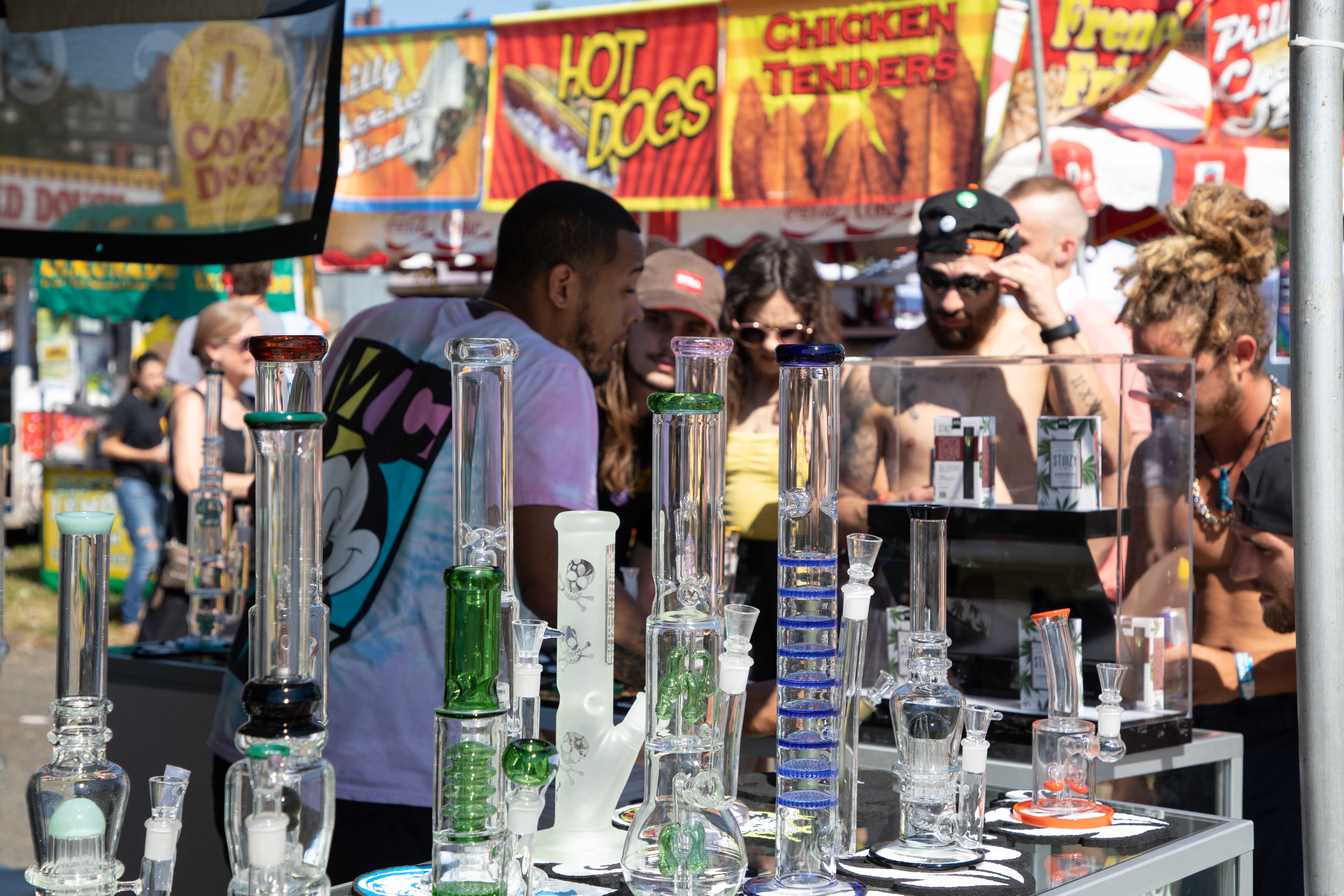 The rally also featured panel talks with cannabis industry leaders, doctors and other activists with the goal of educating attendees whether they agree with weed legalization or not.
Grant Ellis, an advocate for homebound and disabled patients, took to the stage Saturday to discuss his experience with medical cannabis and the Cannabis Control Commission, or CCC.
In 2016, the CCC was tasked with regulating recreational cannabis in Massachusetts. The goal of the Commission is to create tax revenue, offer employment opportunities and develop policies that enable full participation in the legal cannabis industry.
Ellis said the voices heard by the Cannabis Control Commission have "vested monetary interests in how those laws are written." Wealthy marijuana entrepreneurs with political connections have greater influence on the commission, said Ellis, which means they can influence policies that reduce competition.
Raising the barrier of entry, such as not allowing a delivery-only business to operate independently, is an example of a policy that systematically reduces competition for larger companies.
"What that means for patients like myself is that every single time a service is shut down because it didn't have the right permits, I have to go without my medication," Ellis said. "I'm here to serve as a living reminder of the dangers of what can happen when lawmaking is done only for monetary interests, and not for the good of the patients."
While no recreational marijuana dispensaries have opened yet in Massachusetts, the CCC may vote to grant licenses to a few retail stores on September 20. Chairman Steven Hoffman said the agency is in the process of scheduling final inspections.
For a business to be issued a license, the facility must pass an inspection to prove compliance with state regulations and conduct tests on all products.
An organization representing cannabis growers sued the CCC after it refused to review host community agreements, deals between municipalities and businesses required prior to obtaining a license. The Massachusetts Grower Advocacy Council claims towns can abuse agreements to extort money from businesses in the form of voluntary donations on top of a tax on gross sales capped at 3 percent.
MassCann Press Secretary Kinsella said the CCC has "periodically stomped small business" by blocking permits for social consumption, delivery-only, mixed-use, and event licenses, which eliminated accessible ways into the industry.
"Cannabis is going to be a huge commodity and everyone has the opportunity to be well-off participating in this industry," Kinsella said. "Have we been heard yet? No, I don't think we have. At least not in what we would like for Massachusetts, as rational public policy. But we will be."
The Freedom Rally has sued the city of Boston six times over permit disputes during the last three decades. All six cases ruled in favor of MassCann.  
In 2016, the latest lawsuit was triggered when Mayor Martin J. Walsh's administration, known for being anti-cannabis, withheld the rally's permits in response to the hiring of unlicensed vendors by the rally. The initial dispute almost resulted in the rally's cancellation, but the court's ruling secured it another year.
Most attendees were already fans of cannabis, but educating the public also means reaching those who may not be. The rally is open to everyone, so those who don't smoke can also choose to engage in the conversation around marijuana.
"I hope that the message is to come check it out more than anything," Kinsella said. "If there is a reason you don't care for cannabis or you think it's bad, I'm telling you right now you don't know enough about it. I think the message would be that we're here, and to just come learn about it."