Locals gather to enjoy Moakley Park and strategize climate readiness
The field squelched with rainwater and mud as organizers from the Boston Department of Parks and Recreation set up tents for the Discover Moakley event, a day of fun, games and community feedback.
The event, held at Moakley Park in South Boston Saturday, gave local residents the ability to discuss elements of the Moakley Park Vision Plan. This proposal is a long-term project that the Parks and Recreation and Environment Departments are designing to integrate active recreation with protection against climate change impacts in the area.
Coastal and stormwater flooding pose a serious danger to the park, said Magdalena Ayed, executive director of Harborkeepers, an organization in East Boston dealing with climate resiliency, environmental stewardship and community preparedness.
"Where there's flooding you obviously can't traverse roads, basements get flooded, people get stranded, homes and cars get ruined," Ayed said. "It's a lot of loss of property, also risk to life."
Allison Perlman, Moakley Park Vision Plan project manager for the Parks and Recreation department, said flooding has been on everyone's minds since earlier this year when the park flooded multiple times after major storms.
According to the National Weather Service, the Nor'easter Riley, which hit Boston in March, raised tides with 2.9 feet of storm surge. Boston also experienced record-high tides of 15 feet in January with the arrival of Winter Storm Grayson.
"There's not enough awareness about what does it mean when an area is flooded and how important it is to avoid those areas, because a couple inches of moving rain or water really can knock a person down," Ayed said.
According to a 2016 report by Climate Ready Boston, a city initiative to prepare Boston for climate change, sea levels may rise as much as 1.5 feet by 2050 from where they were in 2000. By 2070, the sea level may rise as much as 3 feet higher than at the start of the century. Coastal communities, such as those surrounding Moakley Park, are expected to experience the worst of the flooding, according to predictive maps released by Climate Ready Boston.
The Moakley Park Vision Plan seeks to protect against the impacts of climate change, particularly increased flooding. Proposed coastal and tidal protection methods include raised mounds of earth called berms, marshlands and floodable athletic fields. Beyond the protection, however, the plan also aims to incorporate new and varied athletic spaces.
"We can achieve active recreation throughout the park as well and simultaneously diversify some of the spaces so that we can provide more activities for communities," Perlman said.
Natabia Tuitt, a 24-year-old resident of South Boston who attended the Discover Moakley event, said there is room for the park to grow.
"There's nothing really here. It's just a big field," Tuitt said. "Maybe they could put more structural things. Not necessarily like parks, you do have two parks nearby — couple parks nearby, actually — but more activity-based things or just productive things inside the space."
Perlman said meshing athletic spaces and climate change impact protection is a "challenge," but also said there is the space for the park to be redesigned. Perlman said 55 percent of the park's 60 acres are currently used for active recreation and the rest are the spaces in between.
The Moakley Park Vision Plan is only in its early stages, with a long-reaching timeline.
"The Moakley Park Vision Plan is a long-term, comprehensive plan that's looking at from year two to 20," Perlman said. "We're going to start with a bunch of catalyst projects which build momentum for the project and then we'll continue in different phases up to 20 years."
Organizers ran the Discover Moakley event in order to gather feedback from the community. A tent sheltered posters describing the scope of the plan and invited attendees to vote on which proposed elements they liked and which they didn't.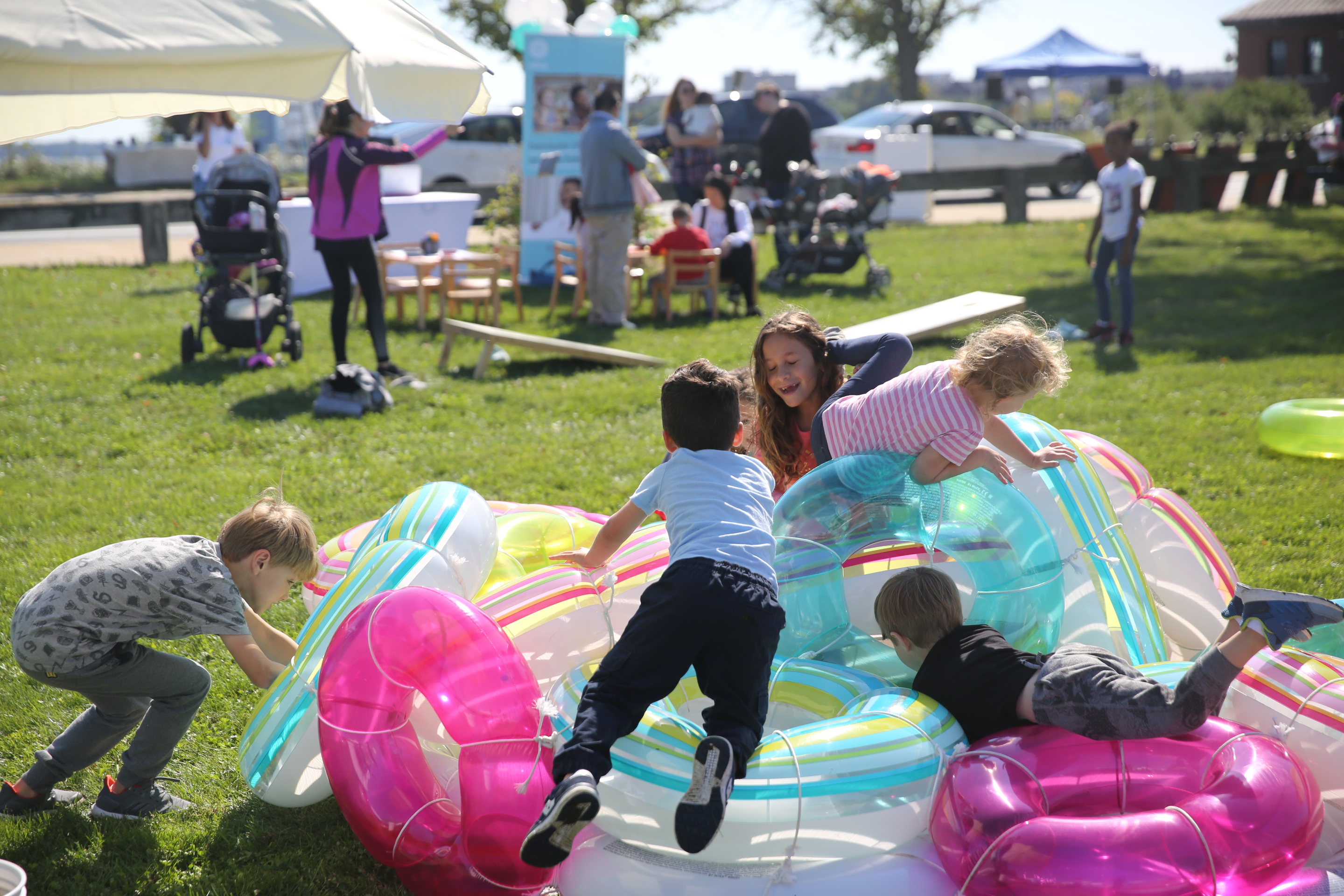 "We really wanted to bring people together and start showing them some of the ideas for the vision plan based on community input we've heard previously in community workshops," Perlman said.
The event was also meant as a fun gathering for the community, with street performers, food trucks and games lining the street
"There's a lot of activities and a lot of things for the kids to do and a lot of vendors that are giving away good samples and good information and stuff like that," Tuitt said.
Chris Cook, commissioner of the Boston Parks and Recreation Department, is hopeful for the future Moakley Park can have.
"We're going to build a Moakley that's going to be here for the next 70 years," Cook said in a speech at the event. "Our kids that are playing little league on this field right now, they're going to be playing here 50 years from now, because we're going to build a resilient Moakley Park."