Review: Boom Crispy Chicken brings Taiwanese style to Chinatown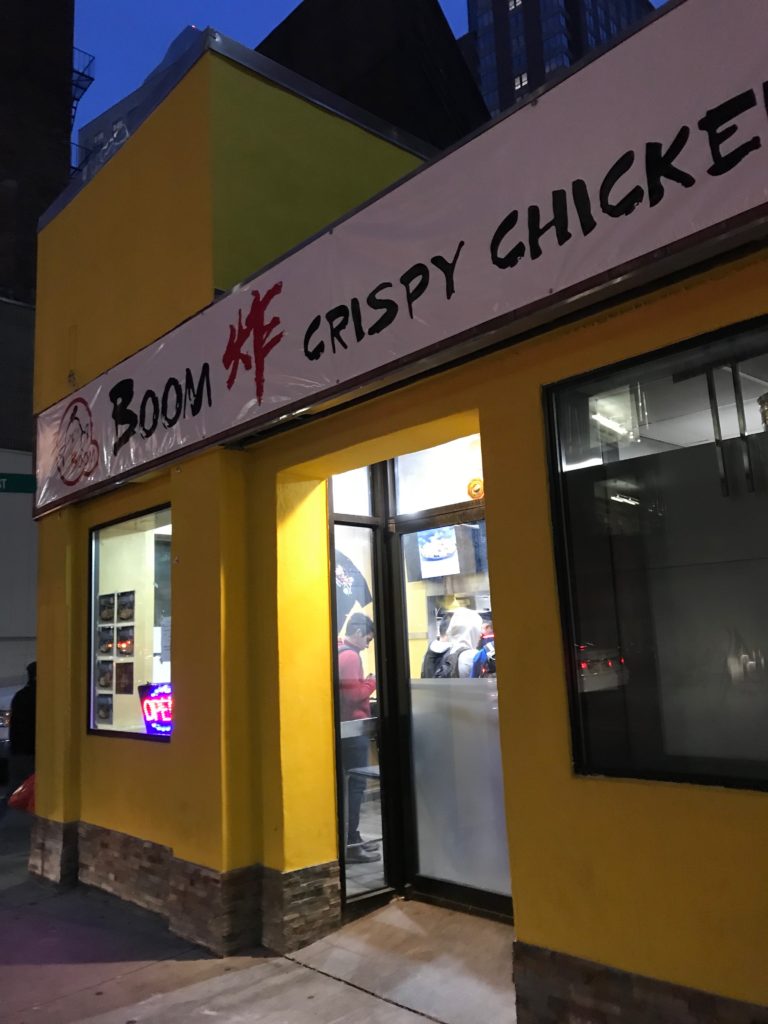 By Allie Kuo, lifestyle columnist
With a name like Boom Crispy Chicken, this brand-new Chinatown spot is not vague about what they serve. The shop that opened on Sept. 11 specializes in Taiwanese-style fried chicken that comes in all sorts of combinations and forms. Calamari, takoyaki and a few other non-chicken items can also be found on their menu, but I was definitely interested in their main offering. It was a chilly night, I was craving something warm and fried, and Boom Crispy Chicken was calling my name.
The small space in the unassuming storefront isn't meant for people to linger—you take your box full of fried goodies and go elsewhere to dig in. A counter runs along two of the walls with chairs where you can sit and eat if you must, but it gets tight if people stand around waiting for their orders. The interior décor is very bare-bones too, but things started getting interesting when I took a look at the menu.
Their different chicken styles, such as wings and popcorn, can be ordered à la carte or combined with fries and a choice of a side in one of their combos. You can pick from plain rice, rice with Japanese curry, rice with braised meat or a salad. All I have to say is one of those things are not like the others, and there's no point in convincing yourself that this is a healthy meal with the addition of some vegetables. After peppering the woman behind the counter with my many questions—what's the best seller? Is the spicy seasoning really that spicy? What should I get if this is my first time here?—I settled on the popcorn chicken combo with curry rice and spicy seasoning.
While waiting for my food to be prepared, which you can watch in their very open kitchen space, I chatted with a few customers. One was giving the spot a second chance after a rather disappointing first experience, when her popcorn chicken did not meet her expectations of crispiness. But at her friend's recommendation, she was back and waiting on her order of 28 Boom Wings.
There was definitely a bit of a wait, but I give them a pass because every piece of meat appeared to be hand battered and fried to order. When my meal finally came out, I snapped a picture and sampled a small piece of chicken before bringing it back to my apartment to eat.
My recommendation is to open the top of the cardboard container so that steam doesn't build up and cause your food to lose its glorious crunch. This may result in some side-eye from people nearby, such as my fellow riders waiting for the T, as they smelled the very fragrant seasonings of said chicken. However, it was worth it to prevent sogginess.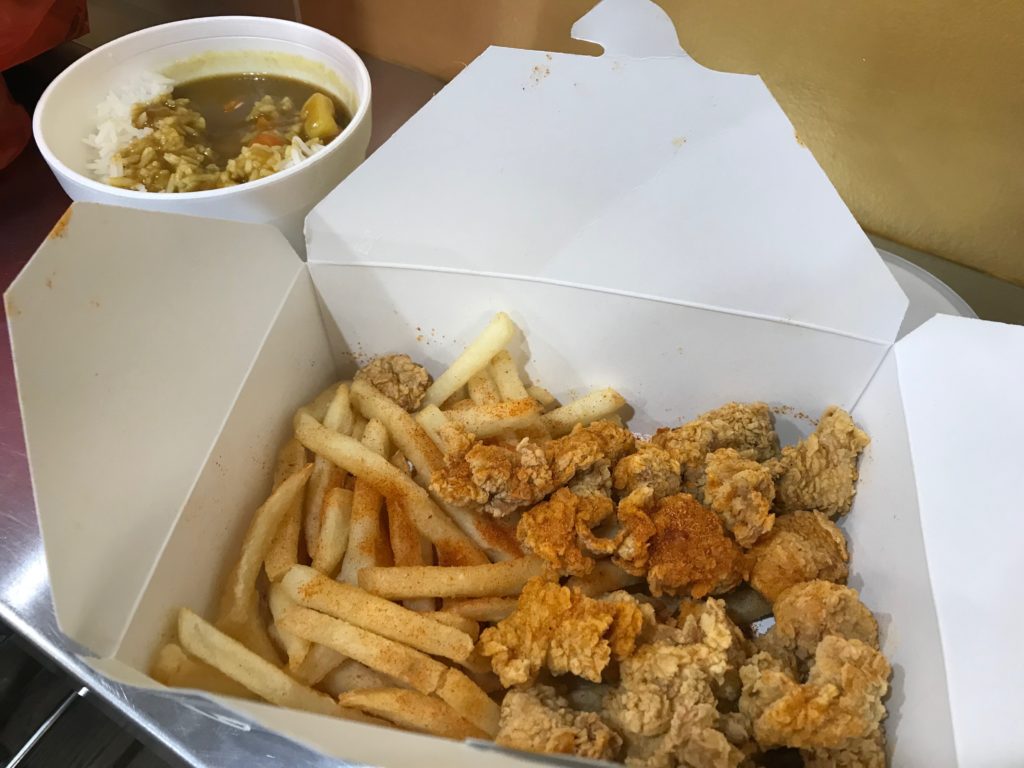 The chicken was fried to near-perfection, with the ideal breading-to-meat ratio that satisfied my need for crispy carbs and juicy meat. What wasn't so ideal was the haphazardly sprinkled seasoning—the chicken and fries on top had a healthy dose of flavor, while the pieces underneath were rather bland. A good shake of the box could easily fix the problem, but the hunger in my stomach didn't allow me to think so far in advance.
Don't be frightened by the "spicy" factor of the seasoning if you don't think you can handle the heat, because it doesn't have much of a fiery kick to it. The flavor was very reminiscent of popcorn chicken that you can find at Taiwanese night markets, which typically uses a mix of white pepper, five spice powder, soy sauce and garlic. I wasn't impressed with the accompanying french fries, which could have been left in the fryer a minute or two longer, but they were no worse than some cooled-down McDonald's fries.
I must admit, I felt like a traitor to the environment while eating my curry rice out of a Styrofoam container, and I think I would be okay with leaving it out of my meal in the future if only to save the oceans from another piece of everlasting garbage. They did provide a healthy portion of rice though, and even for the ravenous eater there would probably be enough for some solid leftovers.
If and when I return to Boom Crispy Chicken the next time my fried food craving strikes again, I know I'll be sticking to what they do best—just the chicken. It was crispy, mostly well seasoned and affordable. Yes, they do need to figure out how to get orders completed more efficiently and how to sprinkle their seasonings more evenly, but it's a wonderful alternative to your average wings and biscuit bucket.