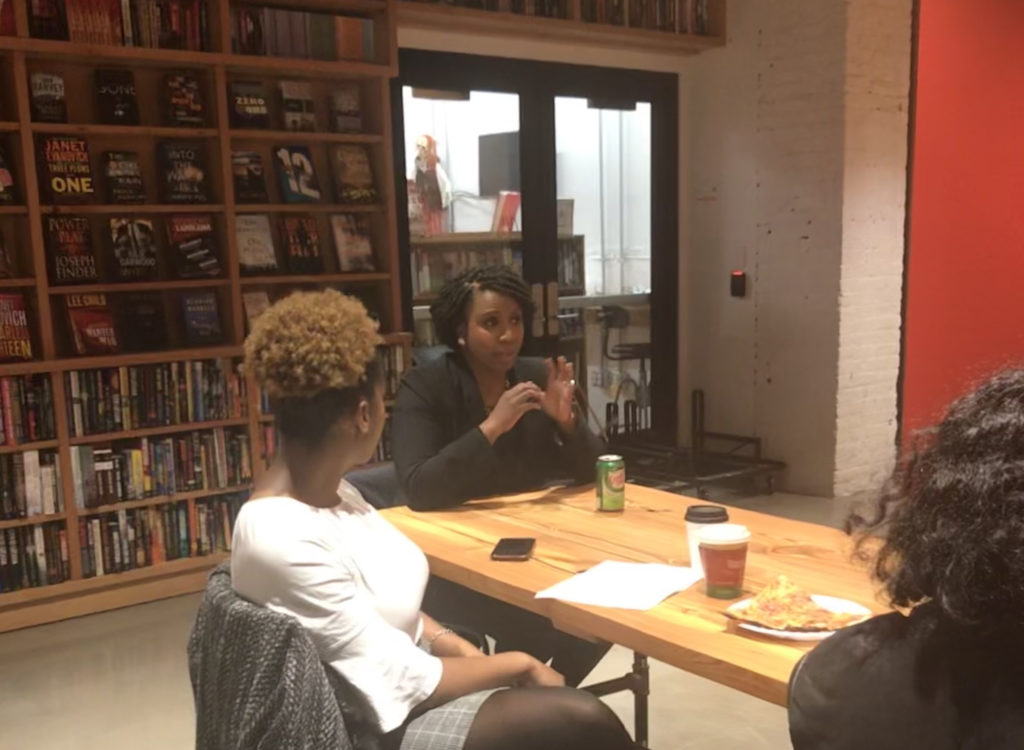 File photo by Maria Lovato
Ayanna Pressley held her first Equality Agenda Forum Wednesday night, where she hoped to gain input from the community about her policy platform. Before the event, Pressley took questions from student journalists and discussed such topics as sexual violence and what should happen after the midterm elections.
Pressley is the Democratic nominee for Massachusetts' 7th Congressional District. The event, titled "The Next Generation of Leadership," was held at More Than Words Boston on East Berkeley Street. It was attended by about 45 people, including members of the community, journalists and campaign advisors.
"People's experiences should be understood, not tolerated," Pressley said during her opening remarks.
The event was part of a larger tour that will take place over the next two months. Since Pressley is running unopposed this November, she said she is focusing on her current position as a Boston city councilor at-large and on shaping the policy that she plans to bring to Washington.
Pressley's community outreach is one of the main things she attributes her success to. She beat 10-term incumbent Rep. Michael Capuano in the Democratic primaries Sept. 4. This was the first time Capuano had faced a primary challenge since he was elected in 1998. While both Capuano and Pressley are progressive, Pressley argued that she can better represent the district as a woman of color.
"Democracy is strengthened by new and different voices," Pressley said during the roundtable. "The issues that are raised are different and the solutions developed are more innovative."
Jace Ritchey, a fifth-year justice, rhetoric and society studies major at Northeastern who attended the event, agrees that making voices of the community heard is important to policy making.
"It is heartwarming to know that even before being inaugurated … Ayanna is using her reach to listen and review and provide an avenue to bring voices together," said Ritchey, who is also the vice president of external affairs for the Sexual Assault Response Coalition on campus.
The event focused on amplifying the voices of young people aged 15-30, specifically on the issues of student debt, Deferred Action for Childhood Arrivals and the cost of housing.
Another aspect that was discussed was the school-to-prison pipeline — a term that refers to the disproportionate amount of minors from disadvantaged backgrounds who enter the prison system due to zero-tolerance policies at schools. These policies can apply to anything from writing on a desk to using drugs on campus. School officials are required to hand out harsh punishments with little to no discretion.
Kalise Fitzgerald, a 17-year-old student at Brighton High School, said these policies negatively affect his community. He told a story about a teacher coming into the bathroom at his high school and searching through his stuff without his permission.
"The police officers have two offices in our school. We have metal detectors," Fitzgerald said, adding that his school sometimes "feels like a prison."
Pressley's platform on sexual violence was also discussed both at the event and at the roundtable beforehand. Pressley said that this topic is especially important to her, as she is a survivor of both childhood sexual violence and campus sexual assault.
"The work is going to happen at a local level," Pressley said, adding that she will fight for federal investment in local organizations to combat sexual violence in the community.
Pressley was also passionate about how she would like to see her party move forward, stating that she would like to have a discussion after the midterms in November to discuss the "heart, guts and soul of the Democratic Party." Pressley said she wants the party to focus on "how we are going to run and win elections."
More Than Words Boston, where the event was held, is an organization that seeks to empower at-risk youths, especially those who are in foster care, court-involved, experiencing homelessness or out of school by putting them in charge of the More Than Words online and retail bookstore.
In all likelihood, Pressley will be the first African-American person elected to represent Massachusetts in the U.S. House of Representatives. When asked about the wave of women and people of color who are expected to be elected to office in the midterms, Pressley warned against those who discredit and dismiss wins like hers as a fluke or a trend.
"Victory is not magic," she said, "it's work."