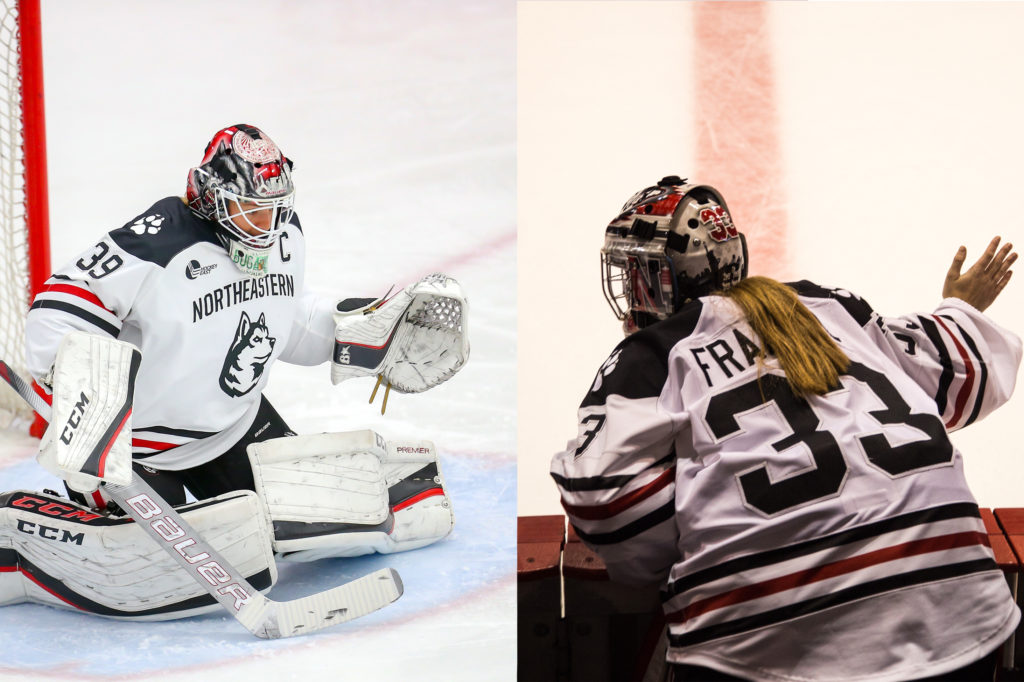 By Caroline Ingram, news staff
Two years ago, if you had asked Northeastern women's hockey head coach Dave Flint his thoughts on the team's future pertaining to the goalie position in particular, he probably would not have had to think long about it.
"The future was looking bright, knowing Brittany [Bugalski] was still only an underclassman," Flint said.
Now, with Bugalski in her final season as a Husky, Flint looks back at her decorated career while also looking ahead towards the future — which is equally as promising. Last season, the team welcomed goalie Aerin Frankel to the squad, starting the year as backup to Bugalski. It quickly became apparent just how talented Frankel is and it was not long before Frankel was earning the start between the pipes.
Frankel went on to start a total of 17 games in the 2017-18 season, posting a 10-8-2 overall record and a .934 save percentage to go along with three shutouts. Those numbers may sound a bit similar to another player's stats through their first season and indeed they are. Bugalski started 27 games during her first season, posting a 20-8-1 overall record and a .911 save percentage, also with three shutouts.
Although the numbers tell a similar story in terms of each goalie's success, the pair diverge in their playing styles inside the crease. Standing four inches taller than her younger teammate, Bugalski tries to make herself take up as much of the net as she can.
"If you look at the two, you'd say, 'Oh Brittany is lazy, she doesn't work as hard,' but it's because she's in the right spot," Flint said. "Sometimes Aerin has to make acrobatic saves because she's smaller and she's way more aggressive. They're like two ends of the spectrum, but it's good. You know, we were watching video the other day and they both look over and are like, 'Wow we have two completely different styles of play.' But those differences allow them to learn so much from each other."
Frankel, being a bit smaller, has to make adjustments while playing the goaltending position.
"Aerin is more of a reaction-style goalie, she's more athletic, she does anything she can to stop the puck. Brittany is more methodical, she reads the play, squares up to shooters," Flint said.
Nevertheless, both players have enjoyed substantial success. Their paralleled success has created a bit of a tricky situation for Flint, who finds himself with two goalies playing well and competing for playing time.
Flint spoke about the thought process of having both goalies see equal playing time so far this season.
"Going into this season I just basically told them — I said, 'Listen, you're both very good goalies and I trust both of you tremendously, so what we're going to do is we're just going to have each of you play back-and-forth and we'll see how it goes," Flint said.
Both Bugalski and Frankel, who have a great relationship and have fostered a sense of healthy competition between them, welcomed the news. Bugalski reflected on having Frankel as a goalie partner and competing with her day in and day out.
"I love playing with Aerin. I think Aerin is an ideal goalie partner to have, we have a really good relationship, so it made it really easy to support her during the whole stretch last year [going into the Hockey East playoffs]," Bugalski said. "Coming into this year, obviously we know that we are both capable of playing and I think now we're at the ideal situation where we're both playing well and we just want to keep this going as long as we can."
When asked about her transition to NU last year, Frankel credited the team's leaders, Bugalski in particular, as a huge part of how easily she fit into the team.
"Our captains have been a huge help in terms of easing the transition to playing here and being a student athlete," Frankel said. "The whole team in general is really positive and everyone is always looking out for each other so I think it's a really easy environment to do well in."
In Frankel's first few months as a Husky, she put her focus on working hard every day and preparing to play should she get the call. Her goal was simply to challenge Bugalski and to keep up the positive, competitive energy between the two. Once Bugalski began to falter in net, it was Frankel's turn to show everyone just how hard she had been working.
With Frankel earning more and more starts, the reality began to set in for Bugalski, who had to come to terms with seeing more time on the bench than time between the pipes.
"Last year was definitely a challenging year for me, but I think it allowed me to find a new role and be supportive and just be there for my teammates," she noted.
Fast forward to this year and Bugalski's role as a team leader and mentor for younger players has been solidified with Flint naming her a team captain..
Flint recalled the conversation he had with Bugalski in which she assured him she was ready to take on the demanding role of team captain.
"I was weary about having a captain as a goalie — I've done that in the past with Chloe Desjardins [NU goalie from 2011-15] and the feedback I got from Chloe was that it's hard to be focused as a goalie and dealing with everything with the team and be a leader and all that. I talked to Brittany beforehand about it and she assured me that she was up for it — we even talked about how, 'Hey, if Aerin is playing in every game, are you going to be a good leader?' and she was adamant that she could do it and more importantly, wanted to do it," he said.
Flint has nothing but high marks and praise for Bugalski, who he says is one of the most selfless and supportive women on the team.
"If you ask Aerin, she'll tell you that one of the reasons she did so well in the [Hockey East] playoffs [last season] was because Brittany supported her through the whole thing. She wasn't sour grapes that she wasn't playing, she supported her 100 percent and that gave Aerin confidence. Then this year, they both do video together with me, so they can learn from each other and push each other. It's a nice luxury to have, having two goalies that you can rely on and that share a special bond," he said.
Flint's statement echoed Bugalski's take on the standout moment from her time as a Husky.  
"Even though I didn't play last year in the Hockey East final game, I'd have to say that that was probably the most special night of my entire playing career — just being a part of that. I've won a gold medal with the U-18 team, but this was something different, knowing how hard we had worked and how we had had so many ups and downs last year. Being able to come together in the end was really something special," she said.
Both Bugalski and Frankel expressed the importance and benefit of having Flint as a coach. Flint has plenty of goaltending playing and coaching experience — serving as a Team USA goaltending coach. He was later appointed as a goaltending coach and advisor to the women's national program and he was part of the staff of the women's silver medal-winning team at the Vancouver Winter Olympics in 2010, in addition to the women's team that took home gold at the 2008 Hockey World Championships.
"Coach Flint was probably one of the primary reasons why I came to Northeastern, knowing that he had that goaltending background. It makes it really easy in practice since you basically always have a goalie coach on the ice with us because he has that goalie experience" Bugalski said. "He's able to see things from a defensive prospective and knowing that he has that experience with that gives us even more confidence to trust him when he tells us things to improve on."
Frankel acknowledged this as well. "I think I have an advantage over other teams in that since I can ask him [Flint] anything and he can help me since he has so much experience," Frankel said. "It's great to have him as a resource, obviously, with the background that he has."
In the team's most recent weekend series of games, Frankel blanked Providence College with 31 saves to earn her third shutout this season with the 2-0 win Friday afternoon.
On Sunday, it was Bugalski's turn. She made the most of the opportunity, posting a 26-save effort for the 2-1 Huskies' win.
Although the team's l approach to utilizing goalies is unconventional, Bugalski and Frankel wouldn't want to have it any other way.
"We each want to see the other one succeed and ultimately, see the team succeed as well. At the end of the day and the end of the season, that's all that matters," Frankel said.
Standing right next to her friend and teammate, Bugalski nodded in agreement.
Smiling, she said, "Getting shutouts and whatnot is great, but what the team accomplishes as a unit will always be more important."