Candidates for U.S. Senate face off in debate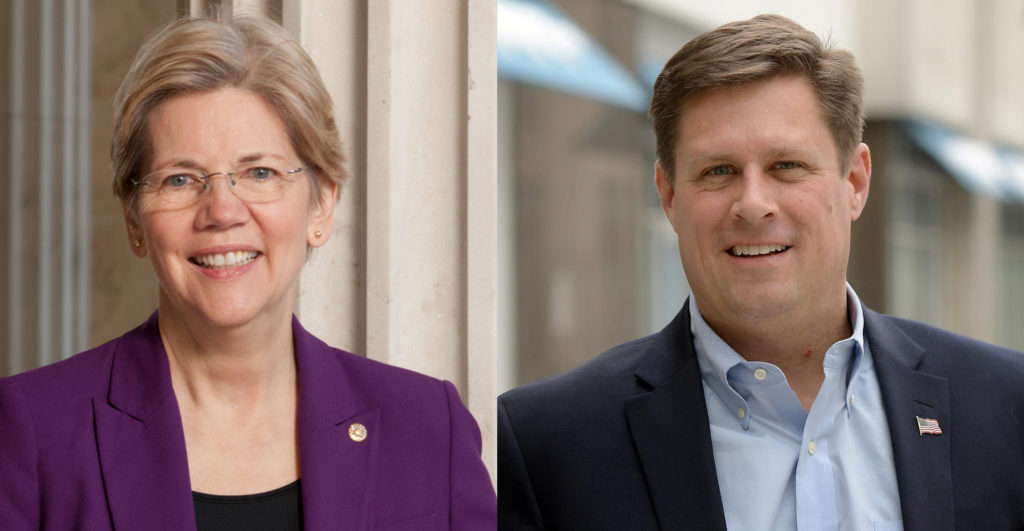 Senator Elizabeth Warren and her Republican challenger Geoff Diehl faced off in their final debate Oct. 30 in Needham, MA, discussing were Trump, immigration and gun rights.
Warren was the first to speak, immediately framing Diehl as a President Donald J. Trump sympathizer.
"Mr. Diehl says he wants to be with Trump 100 percent of the time. Me, I want to be with the people of Massachusetts 100 percent of the time."
Diehl also focused in on Warren and her plans for a Presidential run in his opening statement.
"As the election approaches, Elizabeth Warren wants you to believe her focus is on Massachusetts, but the fact is she doesn't care about your house, she cares about the White House," he said.
The first question asked whether or not Trump should bear any responsibility for the shooting at the Etz ChaimTree of Life synagogue in Pittsburgh. Diehl did not mention the president, but did attack Warren's rhetoric as well as political leaders.
"I think that political leaders have taken us off the right path and have pushed people who are unbalanced to do pretty despicable things," he said.
Warren said that ultimately, the shooter bears responsibility for the attack, but added that "Donald Trump does not make things better when he attacks the free press, when he tries to turn people against people."
Next, the candidates briefly argued over gun control.
"Congress is held hostage by the NRA, so for me this is about fighting back against the NRA," Warren said. "Now the NRA has endorsed Geoff Diehl; I think that's wrong."
Diehl said he supports law-abiding gun owners and pivoted to speaking about immigration.
"I believe in letting law enforcement do the jobs of making sure that those who are here illegally and committing crimes, including gun crimes, are deported, and I think that's a big difference between myself and Senator Warren," he said.
Warren talked about the need for comprehensive immigration reform and mentioned the caravan of immigrants heading toward the U.S. border while also blaming increased violence in Central American countries on Trump's cuts in aid.
"That means that the gangs are more powerful than ever, so that means more people are fleeing the violence," she said. "We need to be helping the countries in Central America to make sure they have law enforcement so that people are safe. That's what prevents this type of caravan."
Diehl mentioned that the United States is made up of immigrants and said he loves that people want to come to this country, but that he thinks people need to do so through the proper legal channels.
During the debate, in a moment that has gone viral on YouTube, Diehl brought up a recent ethics complaint made against Warren alleging unethical fundraising during the Kavanaugh hearings. Warren said she did not know what Diehl was talking about after the moderators pressed her further. It appeared this was the first time Warren was informed about the complaint.
Warren ended the debate by saying she is deeply grateful to have served the people of Massachusetts for 6 years and she hopes to be chosen again to fight for Massachusetts families.
Diehl took a different approach with his closing statement.
"On Election Day Massachusetts voters are going to have a choice: integrity or hypocrisy. Senator Warren the obstructionist is part of the political poison in Washington, but with me as your senator, Massachusetts will have a seat at the table."
The debate displayed each candidate's differences in terms of philosophy and what they want to accomplish but centered heavily on Trump. Information on how to vote Nov. 6 can be found here.