Boston hosts first Dia de los Muertos celebration in Copley Square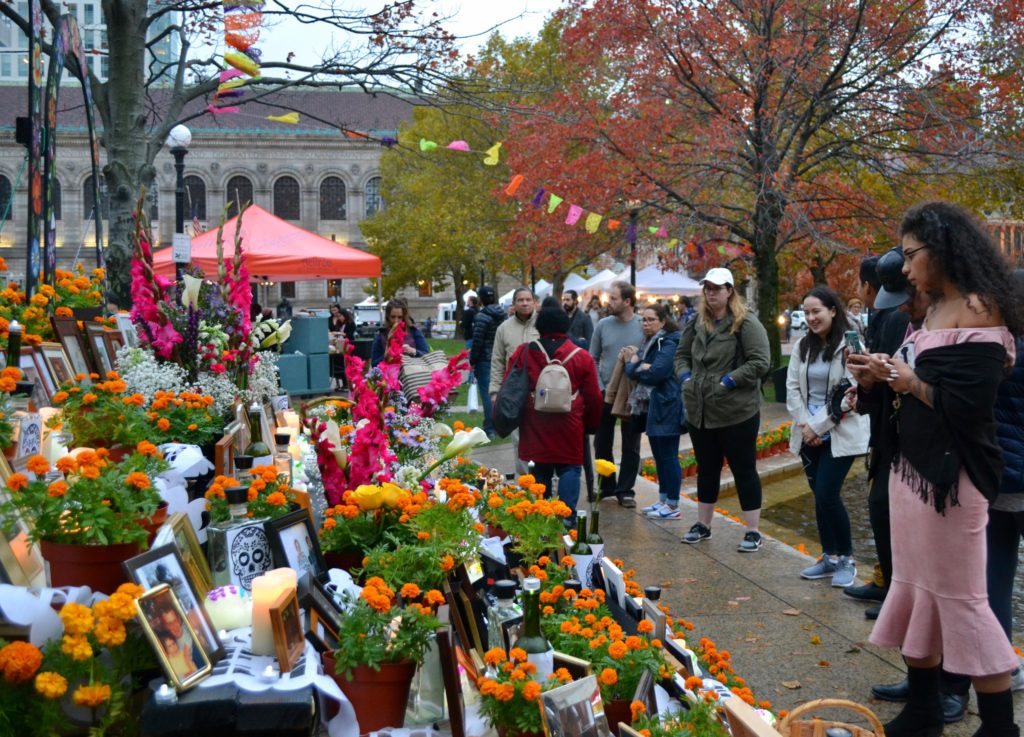 By Samantha Barry, news correspondent
Bright orange marigolds, candles and colorful papel picados illuminated Copley Square on an otherwise gloomy night last Friday in honor of the city's first official Dia de los Muertos celebration. The traditional Mexican holiday was commemorated with a customary ofrenda, authentic Mexican food and a musical performance from an all-female mariachi band led by singer Veronica Robles.
"This is not a sad day," said Carmen Alanis, the director of the Center for Mexican Studies for the National Autonomous University of Mexico in Boston. "We are having this party to celebrate our loved ones and remembering them as if they were here."
Dia de los Muertos, translated into English as "Day of the Dead," is celebrated in Mexico every year on Nov. 1 and 2. The holiday is observed to honor those who have died, connect with their spirits and remember their lives. In Mexico, those who recognize the holiday go to the cemetery where their loved ones are buried and decorate their gravestones. They also play their favorite songs, dance and enjoy their favorite foods and drinks.
In addition, families build altars in their homes known as ofrendas where they place photos of their loved ones. The photos are often accompanied by flowers, incense burners, candles, food and other objects that remind them of the departed. The most common food to go on an ofrenda is pan de muerto, which translates to "bread of the dead".
Arturo Rocha, a Mexican expatriate who came to the U.S. for college, said since his grandmother loved Coca-Cola, he always places a Coke bottle on his family's ofrenda next to her photo.
The bright colors and lighthearted attitude of the holiday can often give those who don't understand it the wrong idea of what Dia de los Muertos represents.
"I think some people think we are laughing at the dead, which is not the case. This is a joyful day, but it is all done out of respect for the dead and is just a different way to interpret what the dead are," said Lorenzo Córdova Vianello, president of the National Electoral Institute, who was visiting Boston from Mexico at the time of the event.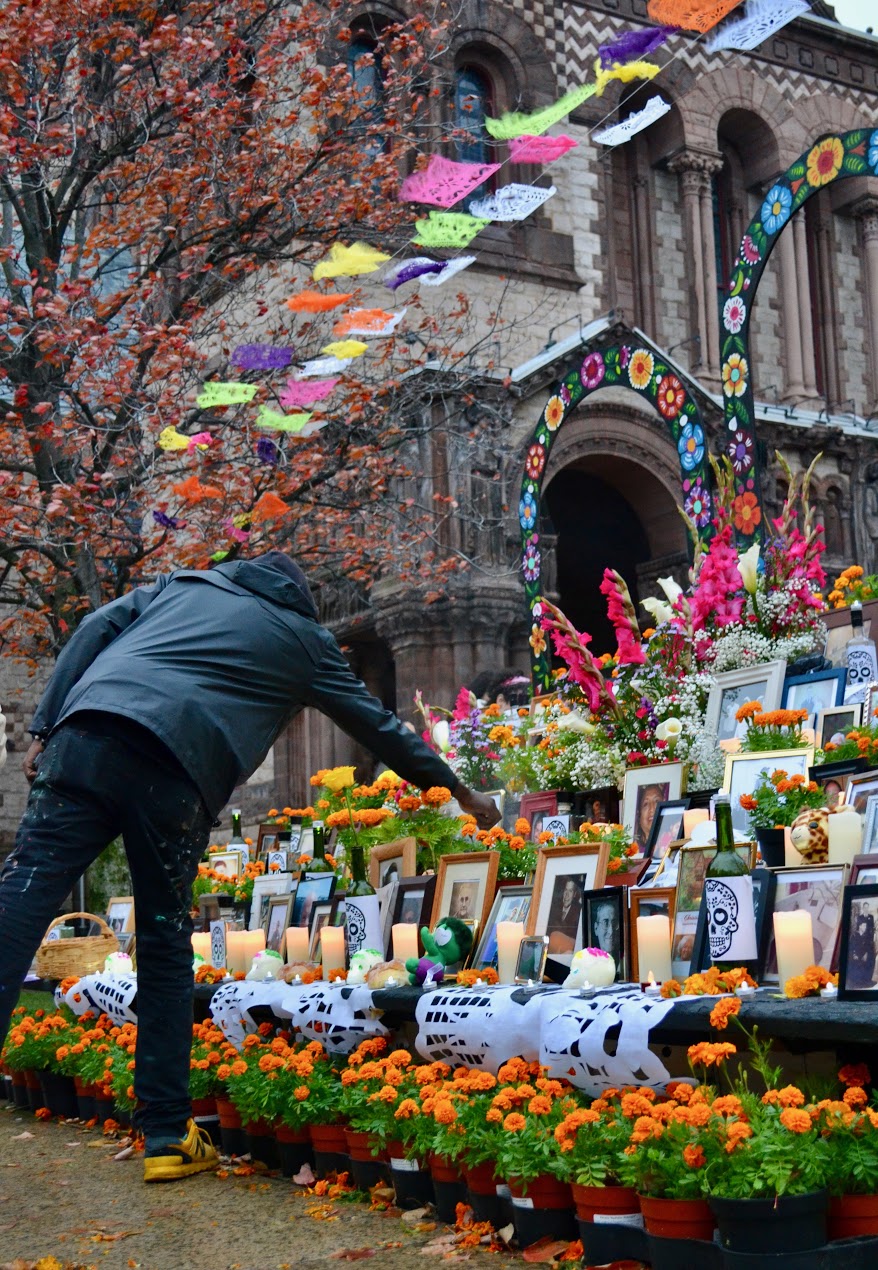 For Boston's celebration, which was made possible by the Consulate General of Mexico, the Boston Parks and Recreation Department, Department of Urban Mechanics and Mayor Martin J. Walsh, a large ofrenda was constructed in Copley Square and placed on the edge of the square's fountain. City officials also set up a Tumblr page where people could submit photos of their family members to be placed on the ofrenda during the event. More than 100 photos were sent in, and frames were donated to the project from Goodwill stores and other thrift shops across the city said Connor Woods, who works for the city's parks department.
"We have been cutting out the tablecloths for the ofrenda, laser cutting the papel picados hanging from the trees, printing out all the photos, placing them in frames and then putting out all the marigold pots too, " said Woods. "We set up on Thursday in like 20 minutes in 20 mile-an-hour wind and rain. It was a struggle but it's up and it looks beautiful."
The marigolds that Woods mentioned are also an important Dia de los Muertos symbol and decoration. It is believed that the vibrant orange color and scent of the flower attracts souls to the ofrenda so they can receive the food and other offerings that were laid out for them from their families. Papel picados are a form of Mexican folk art that are typically cut out from colorful tissue paper and hung over ofrendas.
Those attending the event were pleased with the way the display turned out, especially those in the Mexican community.
"It's a beautiful display, I think it's wonderful," said Alejandra Cambonchi, who brought her two daughters, Zoey and Evie Hwa, out to see the ofrenda. "It's welcoming and I think it's nice to celebrate diversity and other cultures' traditions."
Cambonchi said that she was especially glad Boston was celebrating Dia de los Muertos so her kids could experience the holiday in the state that they live in. This sentiment was also shared by people who attended the event.
"Everyone who has come by so far has been truly grateful," said Jerome Jones, another parks department employee. "People have been saying that they've actually been to different parts of the country or even gone to Mexico just to experience this, so the fact that it's actually here in Boston, in their home, really means a lot to them."
Daniela Gomez, who just moved to Boston and is originally from Mexico, was overjoyed when she found out that the city would be having a Dia de los Muertos celebration. She submitted a photo of a family member and came to Copley Square on Friday to see it displayed on the ofrenda.
"I think it's very nice that they put this together to commemorate the loved ones that have passed," Gomez said. "It feels kind of like home, which is nice since I am living here now."
Gomez went to school with Rocha in Chicago and the pair have been traveling around the country. Both had been missing their Mexican culture and home.
"When you're traveling around, you need this ofrenda for you to feel at home in the US," Rocha said. "You sort of miss having that at your own place. I know my family has the ofrenda up at my place, but I still feel some sort of emptiness and this being in Boston really helps."
The celebration also provided an opportunity for those who do not traditionally celebrate the holiday to learn about it and experience an aspect of Mexican culture firsthand.
"We have a huge Latin community in all of New England and in Boston and spreading art and culture is part of our consulate mission," Alanis said. "I think the political context is also important and to be here and bring this community together is great way to start accepting the diversity that is present all over the United States."