Women's hockey closes out 2018 with shutout win over Holy Cross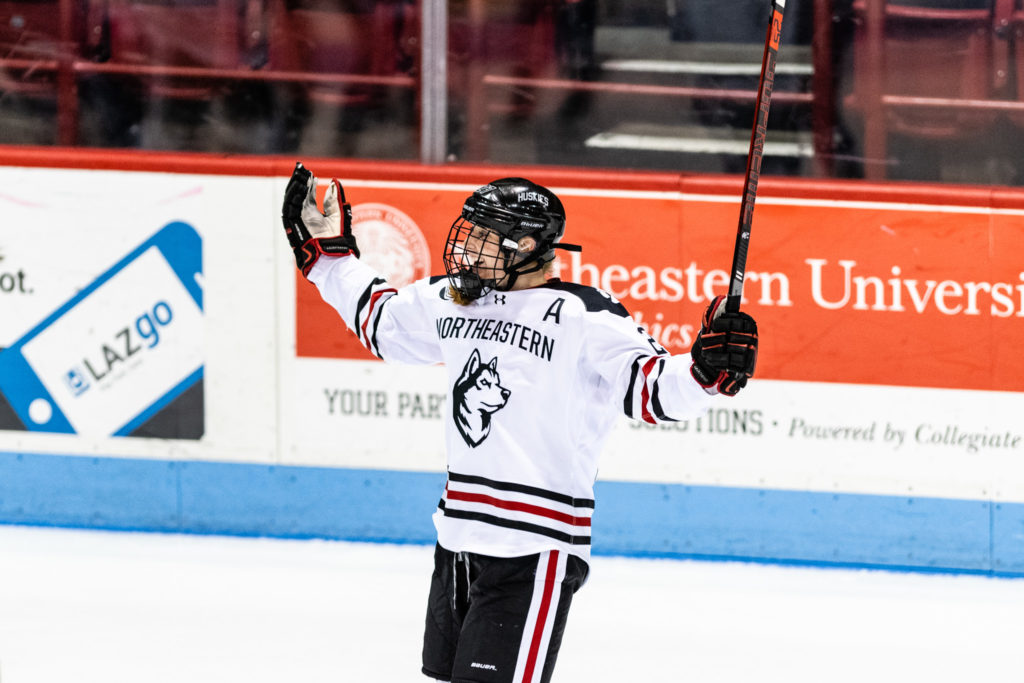 Caroline Ingram, news staff
December 4, 2018
The NU women's hockey team met Holy Cross Sunday afternoon to finish up a home-and-home series. Holy Cross, despite having not won a single game on the year, gave the Huskies some trouble on Friday evening, coming away victorious with a score of 5-3. Two days later, NU was anxious to get some revenge and they showed it, emerging triumphant with a 3-0 shutout.
The teams battled for the first couple minutes before NU broke open the scoring with a nifty goal by sophomore forward Veronika Pettey. She stole a bobbling puck from a Holy Cross defender deep in the offensive zone and was all alone as she deked Holy Cross netminder Jada Brenon for the score.
After the game, head coach Dave Flint touched on Holy Cross being a tough opponent despite their lopsided record.
"They're blue collar, meat and potatoes, but they just come at you hard, throw pucks at the net, and crash the net hard," Flint said. "I feel like we didn't give them the credit they deserve on Friday night."
Later in the period, NU went on the man advantage after Holy Cross' Emma Lange was penalized for tripping freshman forward Chloe Aurard. The Huskies struggled to connect their passes on the power play and were couldn't extend their one goal lead.
The Huskies outshot the Crusaders 14-7 in the first. Senior defenseman Maddie Hartman said the game was closer than the shot column might indicate.
"Coach said it today, that being a top team every team we face is going to bring their best when they play against us," Hartman said. "Holy Cross certainly showed us that these last two games, them coming in having not won a game, they had nothing to lose so they obviously really wanted to beat us.
Five penalties were called in the second, but the Huskies were once again unsuccessful on the advantage. NU nearly let up a goal after a crazy turn of events following one power play. As the puck was dumped into the Huskies' zone, sophomore goalie Aerin Frankel left her crease to try to handle the puck. She lost her footing on the play, tumbling to the ice as a Holy Cross forward nearly swatted the puck into the open net.
Hartman also spoke of Frankel's play and the impact she's had on the team.
"She always has a smile on her face, even when she toepicked out there today," Hartman said. "I went over to her afterwards and told her it was okay, gave her a high-five, and she was just all smiles. She has a great attitude out there and always makes it fun, and battles hard every game, so that everyone just wants to win for her."
Toward the end of the second, the Huskies doubled their lead after a power-play goal by Hartman, who found the back of the net with a low shot from atop the right circle.
Flint said the power play was "out of sync" throughout the game.
"A lot of stuff was out of sync today actually, passes weren't connecting, lack of communication," he said. "I don't know what it was this weekend, we've been playing so well leading up to this weekend that this weekend was honestly a disappointment in terms of how we played."
With just about seven minutes to play in the third period, the Huskies pushed their cushion to three after a goal by senior forward Kasidy Anderson.
Sophomore defenseman Skylar Fontaine picked up a loose puck in the neutral zone and brought it down the boards before cycling it back to Anderson who ripped a low shot from the top of the left circle.
"This team is the closest team I've been on throughout my four years here and I think that's a credit to just everyone having a common goal of wanting to win every game so much," Hartman said. "We've really bonded over that strong desire we all have to want to win.
Frankel earned her fifth shutout of the season which leads all NCAA goalies.
The Huskies will now enjoy a break until the new year. They will open up 2019 in Northern Ireland as they face off with Clarkson in the Friendship Tournament.
"I thought we did great in this first half of the season, with the exception of the little hiccup this weekend," Flint said. "To fare so well against the top teams of Hockey East, knock off some top-ranked opponents and to be 13-2-2, I'm pleased with where we're at and excited for the second half."