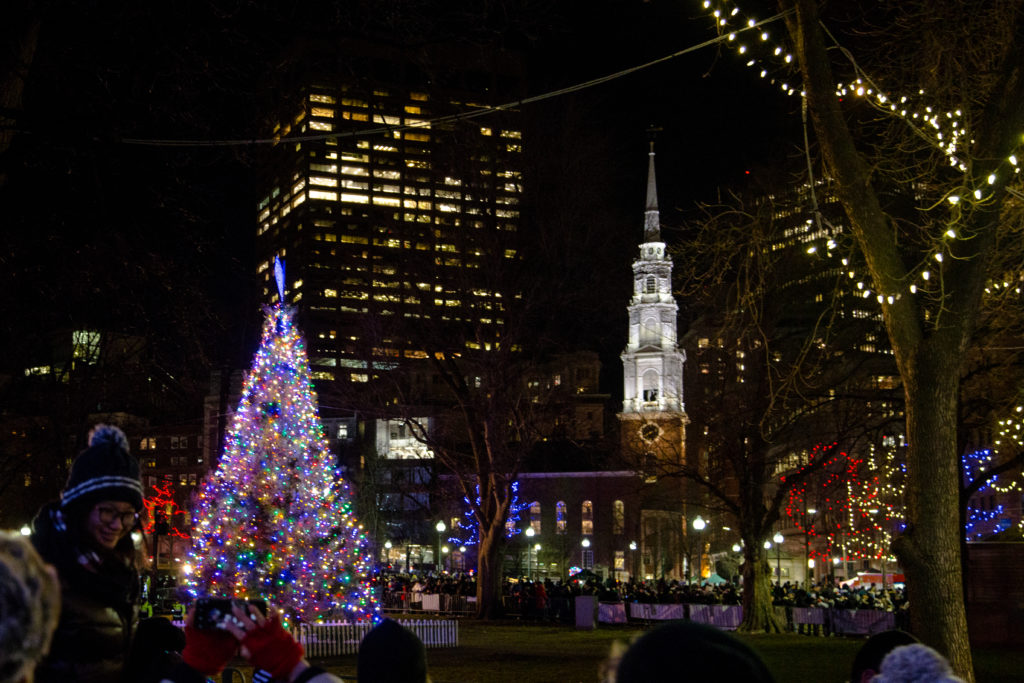 Thousands gathered on Boston Common Thursday, Nov. 29, to watch the lighting of the City of Boston's official 2018 Christmas tree, along with musical performances and fireworks.
This year marked the 77th annual tree lighting and the 47th year that Nova Scotia has donated a tree to the city as thanks for relief provided by Boston following the explosion of a munitions ship in Halifax Harbor on Dec. 6, 1917.
The lights went on shortly before 8 p.m., illuminating the 46-foot white spruce and an abundance of trees throughout Boston Common and the Public Garden. Fireworks and snow confetti filled the sky immediately following the lighting, drawing cheers from the crowds.
"When the lights went on and the fireworks went off and everyone was yelling and cheering and all the kids were trying to grab the fake snow, it was a really magical moment," said Madison Pineda, a first-year cell and molecular biology major at NU.
The event featured a variety of musical guests including the Morning Star Baptist Church Gospel Choir and pop star Andy Grammer, who performed his popular single, "Keep Your Head Up."
Mayor Martin J. Walsh was joined onstage by members of the Royal Canadian Mounted Police and Karen Casey, deputy premier of Nova Scotia, who shared words of gratitude surrounding the tree's history. Santa Claus then took to the stage and crowds joined together in singing Christmas carols.
Daniel Gonzalez, 21, has attended the event in the past and felt drawn to come back this year.
"I really like Christmas, so I dragged her out and gave her a Santa hat," Gonzalez said of his friend Lauren Hubschmitt, 19.
The two donned matching Santa Claus hats.
For new college students in the area, the event served as a way to engage with Boston culture.
"As someone who's always celebrated Christmas and really loves the holiday season, I thought it would be a great taste of home and also a great way to get to know Boston," Pineda said.
Samir Sadrane, a freshman at Boston University studying international relations, expressed a similar idea.
"My friends and I are all new to the Boston area, so we thought this would be a good way to get immersed in the city," Sadrane said. "It was definitely worth it."
Overall, the tree lighting serves as an opportunity for people of Boston and beyond to celebrate a common tradition.
"It was a really cool thing to see so many people coming together to celebrate," Sadrane said. "There was a very happy energy in the air."