90s rockstars The Verve Pipe roll through Boston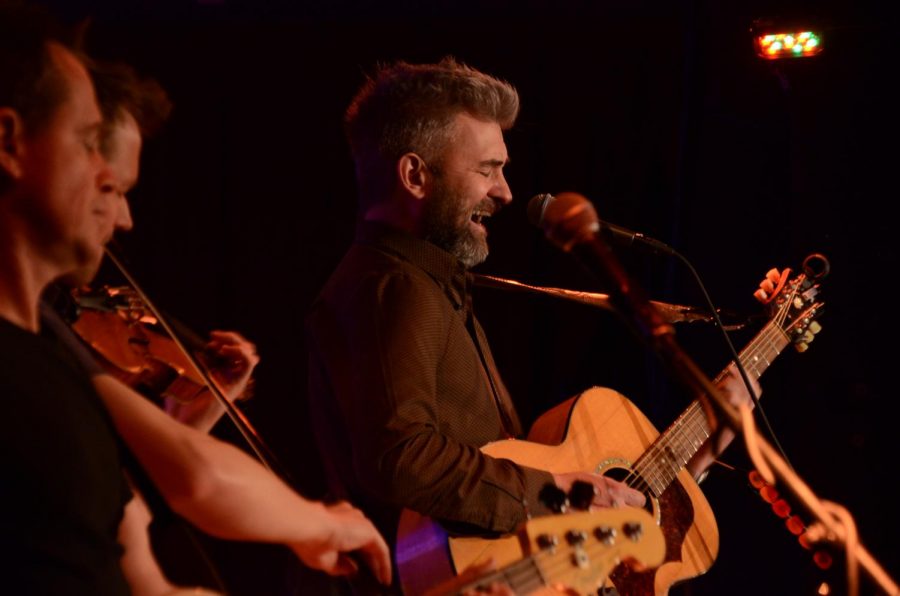 American rock band The Verve Pipe played City Winery, a venue near North Station, Jan. 17. The crowd was largely couples in their 40s and 50s.
The setlist was chronological, but the show wasn't limited to just music. During vamped sections and between songs, lead singer Brian Vander Ark, acoustic guitar in hand, laid out his musical and personal journey through brief tales and almost-lyrical intros.
"It's going to start with the early songs written and then go right on through and tell the story of what happened to The Verve Pipe after the hit songs," Vander Ark said in an interview before the show. "You're going to hear the story of the band."
In 1992, Vander Ark, his brother and some other local talent in Lansing, Michigan started The Verve Pipe out of the ashes of two defunct local bands, finding success through constant touring and independent releases. After three years or so, they signed on with RCA Records, a major label, and their songs began to get more play on the charts. Vander Ark sang, played piano and guitar and did a lot of songwriting.
The Verve Pipe's fame rose in the late 90s — their hit single "The Freshmen" peaked at number five on Billboard's rankings in June 1996.
"For somebody who liked grunge, this is pop grunge," said Diane Ballsmith, an audience member who works on the digital side of banking. "It was interesting to hear tonight what happened to them, because around 2000, they fell off the face of the map. I forgot they were still relevant."
This was Ballsmith's fifth time seeing The Verve Pipe live. She came to the show from Rhode Island with her husband, Ken.
"I think most people, when you think of music, you picture large acts who are selling out arenas, and you forget about the people who are singing from the heart," Ballsmith said. "This is their career and they are still trying to make it, still trying to survive on their music."
Around the turn of the century, their fame fell flat. The Verve Pipe released their fourth album, "Underneath," on Sept. 25, 2001. In Thursday's show, The Verve Pipe played a cover of "America" by Simon and Garfunkel to represent this solemn time.
Album sales were down after "Underneath," and in the following years many of the original band members departed, including Vander Ark's brother. Vander Ark, who had at one point lived in the largest condominium in Grand Rapids, Michigan, and indulged in his fair share of drugs and alcohol, ran out of money.
Next up in the set was "Medicate Myself," a song about drowning one's sorrows, which featured some particularly powerful solos from female vocalist Channing Lee and lead guitarist Lou Musa. By this point, the band had already played their most popular songs, and they were only about halfway through.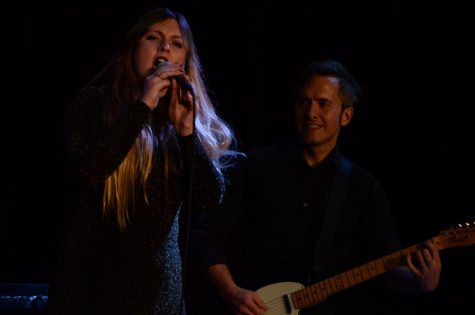 "Typically you play [hit songs] last so people don't leave, but people here are pretty much chained to their tables," Vander Ark said. "It's the kind of place where you sit down and have dinner."
City Winery in Boston is a sit-down venue, where tables are set with wine glasses and menus. The stage area is intended to be intimate, with a recording studio-like atmosphere.
Abe Ayuso, the lead security supervisor for City Winery in Boston, has seen many artists play the venue, including Matisyahu, Talib Kweli and Face To Face.
"We try to make this place fitting for all tastes of music no matter what genre, no matter what type of lifestyle. We try to make this place a home," Ayuso said. "[It's] perfect for a Tinder date — you get food, you get to sit down and get drinks delivered to you by people of the same age."
That said, dining at a winery isn't cheap. The clam chowder costs $11 and is one of the only food items on the menu without a suggested wine pairing. Tickets went for $20 to $28 depending on distance from the stage.
The band of seven included a full complement of rock instrumentation plus Brett Phillips on the electric violin. Sam Briggs, the younger drummer, was one of the few without a vocal microphone nearby.
"Our voices are prominent. We do a lot of two, three-part, four-part harmony stuff, and I think that's out front and center now as opposed to being in the envelope of sonic guitars and wall of guitars," Vander Ark said. "Where it was grungy heavy guitars and the bombast of the bass and drums in the 90s, we've passed that into something that's a little more difficult to play because it's raw and naked and it's not hidden behind that distortion."
Vander Ark has released four solo albums as well as an album with his wife, folk musician Lux Land. Lee has a group called Channing and Quinn. Joel Ferguson has Papa Vegas. And the rest have their own things as well.
"Everybody's got side projects," Vander Ark said.
During the encore, they played two more covers — including a rendition of Blue Oyster Cult's "Don't Fear The Reaper," in which Ferguson's electric bass playing was particularly noticeable.
On their modern tour schedule, The Verve Pipe doesn't really play shows at colleges.
"That's a tough nut to crack for our band. I don't have as much to say to that audience either," Vander Ark said. "We play and if you're great, you're great. But we do much better playing to the older crowd because they're familiar with the band and we're going to sell more tickets that way."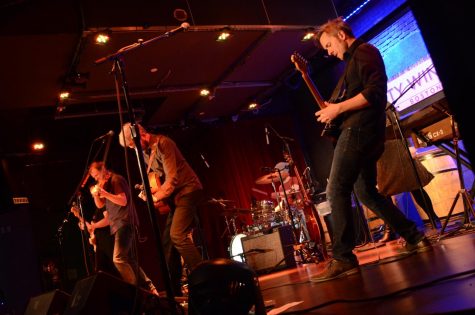 Two of The Verve Pipe's albums, "A Family Album" and "Are We There Yet?" released in 2009 and 2013 respectively, were more for children.
"Our audience has grown up with us … We'll see 17, 18, 19-year-olds that come up that liked the kids albums when they were 6 and 7, and now they're coming to see the adult shows," said Vander Ark. "It's a testament to the band, I think, that we can pull them in. But the majority of them are people my age or a little bit younger."
Vander Ark is 52. Randy Sly, on the keyboards and tour management when applicable, is a stay-at-home dad most of the time. When not with his three children, he gigs on weekends and every once in a while sets out with the band for a couple weeks on tour.
"Now, as opposed to when we were young, it's so much more fun [to tour]," Sly said. "I love the people I'm playing with and that makes all the difference in the world."
Their most recent tour lasted for two weeks and ended Sunday, Jan. 20.
"We're in a real good spot — the band has had some success in the past. We write the songs we want to write, we record when we want to, we tour when [we want to]," Sly said. "We don't feel the pressure to do any more or any less than we want to."
After going broke, Vander Ark kept one guitar and played gigs for his keep. He recovered some personal finances with the help of Land. In the years since, he's re-formed The Verve Pipe, mostly with Michigan-based artists. He currently lives in Grand Rapids, no longer in the most expensive condominium.
Currently, he tours, does personal shows for a fanbase that he adores and appears for speaking engagement at schools.
"Find whatever your creative outlet is and go with it. Take time to be creative every day," Vander Ark said. "Do it on your own, don't sign a major record label deal. Do it on your own. Become your own little engine, do your own thing. Take care of your own business. Treat it like a business. I made all those mistakes so you don't have to is my whole point."