Men's basketball gets back on track in CAA with road win at JMU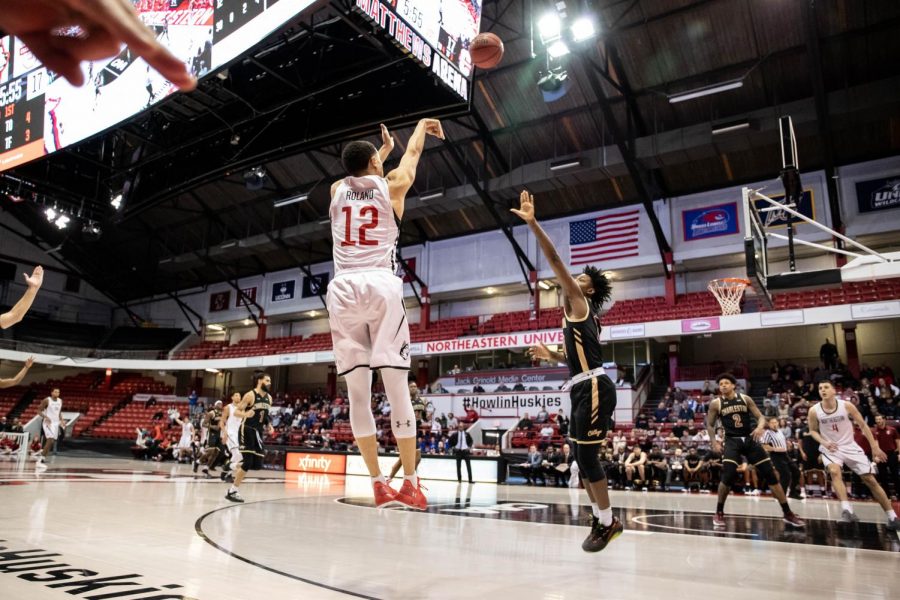 It was a rough shooting night for most Huskies, but an electric 3-point performance from junior guard Jordan Roland propelled Northeastern to a 78-68 victory over James Madison on Saturday.
Northeastern (12-9, 6-3 CAA) Travelled to Harrisonburg, Virginia hoping to bounce back after a loss at Towson ended their four-game win streak. The story of that game largely came down to a shortcoming in offensive rebounds, so head coach Bill Coen probably breathed a sigh of relief when his team's first points this time out came on a putback from senior center Anthony Green.
The Huskies'  rejuvenated effort and intensity was evident as they controlled the flow of the game from the opening tip, even when their shots weren't falling. James Madison (9-13, 2-7 CAA)held the lead just once when a 3-pointer from Darius Banks made it 6-4 with 16:50 remaining in the first half, but Roland answered with a three of his own and erased James Madison's advantage after less than a minute.
The Dukes came close to regaining the lead when they tied things up at 15 with 10:26 remaining, but Northeastern answered with a 10-2 run and carried that advantage into the break. Another 3-pointer from Roland with about a minute left in the half extended the lead to nine, and the Huskies took a 33-24 advantage into halftime.
They maintained the lead, but Northeastern struggled to get much going on the offensive end in the first half. The team shot a mere 35.3 percent from the field (12-34), and was even worse from deep with a 29.4 percent clip (5-17). Senior guard Vasa Pusica failed to connect on any of his six attempts in what was an uncharacteristic half for him, though he led the team in rebounds at the break with five. Roland led the way for the Huskies with 16 of the team's 33 points on 5-8 shooting, including 4-6 from deep. Junior guard Shawn Occeus also stepped up, scoring eight on 3-5 shooting and adding four rebounds.
Northeastern's offense finally got going in the second half, led once again by an impressive half from Roland. He connected on four of his six attempts in the half, all from beyond the arc, and finished the game with a game-high 29. Pusica used a strong showing from the free-throw line to get himself into double digits, and his persistence on the boards netted him his first double-double of the season (10 points, 10 rebounds). The Huskies shot a much-improved 50 percent (12-24) in the second half, including 46.2 percent (6-13) from deep.
Though a layup from sophomore forward Tomas Murphy gave Northeastern a 20-point lead with just 5:43 left in the game, James Madison wouldn't go down easily. The Dukes broke off a 17-4 run to cut the deficit to seven with just over a minute remaining but a composed display from Pusica at the free-throw line put the game on ice as the Huskies took the win on the road, 78-68.
Northeastern improved to 12-9 overall (6-3 CAA) and remain in third place in the conference, just behind Delaware due to tiebreakers. They now have a week to prepare before they take on conference-leading Hofstra (19-3, 9-0 CAA) next Saturday at Matthews Arena.