Men's basketball holds Elon scoreless in overtime, wins 4th in a row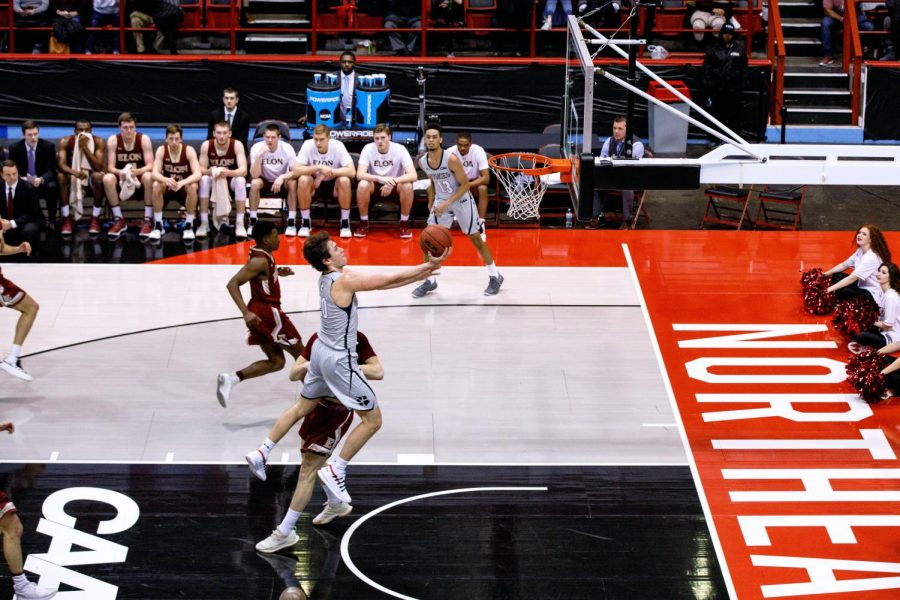 It took an overtime period for Northeastern to topple Elon in their first meeting of the season, and once again the the Huskies needed an extra five minutes to pull away. The Huskies dominated in overtime yet again, and took the game 72-60. They held Elon scoreless in the extra period.
The Huskies (15-9, 9-3 CAA) got things started with a designed play for junior guard Jordan Roland, who knocked down an open corner three off a baseline screen. The Phoenix (8-18, 4-9 CAA) answered with a three of their own, and the teams continued trading baskets for much of the first half. Roland and senior guard Vasa Pusica ran the show early on, accounting for Northeastern's first 16 points with eight apiece.
A strong finish from sophomore forward Tomas Murphy earned Northeastern its first points from a player not named Pusica or Roland, but the Huskies trailed 23-22 even after five consecutive made field goals with 8:13 remaining in the half.
After trading buckets, the two teams then traded droughts. Elon went cold from the field and the opportunistic Huskies took full advantage — junior guard Bolden Brace knocked down a transition 3, Roland hit a stepback jumper from behind the arc, and the Huskies established a 34-24 lead with 3:45 left in the half behind a 16-4 run.
After Brace got a layup to go, Northeastern fell into a cold spell of its own. Elon broke off an 11-0 run to close out the opening period, taking a 35-34 lead into the half.
After a rough end to the first half for the Huskies, head coach Bill Coen probably would have hoped for a better start to the second as Northeastern failed to score on its first four possessions of the period. Elon clearly made it a point of emphasis to take away the baseline screen action that got Roland open for the first points of the game, and the Huskies were searching for answers offensively.
Brace was once again the answer, converting on a nice layup and feeding a perfectly placed pass to Murphy for the easy finish on the following possession. Roland capped off the run by proving that he's more than just a 3-point marksman — he blew by his man with a quick first step to get to the rim and posterized the defender, albeit with some help from the rim, and Northeastern took a 41-37 lead after Roland got an and-one to go.
Before heating up late in the half, Elon was marred by a 1-10 shooting stretch. A Pusica 3-pointer capped off an 8-0 run for Northeastern over that time, and the Huskies held a 52-44 lead at the under-eight media timeout.
Elon then got a huge boost off the bench from guard Sheldon Eberhardt and forward Federico Poser, who would combine for 22 on the night, and the Phoenix managed to claw their way back into the game. A layup from Santa Ana tied the game at 60-all with 1:57 remaining, and neither team managed to score the decisive basket as time expired.
Once in overtime, the Huskies looked like a different team. Brace was especially lethal, connecting on back-to-back corner threes and draining both free throws when fouled in transition. He was responsible for eight of Northeastern's 12 points in the overtime period, and finished the night with 20 on 7-13 shooting to go with 14 rebounds.
"It's tough when we go into overtime in a game like that because they kind of made a push at the end, and at the end of the first half too," Brace said. "I wasn't really nervous, but there's always jitters going into overtime because you don't know what's going to happen."
Brace was also pivotal to the defensive effort. With freshman Jason Strong, Brace limited forward Tyler Seibring to just 1-17 shooting from the field. Seibring, Elon's leading scorer, had been averaging 16.9 coming into the game.
"I think one of the biggest things was we had a really good walkthrough today," Brace said. "The coaches put together some really good film, and we kind of knew what they were going to run."
Coach Coen also lauded Seibring's talent after the game, in spite of the off-night. "[Seibring's] a terrific player," he said. "He didn't shoot the ball well tonight… but he's an inside-outside guy, can take you off the dribble, he's a tough matchup."
In a game of runs, the Huskies put together their best stretch at the most important time. They didn't allow Elon to score a single point in the overtime period, and took the game 72-60 after the extra five minutes. Pusica led all scorers with 23 on 7-13 shooting, and Roland added 21 on 7-17 shooting.
"I thought we were very fortunate to earn a victory today," Coen said. "We faced a really scrappy team… and we needed every effort."
WIth the victory, Northeastern stays put at second in the conference with a record of 15-9 (9-3 CAA). The Huskies travel to UNCW (8-17, 4-8 CAA) next Thursday as they continue conference play.