Baker looks to rein in drug prices in budget proposal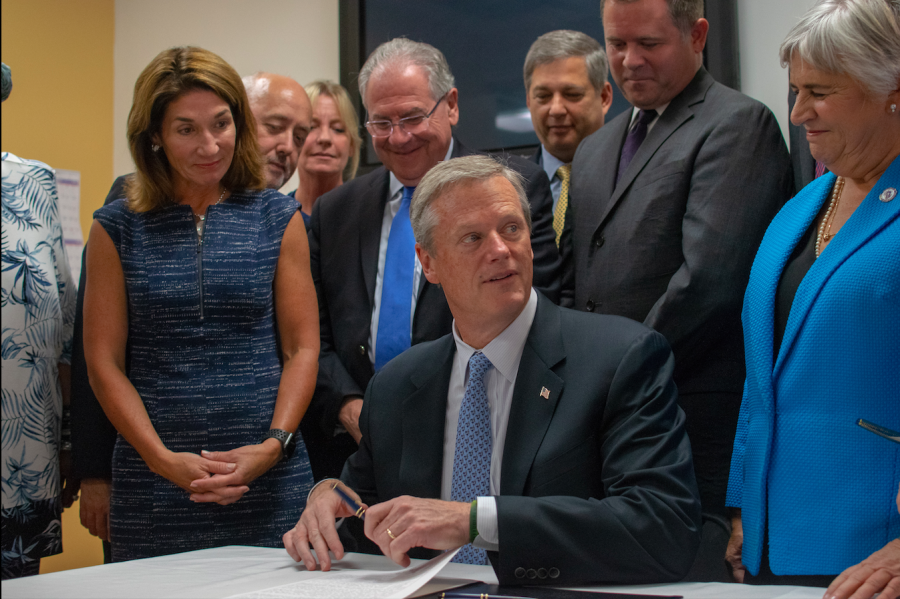 Gov. Charlie Baker's state budget plan, released Jan. 23, contains a new proposal aimed at reining in the cost of prescription drugs within the state's Medicaid program, otherwise known as MassHealth. The plan would also dramatically increase state oversight of drug prices.
Baker's office is seeking a change in state law to allow direct negotiation of high drug prices between MassHealth and drug manufacturers. If negotiations are unsuccessful, those companies would be referred for further oversight to the Health Policy Commission, or HPC, which is not yet tasked with keeping drug prices in check.  
Should the HPC find prices excessive, the drug manufacturer could be referred to the state attorney general's office for further investigation and potential legal action on the grounds of violation of consumer protection laws.
Wendy Parmet, a professor at Northeastern University School of Law and leading expert on health, disability and public health law, said the proposal is a step up from its previous iterations.
"I think people are supporting it because they see it as a potential first step for the state to take some action to rein in the price of pharmaceuticals in a way that would focus on the price, not the access," Parmet said. "It doesn't raise some of the red flags and problems that the prior proposal had."
The proposal comes as Massachusetts drug spending is rising, increasing from $1.1 billion to $1.9 billion from 2012 to 2017, which surpasses spending growth throughout the rest of the program. In the proposal, administration officials project that the move would save the state $80 million in the next fiscal year alone.
The Baker administration made a proposal with a similar goal last year that involved excluding certain high-priced drugs from Medicaid coverage and moving thousands of people off the program. Federal approval for that proposal was denied.
Baker's most recent proposal does not include either of those measures and would only change state law, thus not requiring federal approval.
Many from the pharmaceutical industry, however, have criticized the proposal, arguing that such attempts by the state to regulate prices inhibit research and development.
Massachusetts Biotechnology Council president Robert K. Coughlin said in a Jan. 23 statement that the proposal "sends a message across the industry that government is going to punish success and that only it can be the final arbiter of drug pricing."
Becky Briesacher, a health services researcher and associate professor in Northeastern's School of Pharmacy, said that she's seen such arguments from the industry for as long as she's been in the field.
"Their argument is if they don't have a lot of money that they've made from past drugs, they're not going to develop new drugs," Briesacher said. "They have to have a lot of money so they can develop the new drugs of tomorrow. So what people say is, 'But how much is that?'"
There is no denying that the pharmaceutical industry's role in developing and improving drugs is crucial. The concern, however, is that the price tags on certain drugs do not always align with their actual value.
"Certain drugs deserve to be handsomely rewarded financially because they, for instance, might be extending the life of a patient with childhood leukemia for another eight to 10 years," said David Whitrap, vice president of communications and outreach at the Institute for Clinical and Economic Review. "But far too often, there are drugs that are providing just very little additional benefit over what's already on the market, but they're priced with a major increase over what's already on the market."
Another common argument against pharmaceutical companies' claims that reduced profit would stunt innovation is that this money is largely channeled elsewhere. Whitrap said that the most recent data he had seen showed greater spending by these companies on marketing and advertising than on investment back into research and development.
"The pharmaceutical industry is super profitable, and they certainly do not take all of that money and put it back into research and development," Briesacher said. "Then the argument is, how much profit should they be able to make, even while we still want them to be innovative?"
Parmet said this plan is not seeking to regulate prices, but rather to force drug manufacturers to justify them. The proposal, she said, is therefore more about "shining a light" on excessive pricing and "potentially shaming" drug manufacturers — which theoretically wouldn't become an issue for them if their prices are truly justifiable.
Massachusetts is not the only state attempting to tackle this issue. Whitrap said the proposal looks similar to other states' policies, referencing New York legislation passed two years ago that saved the state $175 million in the 2017-2018 fiscal year without having to limit patient access to any drugs.
"If those sort of savings are on the table here, that's something that I think would definitely be of interest to Massachusetts policymakers and citizens," Whitrap said.
However, some believe that the Baker administration may be overestimating cost savings with their proposal, but still maintain that the proposal would be effective in its goal.
"This huge number that the Baker administration is saying they could potentially save … is, some people think, unrealistic," Briesacher said. "It's more about just managing that it doesn't keep getting more and more expensive, rather than just having this whole big pot of money that's left over."
Parmet stressed the importance of government taking action in an industry that she says has long gone unchecked.
"We need to understand that doing nothing isn't working either, that this is a very complicated but very distorted marketplace and that the lack of intervention by the government is not working," Parmet said. "I think it will be in the interest of the drug companies, actually, not only the patients, to negotiate in good faith and come up with something that can work for everybody."