Maria Lovato
Four black staff members were honored for their commitment and service to Northeastern University at the annual Black Heritage Award Luncheon Wednesday in the John D. O'Bryant African American Institute.
Lawrencia Raynor, the associate director of the Office of Student Employment, Audrey Grace, the director of diversity and inclusion of the Office of Institutional Diversity and Inclusion and Anika Crutchfield, a Northeastern University Police Department officer were all recognized. Marcelo A. Araya, a worker in the Facilities Services Department, was also recognized for his service to the institute.
Richard O'Bryant is the director of the institute, which was renamed from the African American Institute in remembrance of his father in 1992. O'Bryant said the goal of this event was to recognize the "unsung heroes" at Northeastern.
"It's important for me because so many people help to make life at Northeastern easier, and they don't always get recognized," he said. "So, taking this opportunity to say thank you and recognize the work that they do, sometimes going unrecognized, giving them a chance to see and feel that people do appreciate what they do."
Rodney Sadberry, a student development and outreach coordinator at the O'Bryant Institute, gave the opening remarks.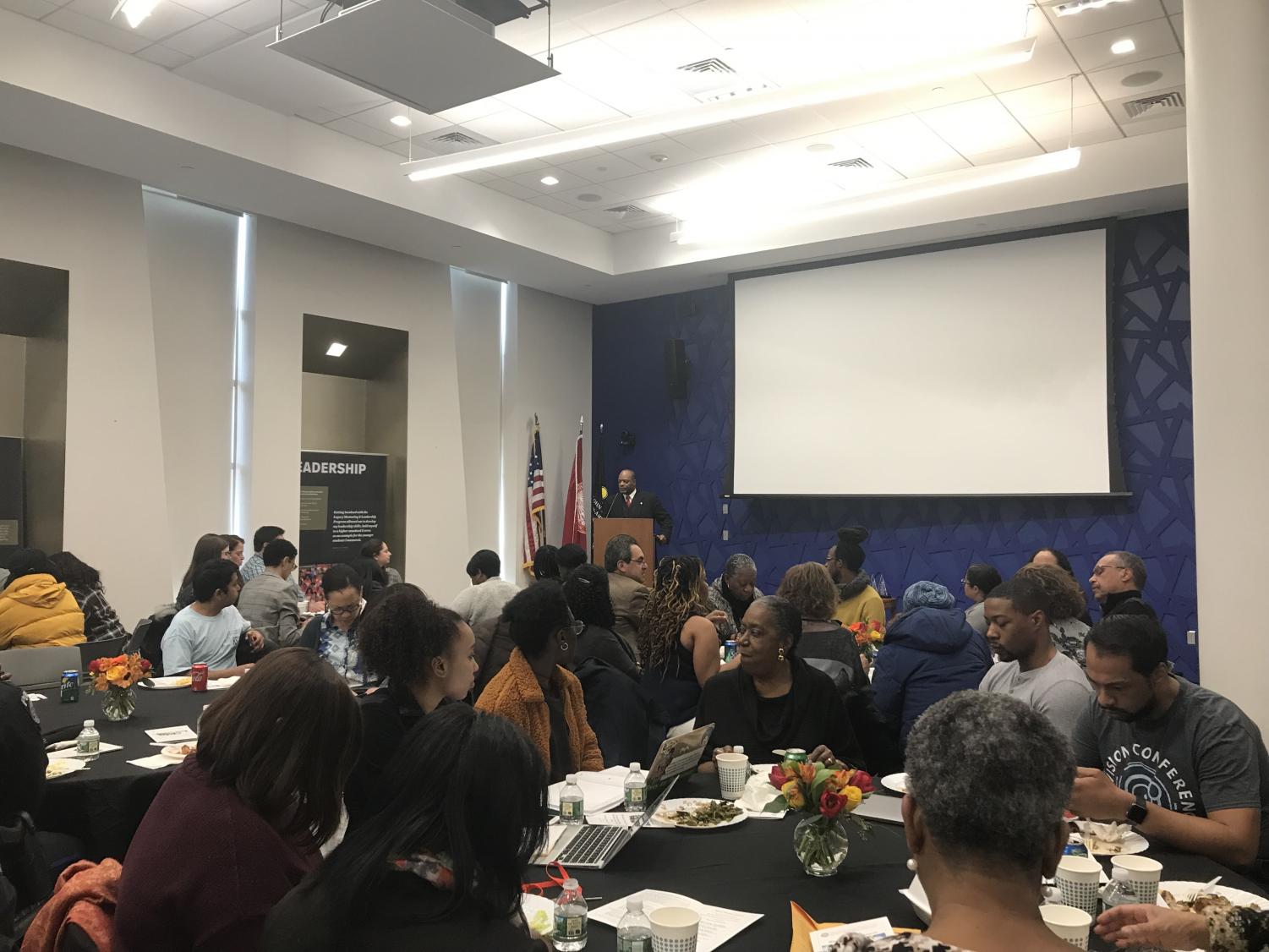 "We stand on the shoulders of giants, Martin Luther King, Malcolm and others who did a lot to bring young African American students to where they are today," Sadberry said.
Crutchfield, whose mother is a native of Costa Rica, served in the army for seven years as a surgical technician. She then majored in criminal justice at Bay State College in Boston, and was hired by NUPD in 2008. Crutchfield worked in many positions in NUPD, but found her passion in the Crime Prevention and Community Engagement Unit, where she is involved with the community through bike registration events, "Coffee and Tea with NUPD" and other outreach events.
"I'm grateful to receive [this award]," she said. "It goes to show that even though we do things out of the kindness of our heart, we do things because it's something that we love and have a passion for, that there are people watching, and there are people who appreciate things that we just see as us doing our job."
Grace graduated from Fordham University in New York with a degree in political science and Spanish and attended law school at Northeastern. In her position at the Office of Institutional Diversity and Inclusion, Grace's goal is to promote diversity, inclusion and equality at the university-wide level.
"I am truly honored … I think everyone in the entire university can say that we never push them away into that Northeastern shuffle, and I think that's why we're here, so thank you," she said during her acceptance remarks.
Araya grew up in Santiago, Chile, and spent time as a volunteer firefighter starting at the age of 16. In 2002, he moved to the United States and in 2013 he started working at Northeastern. To this day, he is an honorary member of the San Bernardo, Chile fire department. He also runs Fire Trucks Chile, a company that exports equipment and emergency vehicles to South American fire departments.
"It's an honor for me [to be recognized]," he said while accepting the award. "I love to work here at Northeastern. I meet different people every day here, it's my second home."
Raynor has worked at Northeastern for more than 15 years, and continues to have a strong passion for furthering student success. Kathy Brown, the senior director for employment and special programs and Raynor's boss, described Raynor as a "superstar."
"I don't even have enough adjectives to describe her," she said. "She's my right hand woman, and the place would not run without her. I look forward to seeing her every day. She's like family to me."
In her acceptance speech, Raynor recognized her "work family" and offered a challenge to the audience.
"Thank you to my family and my work family who came here today," she said. "Everyone is here to make something better for themselves, so keep doing that. My challenge to you is, why not make history? Why not be great? Why not think big?"