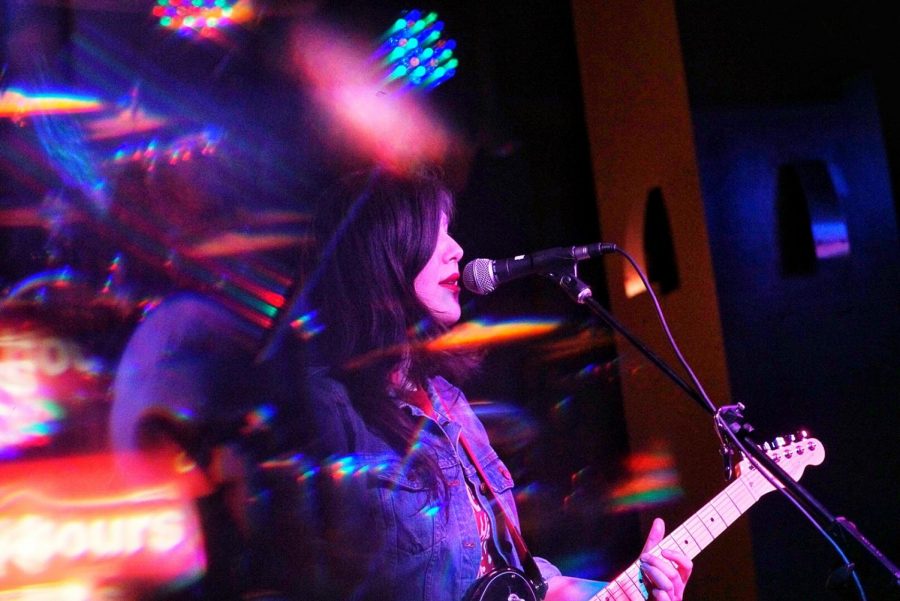 Photo courtesy Lauren Scornavacca, Tastemakers
Tastemakers Magazine, Northeastern's student-run music publication, hosted its annual concert in AfterHours Saturday, featuring indie rock singer Lucy Dacus as the headlining performer and local folk artist Grace Givertz as the opening act.
Givertz took the stage with Max Grazier on drums and fourth-year NU student Ari Blut on bass. Normally a solo performer, Givertz admitted that this was her first show playing with a full band. Despite their limited experience as a unit, the trio performed as though they had been playing together for years.
Givertz's innovative approach to folk music made each song different from the next. Rather than focusing on a particular instrument, she switched between the acoustic guitar and the banjo, even playing the harmonica between lyrics.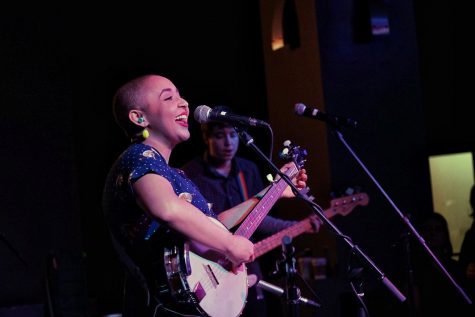 Her biggest strength, however, was her voice. She easily transitioned from whispers to powerful belted notes that conveyed raw emotion. Many of her lyrics discussed painful experiences but she maintained her composure and lighthearted attitude.
"Sorry if you didn't come here to cry," Givertz said.
Dacus took the stage accompanied by Jacob Blizard on guitar, Dominic Angelella on bass and Ricardo Lagomasino on drums. This show was the last stop on their two-month American tour. Dacus admitted she had never played at a venue like AfterHours.
"We walked in and people were studying, and there was a Starbucks, and we were like, 'Oh man, we're going to be a nuisance,'" Dacus said to the audience.
The enthusiastic crowd of students welcomed her with open arms and Dacus quickly loosened up, often commenting on how much fun she was having.
Known for her gentle vocals and clever songwriting, Dacus showcased her strengths throughout her set, especially in songs like "Night Shift." The track pairs her smooth, mellow voice with blunt lyrics about wanting to punch an ex-lover in the teeth.
First-year music industry major Jack Pumphret attended the show and said he was captivated by Dacus's performance.
"She has a way of making a room feel far smaller and more intimate," Pumphret said. "She is also very particular about how she performs and what instruments are used in a certain song to make sure the ambiance is perfect."  
Though many of the songs were from her 2018 album "Historian," Dacus included a few surprises for the audience. She included her cover of "La Vie En Rose" by Edith Piaf, which was released this past Valentine's Day. Dacus admitted her French wasn't the best but her indie rock rendition breathed new life into the suave 1940s pop song.
Dacus also included new music which has yet to be released. Choosing to perform without the rest of her band, Dacus played two songs for the audience as a preview of what they can expect from her in the future.
The success of the concert, called Tastemakers Presents, left the audience yearning for new music from Dacus and for another great show next year. Until then, students can get their fix of new music from Tastemakers Magazine, which recently published its 55th issue.