Q&A: Ilyse Robbins finds new challenge choreographing 'Once'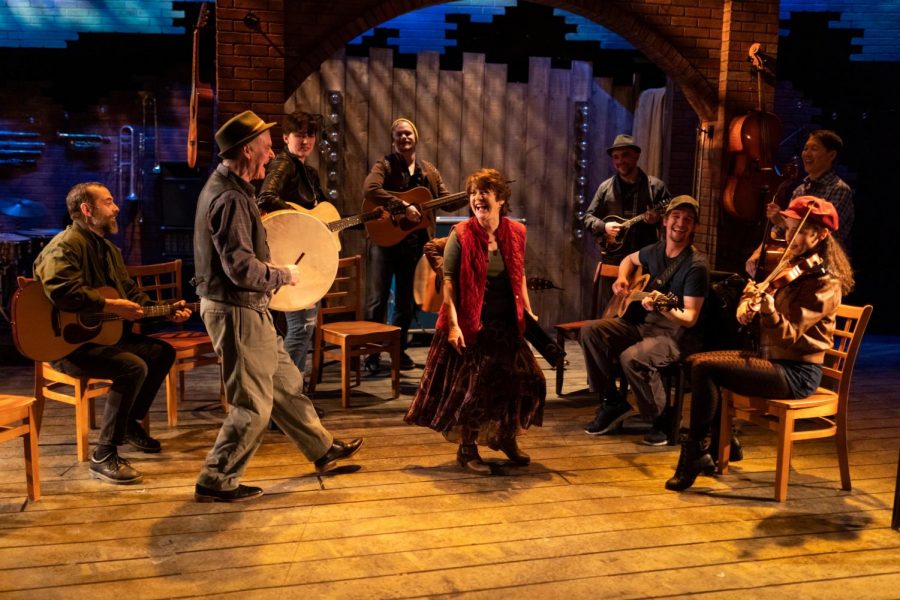 Even with a long, fruitful career in theatre, Ilyse Robbins is still finding new ways to challenge herself. Robbins, who will bring her Musical Theatre Technique course back to Northeastern in Fall 2019 after first teaching at the university in 2017, said choreographing SpeakEasy Stage's production of "Once" was unlike anything she had done before  — and she's grateful for it. The show, based on the 2007 film of the same title, took home the Tony Award for Best Musical in 2012. Centered around a would-be star-crossed romance in the Dublin street music scene, it's perhaps best known for the Academy Award-winning song "Falling Slowly."
"Once" closed this past Sunday after an extended sold-out engagement.
The News: How did you first encounter the story of "Once"?
Ilyse Robbins: I had known about the movie, but it didn't really sound like my type of musical. Then I saw the piece at the Tonys, and what sold me on it was [the song] "Gold." The fact that someone dances with a cello makes my heart sing.
TN: Why didn't it sound like your type of thing?
IR: Usually I do song-and-dance musicals. I grew up on "Singin' in the Rain" and "How to Succeed [in Business Without Really Trying]," and I knew that this was definitely not that. I wasn't sure if it was something I'd be going to fall in love with, and now …
TN: It really is a hard piece to describe. I'm not even sure whether to call it a play or a musical.
IR: It is hard to describe, and I think when it was first marketed, it wasn't done in a way that made me want to see it.
TN: If you describe the plot, it sounds like a low-key romance, but it really is such a theatrical piece. Is it somewhat of a choreographer's dream?
IR: To me, it was a choreographer's challenge, which is so exciting for me in this phase of my career. There's really only one number that's a straightforward dance piece, so I had to work out how I was going to tackle pretty much everything else.
TN: Had you worked with instruments before?
IR: That was my biggest challenge. Being in my home studio, trying to do things and pretending I'm holding a violin … Knowing my arms would be in a different rhythm than my feet, it was so exciting and challenging, and then getting to the stage and seeing what was possible for the actors.
TN:I imagine you had to have been in constant conversation with the actors?
IR: It was a total collaboration between me, the dancers and the director. I was in rehearsals a huge amount of the time, probably more than with other shows I've done. It's funny because we did a breakdown of numbers we should each take the lead on, and as soon as I got home, I called Paul [Melone, the director] and asked to switch a bunch of them. Never having worked with him, we had to learn along the way how much we wanted to mesh our styles.
TN: When you're doing a show like this that is so character-based, do you approach the choreography from the music first, or the characters, or the story? All at the same time?
IR: It's everything at once; it's in the script and in the music. I knew the story I wanted to tell, so I just put the music on and started moving, and there it was. That doesn't happen often.
TN: You say you've worked with more Golden Age, classical type of shows, had you ever worked with music this … soft?
IR: That's funny that you said that. This is really the first of its kind for me. This is a very different style and feel of show. It's very lyrical and interesting in how much it spoke to me. Once the music got into me, the story just came through.
TN: That music is gorgeous.
IR: Gorgeous.
TN: I've seen the show a couple of times and I don't think I've ever left with dry eyes.
IR: Oh, people leave this house sobbing. I don't think I've made it through, ever, without crying. It's one of those happy-sad shows, because it will never be perfect. It's a love story where … I think in order for [the characters] to find happiness in one sense, they have to lose it another way. It feels unsettled, unfinished.
TN: So you're coming back to Northeastern after some time away. What are you bringing back?
IR: I've worked on two premieres since, so I've gotten to create in a way where there are no blueprints. As an artist, I've been extremely challenged this past year, so I'm excited to bring that back.