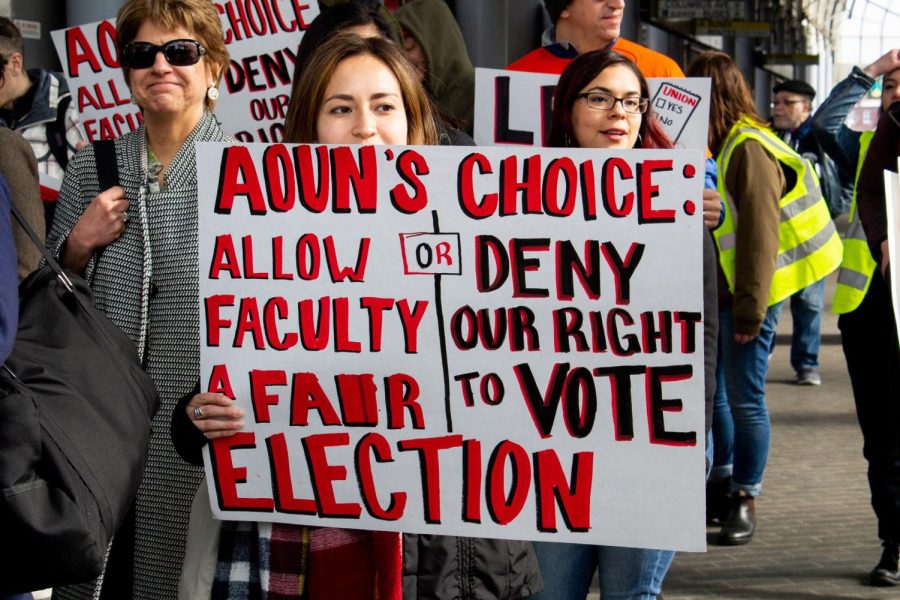 Hayley Slusser
Editor's Note: The print version of this story, in the April 18 issue, used an inaccurate headline. It read that NU blocked a union election for a third time, when in fact they blocked it for a second time.
Northeastern administration responded to the April 9 petition to hold a union election for full-time, non-tenure track faculty with a statement of position released April 16. The statement, filed with the National Labor Relations Board, or NLRB, stated that unionization is "not appropriate" because the faculty are technically managerial employees.
The filing seeks to overturn a case from 2015, Pacific Lutheran University v. SEIU Local 925. This case declared that full-time, non-tenure track faculty can only be labeled as managers if they have specific managerial duties. Managerial duties apply not only to the faculty's role in shaping academic programs, but also enrollment policies and finances.
In the filing, NU stated the Pacific Lutheran case was "wrongly decided" and that NU "intends to challenge that decision." If a judge rules in favor of the university, it could undermine faculty rights to unionize at private universities throughout the country.
NU cited a case from 1980, NLRB v. Yeshiva University, in which the court found that any faculty members with a role in shaping the curriculum can be considered de facto managers.
The initial court date is set for April 24, but because of the risk to other schools, it is unclear whether or not the NU faculty will revoke their petition.
"We won't jeopardize the rights of our colleagues across the country by entering a legal battle presided over by an outspokenly anti-union Board," faculty union organizers wrote on Facebook.
The protesting full-time, non-tenure track faculty are urging administrators to change their position before the scheduled court date. In their Facebook post, they asked for members of the community to join them on April 18 to protest Northeastern's response outside Ruggles.