#HereAtNU: Marginalized students share their experiences
It started with a tweet.
On April 18, James Lyons tweeted his discovery of racist graffiti in a Curry Student Center bathroom. When he reported the graffiti to the Northeastern University Police Department, or NUPD, they told him they would "read up on Title IX if [he's] offended," Lyons wrote.
As part of a social media campaign starting with his tweet, Lyons invited all Northeastern students from marginalized communities to share their experiences through a post with the format, "I'm #HereAtNU and my #NUExperience is …" The call for responses was also shared on the Northeastern Students of Color Caucus, or NSCC, Instagram and Twitter accounts and the NU Meme Collective Facebook group.
"Hey, did that post about racism in the bathroom of Curry upset you? Did it bring up personal memories or experiences of discrimination you've experienced or witnessed while at Northeastern? … It's almost decision day, so let's raise the momentum today by reposting as many #HereAtNU stories as we can and really make some noise! Share yours too using #HereAtNU and #NUexperience," Lyons posted in the Meme Collective group.
Lyons, a third-year media and screen studies and political science combined major from East Brunswick, New Jersey, is a founding member of the NSCC, the student group behind the social media campaign. The NSCC "seeks to refine, remodel, or eliminate attitudes, experiences, policies, procedures and other relevant domains of university life at Northeastern University that negatively impact our communities," as written on their Facebook page.
Lyons said the idea came from a collaboration between NSCC Secretary General Samira Hasib and himself. The implementation strategy came from Co-founder Laura Camila Rivera and Secretary of Correspondence Cara Jones.
"#NUExperience" is Northeastern's preferred hashtag, found in the caption of any Northeastern Instagram post and on Northeastern's Twitter profile. Students are encouraged to "share their #NUExperience" on Instagram if they want NU social media accounts to share their posts. Northeastern External Affairs even encourages co-op employers to use the hashtag to "showcase [their] status as a committed co-op partner," as written on their website.
Within the first three days of Lyons' original post, over 40 posts using #HereAtNU and #NUExperience appeared on social media.
"We've seen a lot of support for it," Lyons said. "A lot of people have started to come out and share their stories."
One student going by the Twitter handle BKsonliya tweeted about their experience with racism in the classroom.
"I'm #HereAtNU and my #NUexperience is having 'woke' white Northeastern students talk over me in class during racial discussions, hearing them make fun of professors of colors' accents, and also having them ask me where Chinatown is cause I must be 'at least half Asian' lmao."
Ash Liu, a fifth-year English major, said she noticed the campaign because one of her friends tweeted using the hashtags.
"I was really interested because I'm all about institutional critique," she said.
Liu made several #HereAtNU posts. She tweeted about her experiences with discrimination and lack of diversity in the English department, her racial profiling experiences with NUPD, her experiences "being the token student of color in on campus 'social justice' spaces" and her experiences with Title IX being ineffective.
"I think this is really necessary and a good idea, especially because of the prospective and incoming students doing their research on Northeastern," Liu said. "I'm about to graduate, so I have a lot of feelings."
Kiera Perryman, a first-year design major and NSCC member, said she learned about the campaign at a meeting.
"I'm #HereAtNU and my #NUexperience is being denied extra meal swipes from Swipe2Care when I ran out and could not afford meals for the rest of the week," Perryman tweeted.
Perryman said because she pays for college on her own, she tries to keep her budget low and was disappointed to receive a rejection from Swipe2Care.
"I've seen a lot more students of color speaking up about their issues," Perryman said. "A lot more attention has been brought onto the issues that marginalized students face on campus."

In addition to tweets published by individuals, students sent in submissions for NSCC to post anonymously on its social media accounts.
One submission sent in by an anonymous student and published on the NSCC Twitter account said:
"I'm #HereAtNU and my #NUexperience is being interrupted by an @NUOrientation facilitator when I was speaking to a friend in my native language, and being told that I 'need to start getting used to speaking in English now.'"
Several students who participated in the campaign declined interview requests from The News, many citing fear of negative impact from the Northeastern community.
"Some people are scared to share their stories because they're scared of retaliation. They're scared of losing their scholarships, they're scared of their professors failing them, they're scared of, you know, just all of the consequences," Lyons said.
A "flip" on the #NUExperience
In fall 2018, Lyons worked in the NU office of Student Orientation and Parent/Family Programs as a programming and communications assistant. It was during this co-op, Lyons said, where he learned a lot about how Northeastern staff members act.
"I noticed this trend of white staff members who work here, [who] when they would come into the office, they would just kind of not see me," Lyons said. "It's not even like they would ignore me, they wouldn't see me."
Lyons said he did not observe this trend with anyone who worked in his office, but with staff members from other departments who would visit his office.
Lyons said his communications with the administration about his concerns left him feeling unheard and misunderstood. He wrote that he even had to wait six months for a response from the university administration. He said his attempts at facilitating discussion were eventually ignored completely.
"It's that lack of response, which is why I was like, 'Okay, now it's time to go public with this,'" Lyons said.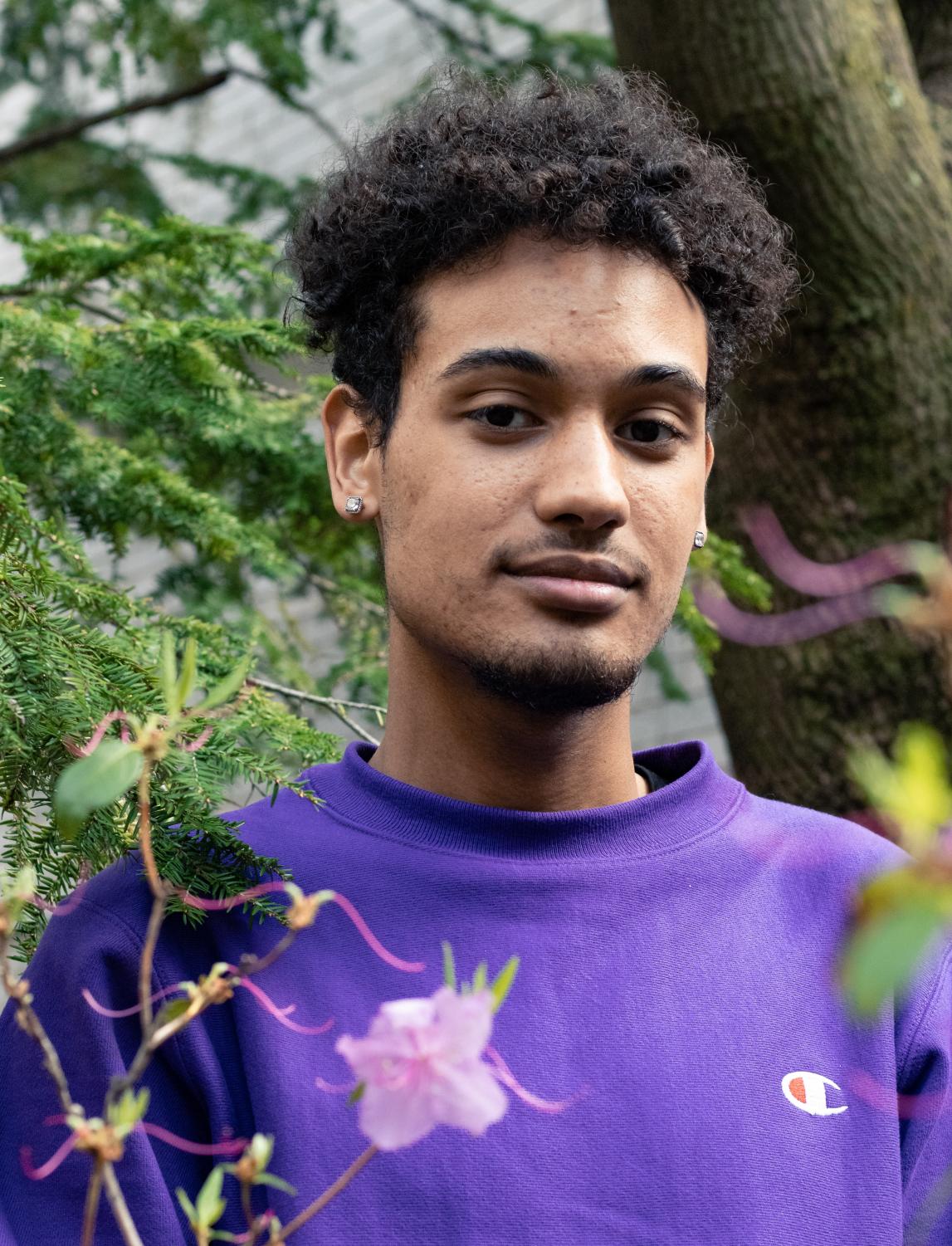 A university spokesperson declined to comment for this article.
Lyons said after learning Northeastern marketing through his co-op, he wanted to flip the NUExperience hashtag on its head.
"They want to know about the NU experience, well, let's really tell them what the NU experience is," Lyons said. "This isn't just for students of color … it's for anyone who's marginalized here at NU. That includes the non-tenure faculty and staff who are trying to get a vote to unionize … queer students, students of color, victims of sexual assault can all use this to share their stories and show that we're here and this is happening."
The #HereAtNU hashtag stemmed from a broader goal. Lyons, Hasib, Rivera and Jones said they want the campaign to expand beyond Northeastern and for students at other universities to adopt the hashtag format, modifying it for their own institutions.
"We really want to start a wider conversation about the solutions necessary for the injustices we see in higher [education]," Lyons said.
NSCC wants long-term solutions
The #NUExperience and #HereAtNU campaign has sparked discussions on campus. Lyons said he spoke to a member of the administration April 19 about the NSCC's goals, one of which is a public town hall to discuss student concerns.
"I said to him, you know, 'If you do that, you can't have NUPD standing there with their hands on their trigger, ready to shoot at us.' And he said, 'I'm sorry if that's your experience, but at our events that doesn't happen,'" Lyons said. "I said, 'Well, look at you and look at me. My experience on this campus is a constant existence of racism.'"
Another of the NSCC's main goals is a public statement from President Joseph E. Aoun's office addressing race on campus as a serious issue.
"This is bigger than just me personally," Lyons said. "The community needs a heavy response at the highest level.
"We want them to ask for feedback … and where they can do better. And after that process, we want them to then release their final solution, implement it and explain the measures. We want that transparency; we want that student/faculty engagement."
Lyons believes his professors do a good job at valuing student input on their ideas — but he does not see that, he said, from other staff members.
"If our university thinks that the students they are accepting are so intelligent and so brilliant, they should be valuing our opinions and our input and our solutions," Lyons said.
Lyons said students should check up on their friends during this time.
"This is really a time for us students and the faculty and staff who are also marginalized in a lot of ways by the higher-up administration to come together and support one another," Lyons said.