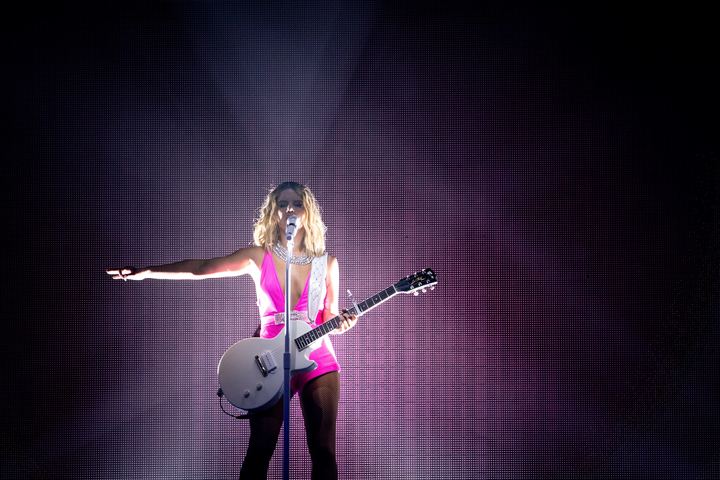 Riley Robinson
"Don't. Lose. Your. Halo."
Lyrics from "GIRL," the titular song of Maren Morris' second studio album, flashed across a screen spanning the entire stage. On cue, spotlights provided an ethereal halo for Morris as she rose from below the stage, clad in neon pink and flaunting glitter-encrusted high heels.
Morris, a burgeoning country singer, easily assumed a superstar persona: She strutted down a fluorescent staircase, flanked by twin bubble cannons that flooded the sold-out crowd. Her blonde hair danced in an artificial wind, all while she confidently belted her opening number April 27 at the House of Blues.
The concert was one of the last shows in the American segment of Morris' world tour, showcasing her ability to syncretize the personal connection of a living room show with the audiovisual spectacle of an arena concert.
Glamour and glitz provide a persona but don't define her person, as demonstrated in "A Song for Everything." Morris described the song as a "really nostalg[ic] kinda song … [about] how songs really are the yearbook to our life in soundtracks." The audience responded to the sentimentality in kind, raising and waving red paper hearts adorned with the song's lyrics — handwritten, of course.
Morris celebrated love and her first year of marriage to fellow country singer Ryan Hurd in "To Hell & Back."
"I felt like this was the one person I met in my life that doesn't make me feel like I can't celebrate my success or that I have to dim my light for him," Morris said. "Those are the true finds, when you find in another person your kind of weirdo, and they just love you through anything."
Careful not to linger in the mellow for too long, Morris invited opener and fellow country singer RaeLynn to the stage for "All My Favorite People," a boot-scootin' country-rock song which countered the previous song's tenderness with its showy nature.
Morris, however, brought the audience right back, recounting a situation two and a half years ago when the program director of a radio station dismissed her choice for her next single.
"He goes, 'Oh please, God, do not pick that as a single, because people do not want to hear sad women on the radio,'" Morris said, provoking boos from the crowd. "I just remember thinking, 'I'm not going to take his advice, I'm just going to do it.' … It took 42 full weeks, but that guy does not have a job anymore, and this was my very first number-one single."
This interplay between intimacy and razzle-dazzle revealed an artist unafraid to celebrate how far she'd come, yet always mindful of the journey that preceded.
"I've opened for amazing people over the years, and I learned something from each and every one of them … I feel like I'm always a student,"  Morris said before "My Church," the last official song of her set. "This is really something we built from nothing, the ground up, to something, and thank you for bearing witness to it."
"My Church" served as a fitting coda to her performance and a testament to her climb. The song was her debut single, winning her a Grammy Award for Best Country Solo Performance.
"This intimate of a crowd is a very rare and fleeting thing," Morris said. "I can't thank you enough for allowing me to get to do what I love. There were a lot of times I thought I might give up and just call it a day and go back to just writing songs for other people, and I'm really, really glad that I have not done that."
Morris concluded with a poignant call for unity.
"No matter where you come from, what neighborhood, what color your skin, your sexuality, where you go to church, it does not matter," she said. "The most beautiful thing and the only real magic I've seen and witnessed in this world is the power of being in a room with a bunch of strangers and just loving live music. And that is such a powerful thing."
In a genre not particularly known for inclusion, Morris pointedly rebukes animosity, demonstrated in "Dear Hate" ("Dear Hate/Well, you sure are colorblind/Your kiss is the cruelest kind/You could poison any mind), released the day after and in response to the Las Vegas mass shooting in 2017. Morris doesn't just call for inclusivity — she practices it too, attempting to produce country music enjoyable for all audiences, through relatable and accessible songs.
The bubble cannons streamed. The spotlights flashed then dimmed. And Morris, the ascendant superstar, descended into the stage waving goodbye.