Women's hockey rocks Maine to open conference play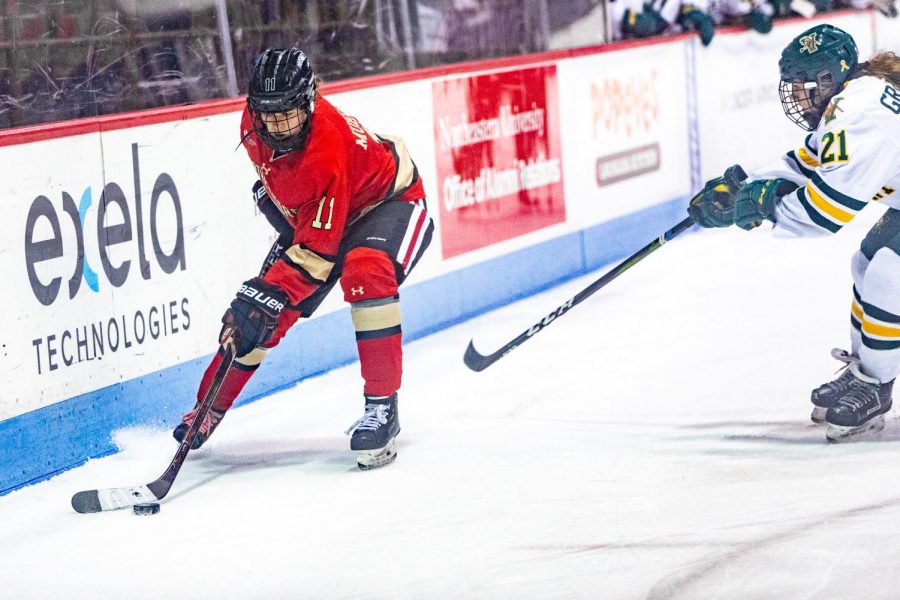 Women's hockey continued their fiery start with a dominant win over Maine Friday night to earn their first two Hockey East points, blowing out the Black Bears 6-1. 
NU's (4-0-0) victory over Maine (2-2-1) was a prototypical team win, as the Huskies bested an injury-depleted Maine squad with six goals from five different players. Junior goalie Aerin Frankel was sharp between the pipes yet again, turning away 24 of 25 shots. While NU narrowly beat Maine in the shot column, Frankel made a handful of spectacular saves to keep the Black Bears from having any chance against the prolific Husky offense. 
It didn't take long for NU to assert themselves as the stronger squad. Eleven minutes into the game, freshman forward Jess Schryver scored her first NCAA goal. 
Near the top of the Huskies' defensive zone, sophomore forward Chloe Aurard won a battle for the puck, leaving it for Alina Mueller to scoop up and carry swiftly through the neutral zone. The quick skating by Mueller and Schryver set up a two-on-one opportunity for Mueller to dish the puck to Schryver in the slot, who beat junior Black Bear netminder Loryn Porter with a nifty move and a backhand shot just inches from Porter's pads. 
The Huskies weren't satisfied yet. Senior forward Matti Hartman won the center ice faceoff and the Huskies immediately worked their way into the Black Bear zone. Thirteen seconds after their first marker, the Huskies had a 2-0 lead as Hartman scored on the rush with a shot that skittered past Porter. She was assisted on the score by Kate Holmes and Paige Capistran. 
The Huskies have scored in bunches so far this season, with tonight being no exception. Two minutes after Hartman's tally, the first trio of point-getters each earned themselves a second one. This time, Aurard was the scorer, shooting a beautiful top shelf one-timer to beat Porter, who was trying to recover from a crisp cross-crease pass from Mueller. 
NU's domination only continued in the second. Freshman Katy Knoll sparked a scoring chance by cutting down a pass behind the net. Once the Huskies had control of the puck, a nice spin-o-rama from Mia Brown and a point-to-point pass set up NU's fourth goal of the evening. Brown beat Porter with a strike off a pass into the slot from Capistran. Sophomore blueliner Gillian Foote earned an assist on the goal as well. 
Mueller and Aurard worked their way onto the scoresheet once again, as the Husky onslaught continued halfway through the second period. Aurard's breakout pass to Mueller led to Porter's final play of the night. Mueller beat Porter from the right side with a nice backhanded move to set up a forehanded shot, giving the Huskies a whopping 5-0 lead. 
Maine head coach Richard Reinchenbach had seen enough, ending Porter's night. She faced 19 shots and stopped only 14 of them, although all the blame shouldn't be put on her. She was replaced by senior Carly Jackson, who stopped 12 of the 13 shots she was tested on.
The Huskies refused to let off the gas in the sixth minute of the third period. Just seconds into their first powerplay of the evening, Mueller lit the lamp again. Strong stick handling on a breakaway gave Mueller her second goal and her fourth point. She has 13 points through NU's first four games. 
Maine finally got a goal of their own, but down by six with only 10 minutes to go, it didn't factor into the result. Senior forward Tereza Vanišová caught Frankel reaching on her lone mistake of the night, and as the Husky goaltender laid out to stop her, Vanišová skated past and tipped the puck up into the twine. 
As the game neared its conclusion, NU coach Dave Flint gave freshman goalie Gwenyth Phillips a chance to play her first Hockey East action in the last five minutes. She didn't see any shots in this one, but Flint is high on Phillips and expects to give her some starts once the Huskies have gotten their rhythm. 
The Huskies remain undefeated as they claim their fourth win in a row to start the year. They'll face a challenging opponent in their home opener this Sunday, as UNH (3-1-2) heads to Matthews Arena.