On-campus performance raises awareness for mental health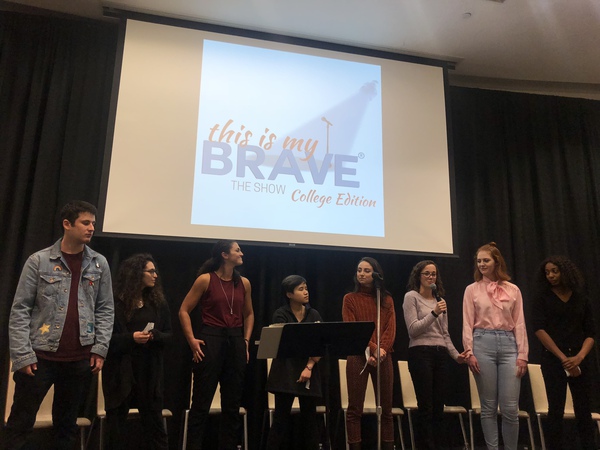 Mallory Gothelf distinctly remembers her downward spiral during her second year at Northeastern. She recalls a distinct moment when life became too much to bear — when her dark thoughts harassed her as she stood on the corner of Massachusetts Avenue.   
She remembers watching cheerful passerby buzz in and out of a Whole Foods Market, seemingly worlds away. Bleak thoughts nagged at her: whether she had friends or if her boyfriend truly loved her. Gothelf remembers the intense feeling of depression, of fighting a lonely battle by herself.  
Little did she know that she would one day share her story, raising awareness on the same campus where she faced suicidal thoughts.   
After taking a medical leave of absence from school, Gothelf revisited the hospital that had once treated her. She was on a mission to find some kind of answer; her mental illness inflicted so much pain that she resolved to find the silver lining. "I needed to find some purpose for what I was going through," Gothelf said. 
When Gothelf thanked the woman who had helped her during her stay, she was offered a chance to speak to current patients. Without hesitation, she said yes. Gothelf had sat in the seats they now occupied, and her journey felt like it had come "full circle." 
"I just felt like my illness had stolen my voice, and for the first time, I took it back," Gothelf said.
Gothelf never looked back. She became more deeply involved with mental health advocacy, continuing her involvement with Northeastern's Active Minds. Eventually, Gothelf connected with the organization This is My Brave.  
This is My Brave started out as an anonymous blog. Jennifer Marshall was navigating the everyday struggles of being a mother to two young kids. On top of that, she was diagnosed with bipolar disorder and longed for a safe space to speak openly. Marshall's fear of judgment eventually subsided, and she attached her name to her blog. This launched an international movement to save lives through storytelling.
The organization offers a platform for storytellers across the nation. Over 700 storytellers have performed at over 50 shows. Their voices span continents, stretching from the United States to Australia. These advocates hope to "bring stories of mental illness and addiction out of the shadows and into the spotlight." 
Depression is nicknamed the "silent killer" due to its largely-unrecognized mortality rate. In fact, suicide is the second leading cause of death for people ages 15 to 34, with a fatality rate twice that of homicides. Mental health issues remain one of the leading causes of death and disability, negatively affecting more than 450 million people globally. 
Nevertheless, deep-rooted stigmas prevent many from speaking up. According to a report by the World Health Organization, two-thirds of people with a mental health disorder never seek professional help. 
"I think it's sometimes difficult when you're in a space where you feel like you're alone to feel like you have a voice to speak up," Gothelf said. "By sharing these stories, we give people the opportunity to showcase who they are and what they've gone through." 
Mental health issues are especially prevalent on college campuses. Elizabeth Driscoll, producer of This is My Brave's college edition, said nearly 40 percent of college students experience a significant mental health issue. Furthermore, there's been an increase in suicidal ideation among students: from 6 percent in 2007 to 11 percent in 2017. 
"We need students to know that it's okay to struggle, that it's okay to ask for help," Driscoll said. "We're here, and you are not alone." 
The performance began with music spilling from the amphitheater speakers. Sara Bareilles' melodic voice, belting the words to "Brave," rang throughout the crowd as eight young men and women slowly took a stand. Each were students or recent graduates who struggled with mental health disorders, ready to share stories of courage and resilience. A young woman from Harvard University revealed her anxiety, and a Vassar College alumna shared her experience with post-traumatic stress disorder. One Boston University student had saved her friend from an overdose after nearly dying from one herself. 
"These people have gone through so much, and they're standing here today to be a beacon of light for others," Gothelf said.
The night ended when Hana Kahn took the stage. Kahn, a former member of This is My Brave, has tied her music to mental health advocacy over the past few years. She performed her song "Thrivers," which is set to be released this Friday. 
Kahn urged those struggling with mental health to "tell someone, so that they know that they are not alone." 
"There is not a single person in this world who experiences something that has not been experienced by someone else," Kahn said. "Find community, find connection. That's the first step for healing." 
Finding community in college can be particularly difficult. Gothelf said that due to academic pressure, lack of a support system and distance from home, students are in a very vulnerable spot. 
Gothelf also said that Northeastern had a long way to go in terms of staffing counselors. When visiting University Health and Counseling Services, many students wait for hours. 
"When you're in crisis, you don't have time to wait," Gothelf said. "And you don't want to sit in there for five minutes when someone's like, 'Okay, we think you're okay.'" 
Devon Whitney, a second-year theatre major at Northeastern, has noticed the stigma around mental health on campus. 
"Especially on college campuses, especially when we're Northeastern, it's kind of like we're all on our own path. It's sometimes really easy to feel isolated," Whitney said. "I've heard a lot of people saying that like, 'Oh, I can't talk about it. I can't talk to my friends about it.' And I think a lot more people would get it than expected. It's a lot more normal than a lot of people understand." 
Gothelf had a message for the students of her alma mater. 
"I just want them to feel like they are seen, they are heard, and they are valued. That their story matters and who they are matters," Gothelf said. "There are people out there that care and want you to get better. I hope to be that person for other people." 
If you are experiencing thoughts of suicide, please call 911 immediately. 
National Helpline: 1-800-273-8255 
[email protected] hotline: 877-233-9477, or 1-781-457-7777 for international callers
Other links: https://www.affordablecollegesonline.org/college-resource-center/college-student-depression/
https://harperspero.com/podcast-notes/mallorygothelf