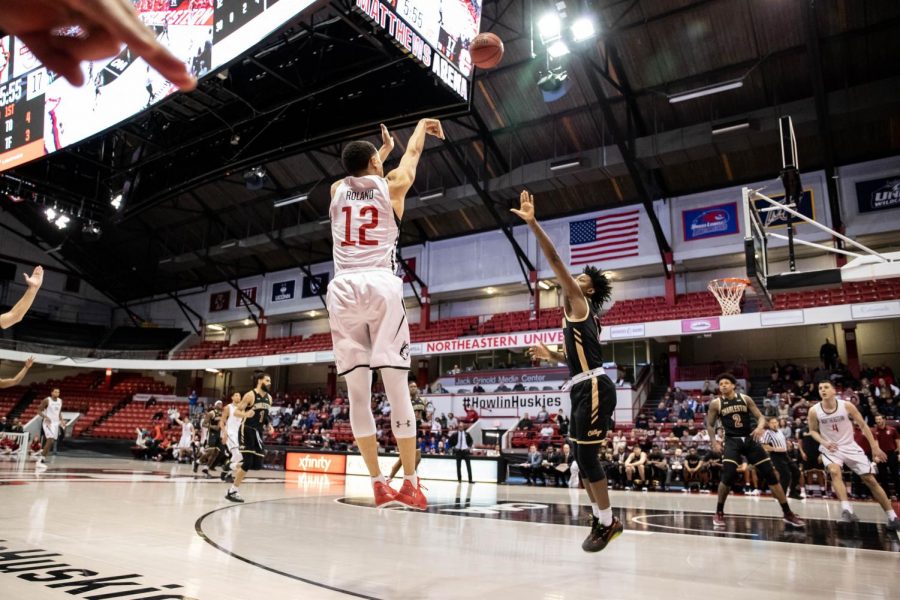 Masayuki Tamura
Returning from a successful 2018-19 postseason, the Northeastern men's basketball team slipped past Boston University in the first game of the 2019-20 season, 72-67.
Senior guard Jordan Roland led NU in points with a career-high 39, and fellow senior guard Bolden Brace led in rebounds and assists with nine and three respectively. Freshman guard Tyson Walker stood out, putting up 11 points with two assists in his first career game, as he followed Roland in scoring and Brace in assists.
The first half of the game belonged to the Terriers and their sophomore guard Walter Whyte, who led his team with 23 points, seven rebounds and two steals.
In the first seconds of the game at Case Gym, BU senior forward Max Mahoney hit a layup that was shortly followed by a 2-pointer from the Huskies's Roland. Whyte dunked early in the game off an assist from junior guard Javante McCoy to take the lead 4-2. Mahoney fouled NU redshirt junior guard Maxime Boursiquot, and Boursiquot scored two free throws off the opportunity, tying the game at 10. The stalemate did not last long, however, as Whyte knocked down two three-pointers to give BU the lead.
By the end of the first half the Terriers were ahead 33-32; however, the Huskies bounced back and held the lead for most of the second half.
At the beginning of the second half, Roland tied the game at 38 with a 3-pointer and an assist from Brace. Then, with an assist from Walker, Roland sent the Huskies into the lead, 40-38.
The second half was full of retaliation from the Terriers, like when Whyte scored another 3-pointer right before McCoy tied the game at 47 with a free throw. Or when Whyte dunked again, tying the game at 61.
In the final two minutes of the half, Mahoney tied the game at 63 before Roland put up a layup. But the relentless Mahoney tied the game again in the final minute, 65-65. Finally, with time winding down, Brace hit a clutch 3-pointer to ensure the Husky win.
Roland's two free throws in the final six seconds after Whyte fouled made the final score 72-67.
Although the game was tight, the Huskies previewed what fans can expect from them this season. NU plays Harvard this Friday at 8 p.m. in Matthews for the home opener.