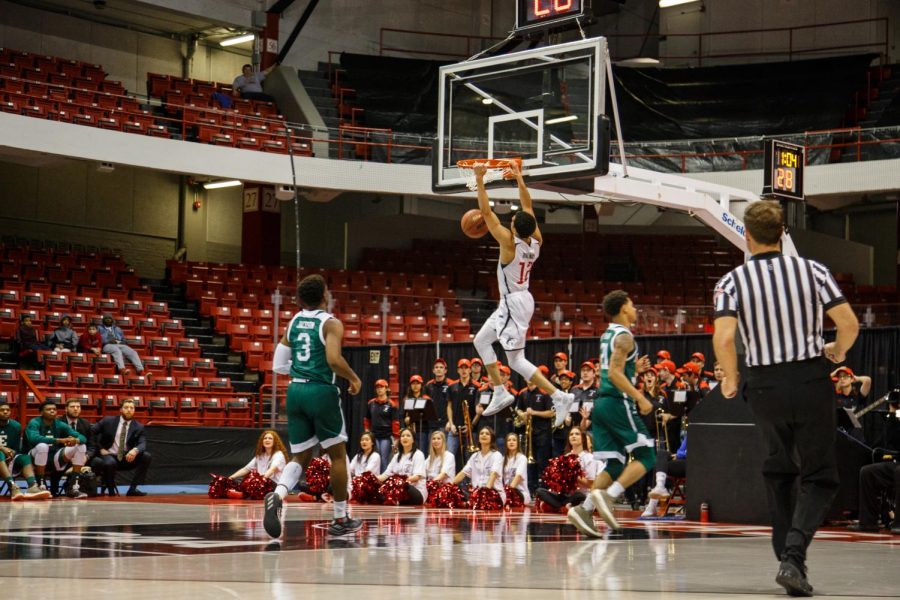 Catherine Argyrople
Northeastern men's basketball picked up its second loss of the season against Old Dominion University, 69-76.
The Monarchs' (3-1) winning effort was spurred by sophomore guard Jason Wade and redshirt junior guard Xavier Green, who scored 18 and 24 points respectively.
"I was extremely pleased with how we played," said ODU head coach Jeff Jones. "That was clearly the best we've played this year."
Senior guard Jordan Roland stayed hot as he led the game with 29 points for NU while junior guard Maxime Boursiquot led the Huskies (2-2) with seven rebounds, but the Monarchs defense proved too strong for NU.
"Obviously we are disappointed in the result today," said NU head coach Bill Coen.
Despite Roland's continued stellar offensive output, he said after the game he felt he could have contributed more.
"[We've] just got to get better," Roland said. "Even as a guard I definitely could have done a better job."
The Monarchs put multiple points up on the board in the first five minutes of the game, while the Huskies could only make three free throws. The score was 13-3 until junior guard Myles Franklin scored a 3-pointer and finally got the Huskies rolling.
With six minutes left in the half, Roland scored a 3-pointer to tie the game at 23. ODU scored a free throw to take the lead, but Roland made two foul shots and the Huskies took the lead back at 25-24. ODU scored another free throw and freshman guard Tyson Walker retaliated with a jump shot to take the last Husky lead of the game.
The half ended 39-33 in favor of the Monarchs, with a last-second layup from Roland.
Despite multiple 3-pointers and free throws from the Huskies, the Monarchs maintained a comfortable lead in the second half of the game. Franklin shot two more from the line before the game ended and NU took the loss, 69-76.
The Huskies travel to Holy Cross (0-3) this Tuesday for a 7 p.m. game.