Chicken Lou's to close its doors in April after nearly 30 years
Ferretti family to pursue other passions
Chicken Lou's, the student-favorite restaurant that serves up hearty chicken parmesan sandwiches and other fare on the Northeastern campus, is set to close its doors at the end of April 2020. 
The owners announced the closure on Facebook Tuesday. Dave Ferretti, the owner, said he is closing the restaurant so he and his family can pursue other things and passions. He also cited the daily commute from his residence in New Hampshire to be very time consuming. 
"I just realized that at this point in time, I've spent two full years of my life commuting to and from work," Ferretti said. "Nowadays, I wake up at about 4:30 a.m. in the morning, get here, go to work, then take another hour and a half to get back. I have three and a half hours before I go to bed — it's not really much of a life."
Ferretti said he is considering returning to his roots in engineering and working at a branch of BAE Systems near his home.
Ferretti first joined the Northeastern community as a student in the late 1970s while his father, Lou, operated a canteen truck on Huntington Avenue. Ferretti graduated from Northeastern in 1982 with a degree in electrical engineering, then moved on to the University of Utah for his graduate degrees.
His father opened the restaurant in its current location on Forsyth Street in 1990. Ferretti said the building was built off-site and erected where two ATMs once stood.
Chicken Lou's soon became a staple eatery for members of the Northeastern community as the Ferretti family cooked up favorites such as the "TKO," which includes baked chicken, melted swiss, bacon and honey mustard on a sub roll. 
Ferretti still remembers and cherishes that he was able to work with his father at Chicken Lou's for the last five years of his father's life. Ferretti spent 13 years as a program and manufacturing engineer at Raytheon, where he worked on projects such as the B-1 bomber. When his division was sold, Ferretti took a voluntary layoff to work at Chicken Lou's, starting in 1995. 
"I told my father he could retire, but after a month of being down in Florida and enjoying himself, he decided it was much more fun to come up here and yell at me — which was ok," Ferretti said with a smile. 
When Lou passed away in 2000, many members of the Northeastern community expressed their condolences and shared how Lou had a special love for his customers. 
Dave Ferretti's daughter Amberle, who cooks up things like the "Amber'lou's BBQ," a concoction she created that consists of a hamburger and a hot dog with toppings, remembers from her childhood how her grandfather always called people by their name, though it wouldn't always be quite the right name. For example, he used to call her Natasha, and others, he'd just simply call Bob.
Amberle plans to join her sister in another family business, a childcare facility in New Hampshire that has been growing over the past five years. 
"I've been kind of struggling with it — you know, it's hard shutting down a family business — but my boyfriend DJ said it the best by saying, 'We started this business so we could start another business.' This family business brought our family together for another family business, so it's nice when you look at it like that," she said.
Ferretti said he wants to spend time with his friends, family and neighbors as he pursues some of his hobbies, such as woodworking and playing darts with his neighbors by the beach on Saturdays. 
As part of their efforts to wind down, Ferretti and his family will be operating at reduced hours starting from January. On Mondays through Thursdays, Chicken Lou's will be open from 7 a.m. to 3:30 p.m., while hours will be from 7 a.m. to 2 p.m. on Fridays. Chicken Lou's will be closed on Saturdays.
"It will be reduced hours solely so we could say goodbye to people," Ferretti said. "We'll all miss the friends and the people that came in on a daily basis that we've had the pleasure to serve, and that's probably going to be the toughest part about the change in our new life."
Students, faculty and staff members alike will also miss the eatery that has supplied them with breakfast sandwiches like the "SEC's on the Border" in the morning and the crispy chicken filet in the evening. 
"I come here two or three times a week," said Deen Naji, an administrative assistant at the College of Professional Studies, before he was interrupted by Ferretti, who claimed from across the counter that Naji comes two to three times a day. 
Naji said he appreciates how the staff is more than willing to accomodate for any allergies people may have, such as his allergy to pork. Instead of getting the "SEC's on the Border" with sausage, he gets the "Heart Attack on the Turkish Border," which substitutes turkey bacon for the sausage.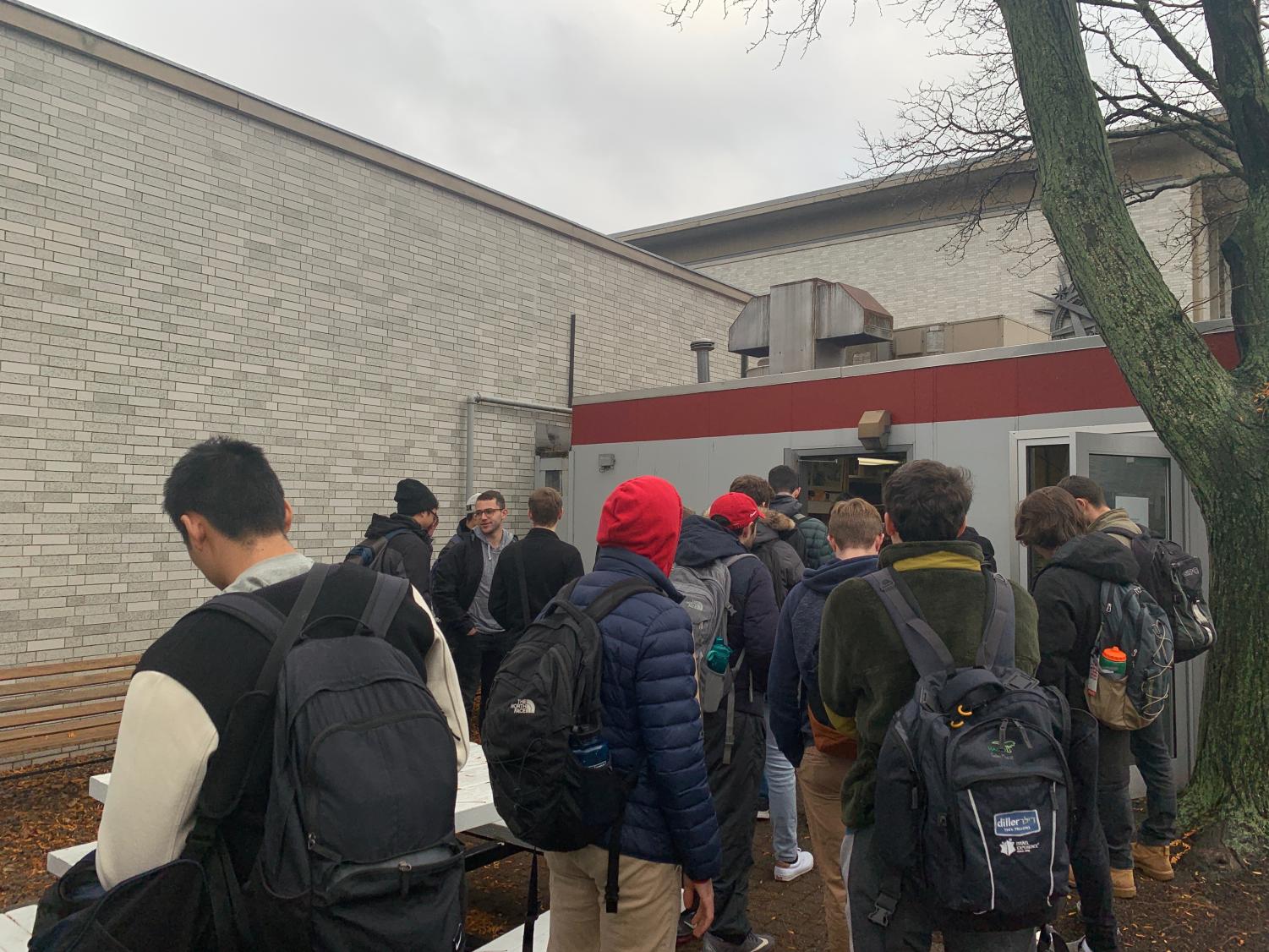 Nursing students Lucy Schaefer and Rebecca Lynch also eat at Chicken Lou's a couple times each week.  
"Once I heard about this place sophomore year, there was no going back," Shaefer said. "You keep coming, and every time you pass it, you think 'Oo, do I get it? Yeah.'"
"This is my second time here today," Lynch added. 
Schaefer said she's never known Northeastern without Chicken Lou's. 
"It's just really sad that they're closing. It's a staple," she said. "When I read their statement, you know, this is just Northeastern history, it's been here a long time, so it's tough."
While the Chicken Lou's building is slated to be demolished before the end of May 2020, Ferretti said he will never forget his Northeastern family. 
"I've basically looked at Northeastern and all the students and our customers as family. They're just a different family — they're our Northeastern family," Ferretti said. "We've built up a lot of relationships over the years, and the one thing that we're going to regret is the relationships that we're not going to be able to continue. Everyone will always be in our thoughts."