Joshua Davis delivers personalized, raw concert experience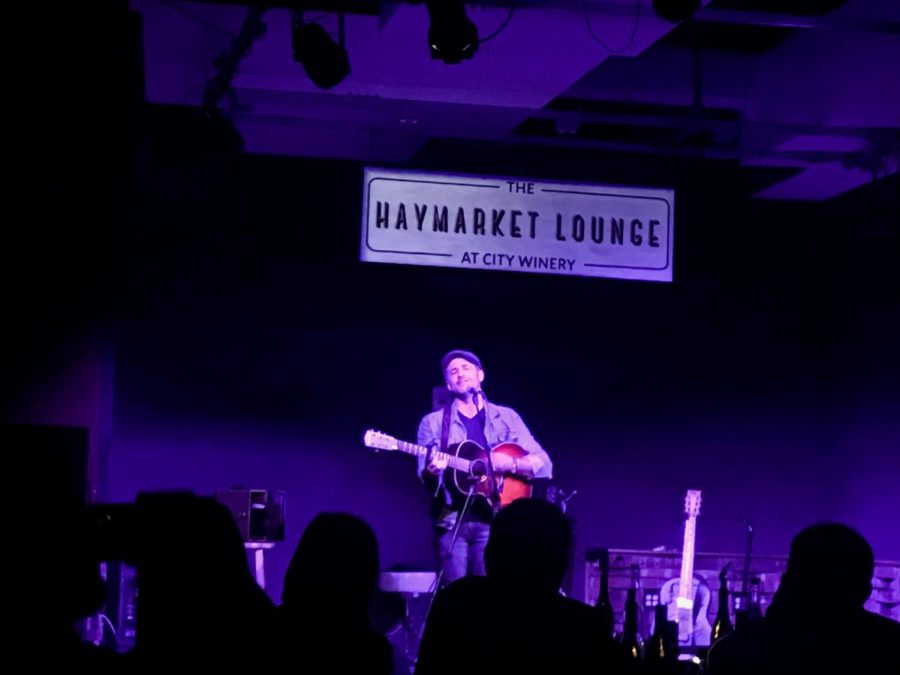 The lights in the Haymarket Lounge at the City Winery dimmed, the chatter floating through the audience silenced and a purple glow washed over the stage, illuminating headliner Joshua Davis as he began to skillfully pick his guitar. With impressive evocation of emotion and soul, Davis staged both a concert and a conversation Nov. 14. 
Davis opened with a quiet melody, managing to command attention with even the softest voice. His eyes closed, his facial expression contorted to display his brimming emotion and his voice developed a raspy tone; the crowd was entranced, clinging to every lyric he sung. As the song drew to a close, the Michigan native revealed his Midwestern charm by breaking the ice with a warm welcome.
Not only did attendees become acquainted with Davis's music — they became acquainted with him. Throughout the concert, he told several outre stories, providing insight into both the meanings behind songs and the life experiences that molded him. 
 "I can do whatever the hell I want up there," Davis said. "I take requests, I talk to people … I tell a lot of stories, and they're different every night." 
 From a nostalgic recount of the snow-covered Delta 88 in which he rode as a child to a heart-wrenching anecdote about a close friend's suicide, Davis turned the lounge from a concert venue into a space for sharing and personal connection. A show highlight was his ballad "The Widow's Waltz," accompanied by an anecdote regarding the song's newfound meaning following his father's passing. Once again, Davis performed with palpable emotion, closing his eyes, tilting back his head and rocking back and forth as he played. 
 He followed the tender moment with a series of more upbeat tunes, restoring a lively mood. Most notably, he played the high-spirited "Workingman's Hymn," an original song featured during his finale set on "The Voice." When fighting for the right to perform his own songs on the show, Davis claimed he faced pushback from NBC. 
 "They didn't want me to do an original song … I'm not happy that I had to force their hand in it, but this is just who I am and what I do, and I felt like that was my big win on the show," Davis said. 
 Also boasting impressive songwriting talent was opener Jude Smith. By tapping his feet, vigorously strumming his guitar and shaking his head to the beat of his song "Flavor," he exuded energy, personality and showmanship without ever leaving his stool. Smith's vocals were also exemplary, whether he was seamlessly switching between falsetto and belt voices or whistling harmoniously during the bridge of a song.  
To conclude, both performers basked in the resounding audience cheers, and Davis thanked the crowd for their immersion in the moment and their break from their beloved iPhone screens. As he attempted to leave the stage, chants of "One more! One more!" summoned him back. He chose to cover the classic folk tune "Goodnight Irene" and urged the audience to sing along, perfectly demonstrating the interplay between audience and performer that his intimate concerts facilitate.