Aerin Frankel's athletic journey leads to national recognition
Aerin Frankel's life and education seemed to revolve around hockey. 
When she played amongst the top ranked hockey players in the country in the U22 Tournament this past summer, it was clear that her dedication paid off. 
Growing up in Briarcliff, New York, Frankel always liked to play knee hockey with her cousins and brother. She learned how to skate at just 4 years old, so it was natural that Frankel's mom brought her onto the ice. By the time she was 9, Frankel made her way into the goal. 
"I think I fell in love with it through learning [that] I had a lot of fun just skating around without the hockey aspect, and I was like, 'Oh, hey, I can play a sport with this,'" Frankel said. Initially starting as a player, she soon realized that she wouldn't have to get off the ice if she played goalie. "So then I tried out for goalie and loved it."
From elementary through high school, Frankel would spend weekends competing on boys club teams, as do most girls who want to play on a high level. And although she dipped her toes in other sports during the off-season — soccer in elementary school, softball in middle school and lacrosse in high school — she stuck with her skates for the long haul. 
"I never really focused on bettering myself in any sport other than hockey," she said.
In her sophomore year of high school, Frankel made a wholehearted jump and enrolled in Shattuck St. Mary's School, a private boarding school in Minnesota. Famous for its elite hockey program, several of the school's male hockey players stepped off of the graduation stage and right into the NHL, while female players have also gone far through the program. 
The school is also known for its role in getting its athletes recruited throughout the Midwest. Students would be bussed for 12 hours to play in Michigan or Chicago "to play some of the best teams in the country," with hopes of getting students picked up by universities. 
For Frankel, the transition was difficult in the beginning.
"At first I was a little bit homesick," Frankel said. "I missed being home with my family, having my mom cook and clean for me, it was a different lifestyle for sure, learning to do things for myself. But I made friends that will last a lifetime, and I definitely wouldn't want it any other way."
Looking back at her time at Shattuck, Frankel also recognizes that playing amongst some of the best high school athletes in the country helped her develop her athletic talent over the years. 
"I really learned what it was going to take for me to get to the highest level. That's credited to my teammates and Shattuck and the coaches there," she said.
After arriving to Northeastern her freshman year, Frankel's athletic skill and prominent role on her team further developed. Head coach of Northeastern women's hockey team Dave Flint has held his position since 2008,  and with the help of the women on the NU team, he recently became the winningest head coach in NU women's hockey history. 
As a former goalie himself, Flint feels he's able to relate to his netminders. Every Wednesday, he and Frankel sit down to watch video of her from the previous week's games and discuss her technique. With every sit down, Flint sees overall improvement. 
"She gets better and better everyday," Flint said. "I think its her desire to get better. I think she's developed into an elite goalie and one of the best goalies in the NCAA."
He recalls her freshman year season when the team was playing in Washington D.C., and Flint gave Aerin, who at the time had only goaltended for a few college games, a choice. She could either guard the crease against a lesser rival, or could protect the goal against Wisconsin, one of the best teams in the country at the time. 
She chose Wisconsin.
"She played unbelievable and they beat the number one team in the country by 3-2," Flint recalled. "She had over 30 saves." 
Now a junior at Northeastern, Frankel is dominating her competition. She has the third best GAA in the nation, and out of goalies who have played 10 or more games, she ranks at the top. 
Flint describes Frankel as the "backbone of the team," and how confident her teammates feel knowing they have her protecting the net. 
"It's a combination of her skills," Flint said. "She's super competitive. She's a leader, she can be vocal and she can lead by example."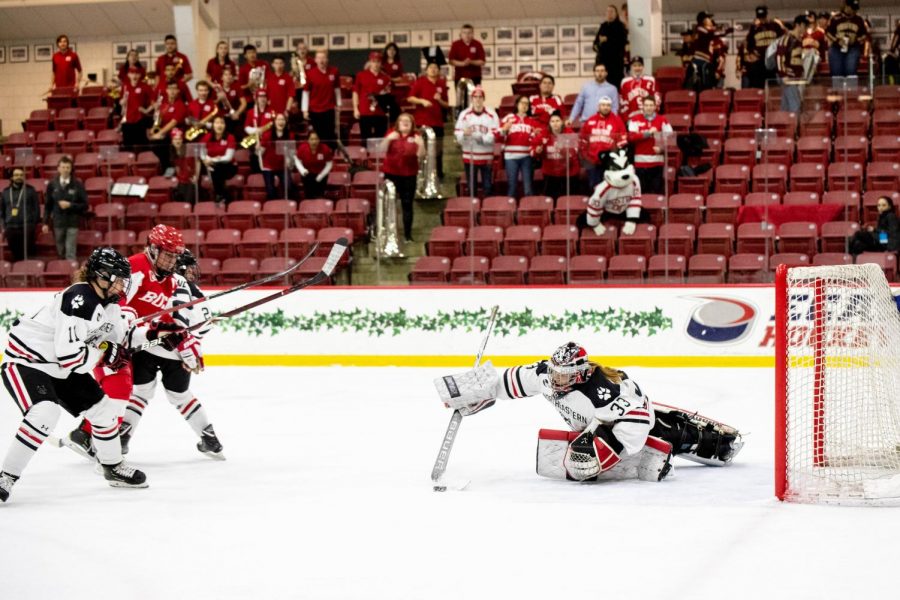 Frankel's acceptance into the U22 National Team this past summer was the goalie's opportunity to reflect on how far she has come as an athlete. 
"It had always been a goal of mine," Frankel said. I've had to work for it a lot over the years, it hasn't been easy." 
The U22 team competes against foreign countries and is comprised of 22 of the country's best college hockey players. The recruitment process is extensive, as athletes are scouted throughout their season by the USA staff, who then invite students to position based camps to be evaluated in May. There, few are selected to try out for the team in Lake Placid for a week in August, and if selected, they remain for an additional week to compete. 
Two years ago, Frankel had made it to the first week of Lake Placid but was not selected for the team. But this past summer, she made it all the way through, and played goalie in a two-game series against Canada. Looking back on this experience, Frankel is still honored to have been selected amongst the top players in the nation. 
"I played well enough in high school and was able to commit to Northeastern and have done pretty well here so far, and I think that's just a result of me preparing for my college playing career and just trying to be the best that I can," Frankel said.
Flint even went out to Lake Placid to watch Frankel and Fontaine compete against Canada, where fellow NU defender Brooke Hobson was playing as well. 
"I wanted to be there to support her and all of them," Flint said. "Any time she can be recognized as one of the top goalies in the country, it's really an honor."
And while it was an honor for Frankel to represent the country, it was also an experience that will continue to drive her forward through her career.
"It was humbling, as well. I took a step back from that experience and realized how hard I've been working my whole life and how I have so many great support systems in my coaches, and that my friends have made me so much better over the years and I could not have done it without them."
Coming back into hockey season this semester, Frankel looked back on the team's previous achievements, particularly reaching the first round of the NCAA championship two years in a row. This year, she has her heart set on making it to the Frozen Four, which will be held at Boston University this year.
"That would be a huge deal to us if we can win our first NCAA game and then ultimately make it to the Frozen Four, because that'd be a huge statement for the program," she said.
But as she continues to push forward towards her goal, Flint is excited to "keep seeing Aerin grow as a goaltender and to continue having all of the success she's had."
And as for Frankel, she is also looking forward to spending more time with her team. 
"We're always looking out for one another. Everyone feels that warm welcome. I think that's so special and ultimately it makes us more successful and even more close. We're able to trust each other and everyone gets along very well."