Shea builds his own legacy at NU
Ryan Shea grew up in a hockey household. In fact, it's safe to say he had it in his genes.
Shea, the son of Boston College legend Dan Shea, has been around hockey since the day he was born. While Shea originally aimed to play for BC in his college years, he soon came to realize what was more important to him.
"When I got older I thought building my own legacy was better than following his, and I'm obviously super glad that I came here just because of the rank, the school, the coaches and the teammates I made over the four years," Shea said. "I made the right decision and my dad was behind me the whole way."
The 22-year-old defenseman from Milton, Mass., is a model figure for aspiring young skaters. In his fourth year with Northeastern, the senior captain has yet to miss a game for the Huskies — a resiliency he prides himself on. The ironman believes that "unless you have a serious injury, you shouldn't miss a game," especially in the short NCAA hockey season.
"I want to play at the next level and having that mindset kind of fits me for how many games you play at the next level," Shea said.
That's not to say Shea hasn't dealt with his fair share of injuries. During his single year with the Youngstown Phantoms in the United States Hockey League before college, Shea dealt with not one, but two serious injuries — two broken collarbones.
Shea said he was worried about how his injuries would affect him coming into college after his year with Youngstown, and whether he would even be able to play. It's clear those injuries haven't held him back.
Shea spent three years playing at BC High, but it was nearly cut short when he received an offer from Youngstown to come play in the USHL after his sophomore year. While many young players choose to go the USHL early, Shea chose to stay for his junior year.
"I thought if you're good enough, people are going to find you, so I thought staying at BC High and staying committed and loyal to my coaches and teammates there was the best opportunity for me entering my draft year," Shea said.
In that draft year, he was picked in the fourth round (121st overall) by the Chicago Blackhawks. He still remembers the vivid details of his draft day and the call, notably how quickly his friends and neighbors showed up at his doorstep.
"It was like a small part of Milton came over to my house and just celebrated," Shea said. "I'll never forget how quickly they came over. I was just off the phone with the Blackhawks and they just pretty much stormed my house."
Shea has attended the Blackhawks' summer development camps in the past four summers, and he knows there's at least one friendly face there waiting for him after he finishes his collegiate career in the spring — former NU teammate Dylan Sikura.
"He made me feel more at home and made me feel more confident in my abilities so I can play the best game possible out in Chicago," Shea said of Sikura, who has logged 38 games with the Blackhawks over two seasons. "I hopefully will see him down the road."
To prepare for his future in Chicago, Shea has built up quite the collegiate resume — 62 points on seven goals and 55 assists, two Beanpot trophies, a Hockey East championship, two NCAA Tournament appearances, a year as an assistant captain and a current role as captain and, most recently, a Belpot trophy from the Friendship Four in Belfast, Northern Ireland (along with the Belpot Player of the Tournament and Hockey East Player of the Week awards for his performances). 
While the point totals might not pop out of the screen, especially when compared to his father's  190 career points at BC, Ryan Shea's leadership and consistent, sure-handed presence on the blue line has certainly helped him build his own legacy, separate from his father's.
"I got the shiny objects and [my dad's] sitting with zero, so I think it's definitely bragging rights," Shea said with a laugh. "My brother likes to tag along on my side when it comes to that, too."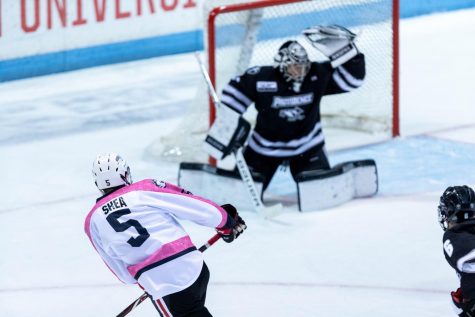 In addition to his captaincy this season, Shea is also tasked with leading a D corps that consists of, other than himself, two sophomores and three to four freshmen. Shea said that the sophomores, Jordan Harris and Julian Kislin, need to have the mentality of upperclassmen given the youth at the back and hailed their progress this year and their ability.
A self-described vocal leader, Shea's presence in the locker room is vital to the team. After a poor performance in a Nov. 8 draw at Merrimack (who have four points from seven Hockey East games this year), the team held a meeting before the next night, with Shea and his captain group taking center stage. The second game against Merrimack ended in a 3-1 win, with Shea supplying three assists.
NU head coach Jim Madigan had high praise for Shea and his fellow upperclassmen.
"The captains and some of the older guys spoke up — they've been part of championship teams here over the last few years … they know what it's like to win, and they want to win," Madigan said in a press conference after the Nov. 9 win over Merrimack.
Shea's presence and sure-handedness on the blue line is crucial to the team's success, but that hasn't always been his spot on the ice. He played forward to start his career, but after his coach put him back on the blue line in a tournament at a young age, he saw that he could make an impact.
"I was a different player when I was a forward," Shea said. "I was kind of laid back and more of that third-line type person up front. My dad wasn't too happy when I made that switch because he was a forward and he didn't like me back there, but after a couple years on the blue line, he saw that it was something."
Outside of the NU arena, he said he loves working with kids at hockey camps and trainings to help them enhance their skills.
"When I was that age, it was nice to have an older guy to talk about the experience in hockey growing up, and I think I can be that for those younger kids and the younger generation," Shea said.
A final piece to note on Shea's packed resume is his experience in the Team USA Boys Select 17 Tournament in 2014-15. While Shea said it was great to put on the Team USA sweater on its own, he added that the competition there helped make him the player he is today. Competing against some of the best players at his age, Shea said, helped him come to an important realization about his development.
"At that age, I was in the middle of the pack, and I still had the growing to do," Shea said. "It doesn't happen overnight. It could take you years after other people get there. That definitely happened to me and I'm happy for the time it took."
As he approaches the end of his collegiate career, Shea said the one thing he'd tell his freshman-year self is "that time flies."
"I mean, it honestly feels like I was a freshman and sophomore like last week," Shea said. "I like to believe that I made the most of my first three years and now it's just the final ride."