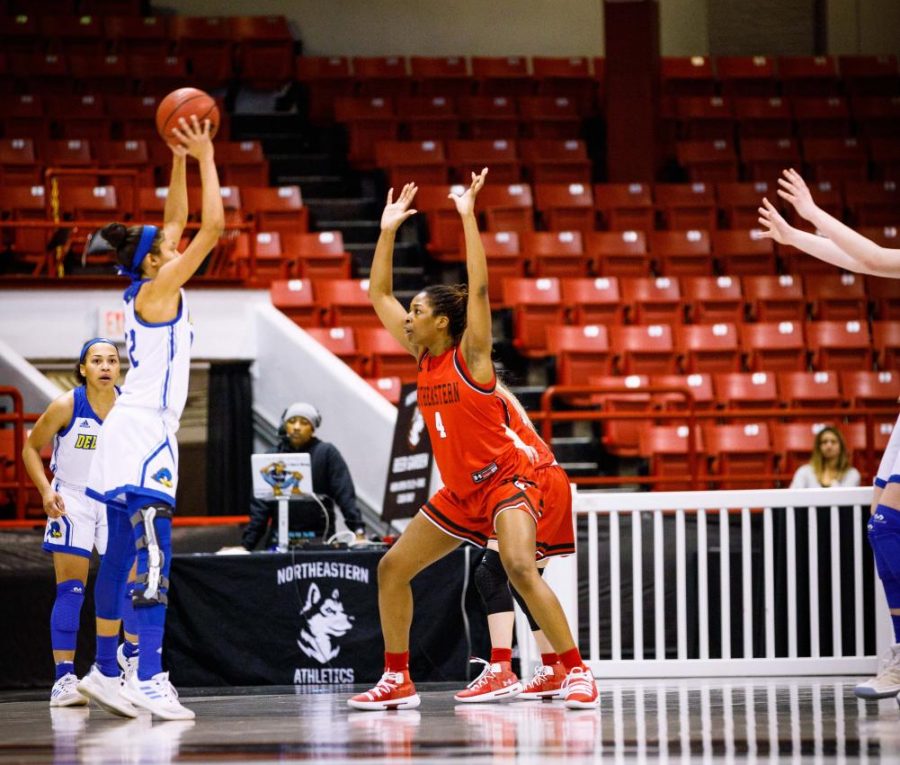 Muhammad Elarbi
The Northeastern Huskies (2-6) came out ahead in a nail-bitingly close game against the across-the-river rivals Harvard (6-3). The Huskies haven't faced Harvard since their loss in December 2017, giving the Huskies a narrow edge in the history of NU vs Harvard matchups – 16 wins for Northeastern, 15 for Harvard. 
NU continued to struggle from the field in this game as the Huskies shot a total of 34 percent throughout the entirety of the game.However, compared to Harvard's also weak 32.7 percent, multiple players hit the double digits for scoring including junior guard Stella Clark (11), senior guard Shannon Todd (11), sophomore forward Alexis Hill (10) and off the bench junior forward Samantha Michel (10). 
Following the opening buckets by both teams, Harvard had a strong opening quarter and went on a 8-0 run with less than two minutes for the Huskies to find a way to battle back. The Huskies gathered some buckets, but still ended the quarter in the red after a last second layup by Clark,16-8. 
The tables turned on the Crimson as the Huskies had their very own power quarter as they went on a 13-3 run over the last five minutes of the half, nabbing their first lead of the game. 
Although the Huskies lost the lead to start the third quarter after giving up four points, they kept Harvard at bay for the remaining minutes of the frame. The Huskies outscored the Crimson 11-4 in the third, giving the Huskies a commanding 35-27 lead to carry into the fourth. 
Harvard fought strong in the fourth quarter, outscoring NU by a margin of 17-11. With two minutes left in the game, the score was tied at 42. the Huskies shortly  lost the lead, but Hill cut the two point lead in half with a free throw. Hill then stole the ball from Harvard and Clark, with ice in her veins, put it away a triple with just 37 seconds left in the game, ending Harvard's comeback attempt and securing a 46-44 victory. 
The Huskies rise to 2-6 on the season and have a chance to catch their breath for finals. Their next game comes against Hartford at Cabot Center Dec. 14 at 1 p.m.