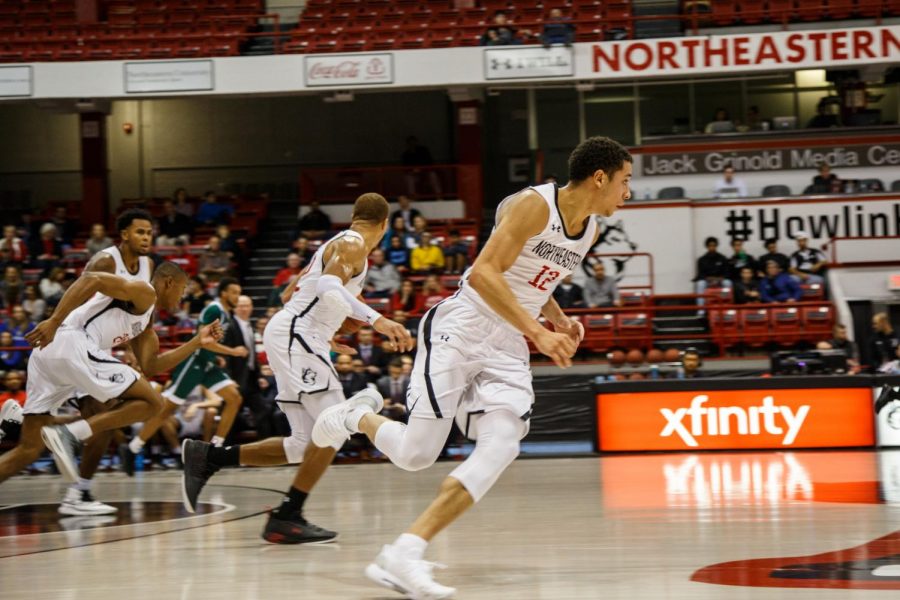 Catherine Argyople
Redshirt senior guard Jordan Roland became the 39th player in Northeastern history to reach 1,000 career points during Wednesday's men's basketball win over Maine, 78-63. 
"Obviously it feels good, it's a milestone," Roland said. "But I feel like it's not something I'm super concerned with. We are trying to win a state championship this year and that's the main thing I'm really focused on."
Head coach Bill Coen said it's always hard to score 1,000 points in just four years of college basketball, and  to do so in the short amount of time Roland did stands out to him. 
"It really speaks to the hard work he's put in, the enthusiasm he plays with and the confidence he plays with and he draws that from his work ethic," Coen said.
In the last eleven times NU (5-4) and Maine (2-6) have played each other, NU has now won nine of those games. After a difficult time at the Gulf Coast Showcase in Florida last week, the Huskies were ready to bounce back and win big on their home court. 
"Coming back I think we learned about ourselves," Coen said. "We had way too many turnovers, we didn't rebound the ball and that was definitely an area of our focus today. If that's what Florida did for us then that's great."
The Huskies were able to out-rebound a team that out-rebounded Washington, UConn and Virginia. Redshirt sophomore forward Greg Eboigbodin led the game with eight rebounds, Roland led the game with 28 points and freshman guard Tyson Walker followed with 15 points and a career-high of 6 assists.
In the first half, Roland scored two 3-pointers early in the game, followed by 3-pointers from senior guard Bolden Brace and redshirt sophomore forward Jason Strong. The Huskies took the lead within the first five minutes and would keep it for the rest of the game. 
With three minutes left on the clock Brace shot for three, hit the backboard and the ball bounced straight into Roland's hands as he pushed forward for a layup to make the score 29-21. Before the half ended, Roland made another 3-pointer while completely covered by a Maine defender twice his size. The first half ended with last second layups from Eboigbodin and Maine's freshman guard Precious Okoh to make the score 36-32. 
The second half started with a 3-pointer from junior guard Shaquille Walters in the first 30 seconds, setting the tone for the rest of the evening. Both Roland and Strong dunked, and the Huskies piled it on with 3-pointers from Roland, Walters and Brace. Walker ran across court for a layup and followed with a free throw after a personal foul from the Black Bears' redshirt sophomore guard Mykhailo Yagodin on the play.
With 2:59 left on the clock, Roland reached 1,000 points in his NU career after two free throws. 
The game ended 78-63. The Huskies play Davidson (3-5) Saturday, Dec. 7 at 4 p.m. at Matthews Arena.